I am in Leh after 9 years, I didn't think much of it – the 9 years I mean, but I am robustly shocked by how much can change … for the worse (mostly, at least in my opinion) even for a small, seemingly remote town. I was last there to work post the flash floods of August 2010, there was a purpose then, one was supposedly doing good, this time it was a bit pointless. The workshop around which I built my program stood cancelled partly due to the announcement of now ex J&K – UT of Ladakh, and partly the organisers told me (though I think mainly) due to too many phone calls to handle from parents of student participants,. I had the leave, I had the tickets, my bags were packed so I decided to go anyway.
It is my 2nd day, I am trying to follow the 'rest' advice of my seasoned hosts and am in Leh to catch up a bit, but I am mostly lost. The Jamia Masjid, a striking mosque at the end of the bazaar street has gone, it seems to be replaced with a hotel like building, the whole bazaar seems to have been replaced with hotel like buildings, actually the whole of Leh. To be honest, the Jamia Masjid is the only memory that I seem to have retained from 9 years ago. Desperately trying to find some bearing (something old!) I slip into a little narrow lane on the right of this new shining building to find myself amongst an assemblage of tiny chai-milk shops, some of which have already run out of tea, I ask a gent, what happened to the Masjid, he says calmly, "Humne Masjid ko Shaheed kar diya – abhi nayee ban rahee hai" (translated loosely – We honourably expired the Mosque – a new one is taking shape), so that building that I thought was rather like a star hotel was the new Masjid, quite contemporary!
Islam in Leh is at least 400 years old. "…The first public mosque to be built in … 1620 at the request of Muslim traders conducting business in Leh … recently been restored by Leh Old Town Initiative (LOTI). The … Jama Masjid … around the mid-17th century, the Tibetans invaded Ladakh and the king asked the Mughals for assistance to which Aurangzeb agreed. After successfully defeating the Tibetans, he made the king agree to three conditions of which the only one was kept—to give a piece of land below the palace for building a mosque …  It has gone through several renovations and rebuilding, …1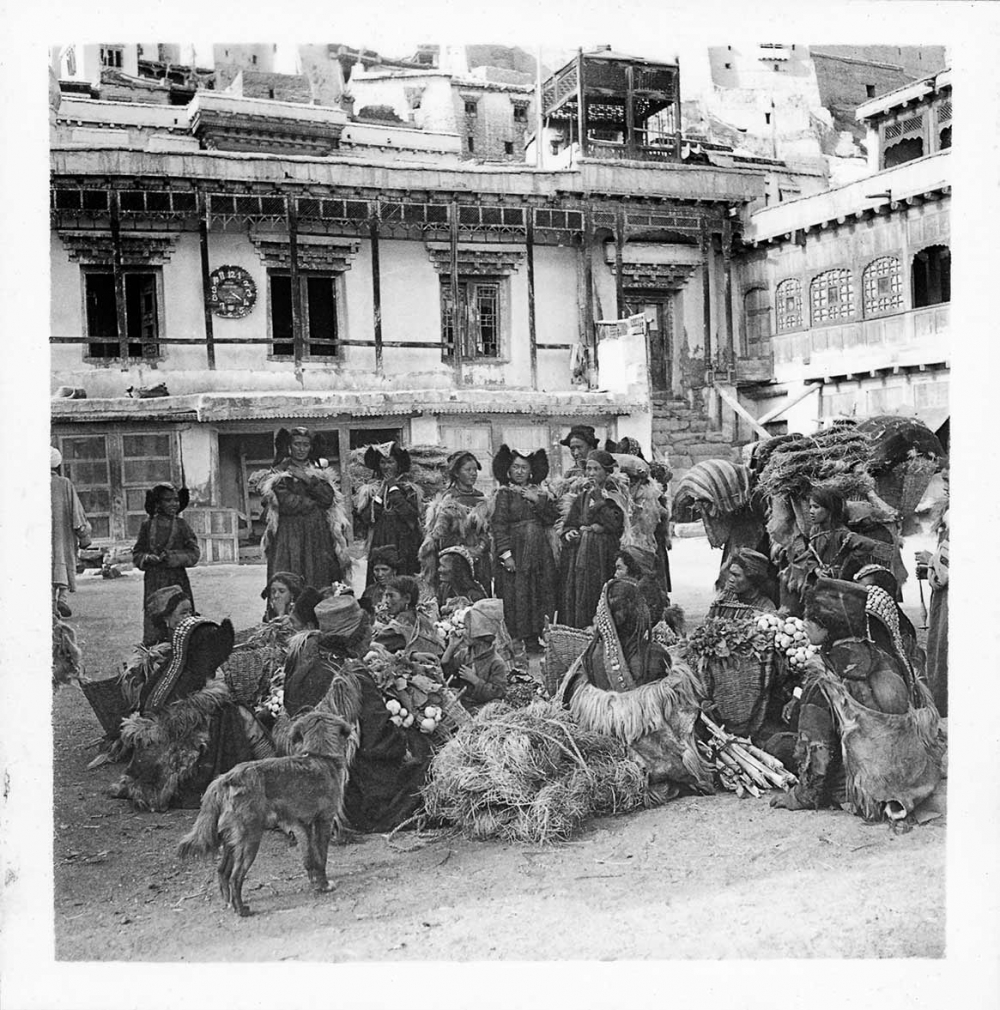 I enter one of the places where chai is still being served, "Namkeen (salty tea)?", I am asked, "Normal," I say as I sit down. A group of 4-5 elderly Ladakhi men enter the shop and park themselves on the next table. "Give me Namkeen but without Tata salt" one of them shouts, laughing that Tata salt gave him blood pressure, he asks me, "Have you been able to talk home?", I was from Srinagar they thought – lost for a second in what that possibility meant, I respond that I am coming from Delhi, "Nai Dilli!" they say as if they remember it from a time when it was still new, novel and shining. They zone into a regular adda session and me into my chai.
I step out into the Leh Main Bazaar, its buzzing with lost character, machine cut, cobbled, pedestrianized, beautified, hot, treeless. Women (and some men) are laying out their fresh vegetable wares on the footpath, however only on one side – the other is a blazing trans-Himalayan sun. It's a Sunday, many shops remain closed, I explore the bazaar, mostly the crowd – the vegetable sellers and beggars, the traders and conversationists, the young smart Ladakhi's and the tourists. I catch up with someone I know from my earlier visit to Leh in one of the older haunts off the main bazaar. I express my surprise at the way I was completely lost in the Main Bazaar. She helps fill in the details. A beautification project, part of some state/ centre sponsored scheme – if Mumbai is to be Singapore, then Leh is to be Thimpu! Or at least that is what they were led to believe! I was piecing the puzzle together. The market was pedestrianized (which is great) but all the tall shimmering Poplar trees were cut! I felt bad for the vegetable vendors, the trans-Himalayan sun can tan your skin in no time. There were obvious accompaniments – the number of old buildings were broken down, new multi-storied buildings came up – restaurants and more restaurants, and shopping complexes! "Didn't anybody protest?", I ask lamely, "Oh yes! The long term foreign residents of Leh did, many tourists too, some even hugged the trees and didn't let go….", "But what about the locals, surely the pedestrianization could have happened with the trees intact?" I protest, "They've given those flower pots in the middle of the road and then there are those lamp posts, didn't you see them?" she states sarcastically. I sip harder on my mint lemon ginger juice.
My friend has to catch up with an appointment, I trudge back to the main Bazaar, the phone signal seems to have gone en-masse, nobody goes beyond a few curses. The sun is up, the sky is a bright blue and the vegetable sellers have now pulled back their wares as close to the building walls as possible, themselves standing in whatever little shade the vertical afternoon sun offers them. Maybe … one day the flowerpots will become Shaheed and trees will grow in those flowerpots.
---
1: https://www.sahapedia.org/the-old-town-leh-ladakh-0