It was only much into the design process that Made in Earth realised how well-suited the name 'samvada baduku college' was for this project. Samvada is an organisation that works closely with youth to build a sustainable, gender-just society. The word samvada also means conversation (among equals), while baduku simply means life.
It was apparent from the first meeting that the organisation revolved around conversations. The site that was hugging and half clinging onto a hillock in the suburbs of Bangalore needed to accommodate a building for staff and working personnel, a college to host classes in, hostels and dining spaces for the students, and lots of space for dialogue.
They say it takes a village to raise good conversations and effect change. And so the campus was imagined as such. A maze made of smaller parts, built around a central spline. Each part sits snuggly on different levels of the hillock. You can enter the dining on the ground level, walk across a corridor and you would be standing on the first-floor terrace of the hostel. Climb down underground to some rooms that still open onto the ground. Or even walk out of the second-floor hostel to the open-air theatre on the slopes. With each turn, at the end of corridors, tucked between the fins of buildings and sloping roofs are pockets. A small terrace, a bench, a balcony, a cosy corner, all waiting to hold the depths and vastness of a conversation.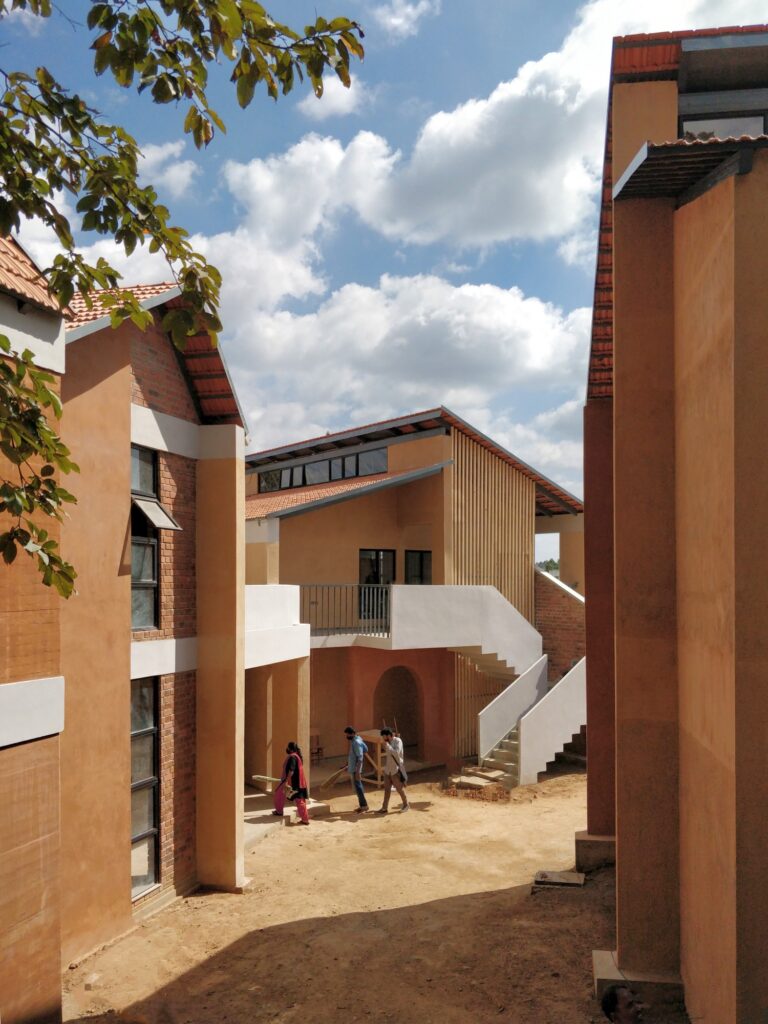 The building itself sits on multiple levels of the foundation of stone masonry, and sometimes on natural rock. Almost half the college is built with load-bearing rammed earth walls. The other half is framed and filled with super-sized adobes, all plastered in lime. The flooring spread is of IPS with some spread of natural stones. The campus is designed to partially work on solar electricity, considerable if not all requirements of water are met with rainwater harvesting, and all wastewater is treated on campus by a Dewats treatment plant before being reused for gardening. Within days of occupying the campus, students used spaces in ways that were both surprising, as well as ingenious. A dull chatter invites you onto the campus, in the distance, you can see a team de-weeding the slopes of the hill, a small group perched on the tallest balcony can be heard arguing policy, a few students paint the wall while another group sits on the vast IPS floor in a circle and sing songs of change and revolution.
Drawings