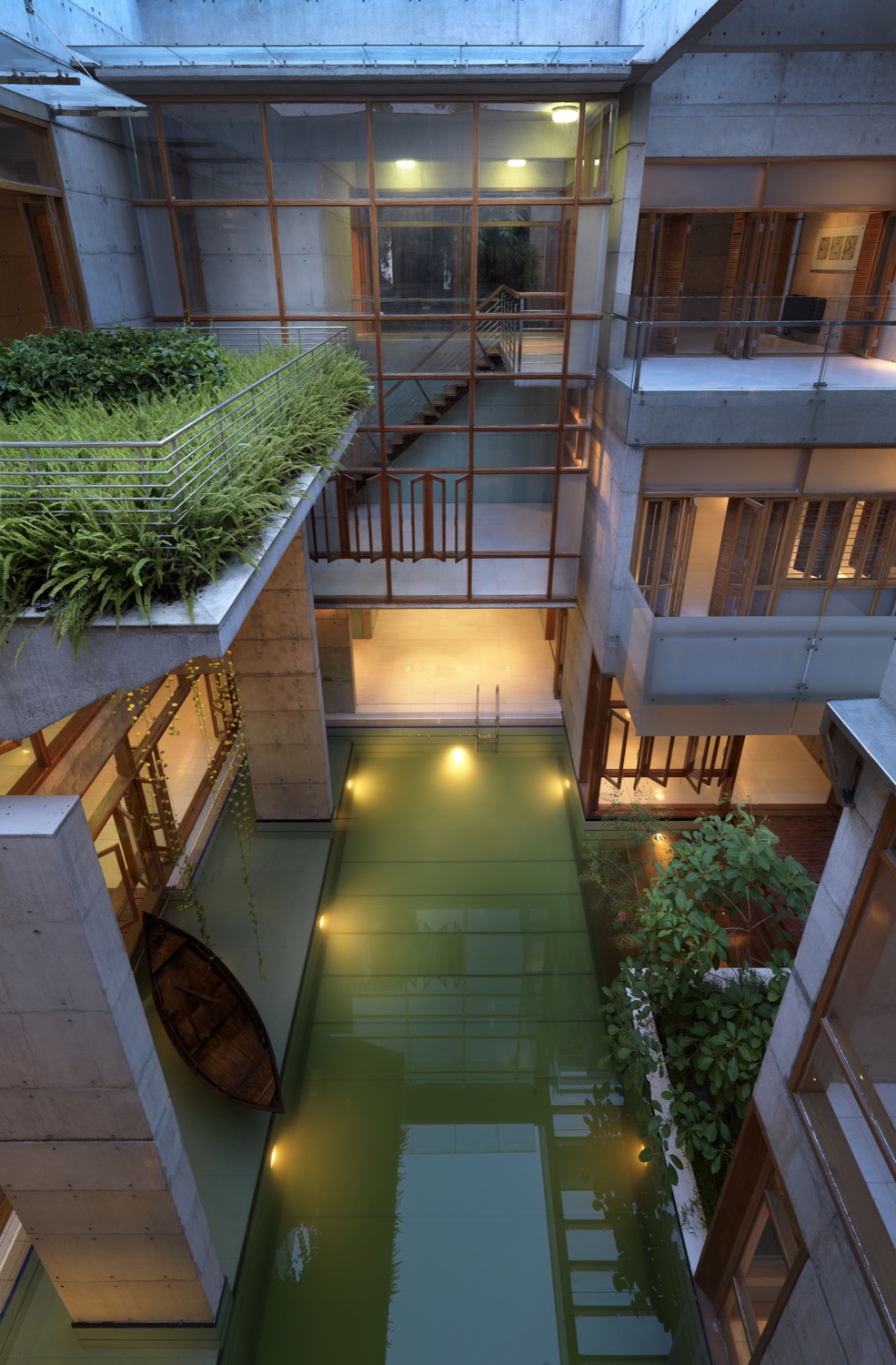 Unfolding nothingness…
As Lalon (a spiritual folk singer, Sufi and philosopher) says if there is not one thing inside the body then it is not outside the body either. Body is the key word. Just like human body, there is a body of architecture. This body of architecture has two parts; shell and thinking as soul. Shell and soul are interdependent yet independent. They belong to each other and they belong to themselves. A good soul needs a good shell.
In this project the shell is a pure square made of a single material 'concrete' transformed from celestial form grounded. The added squares act as torana to its temple. The site is surrounded by multi storied buildings and apartments as onlookers.
Considering the socio economic condition of Dhaka, a very simple architectural vocabulary has been adopted, with subtle social interventions with form, material and vegetation. The traditional space quality, both from urban and rural typology merged to creating "URAL" architecture.In the current trend of real estate development, this residence has been a challenge particularly placing a water court as swimming pool in the middle of the house, a surely difficult task to ensure privacy. As a result, an introverted design has been adopted.
The south and the southeast have been designed to bring in cool breeze during the hot humid summer and the warmth of the sun during winter. The center "water court" acts as a natural exhaust, which flows out the hot air and makes the middle court a solace.
A small "dingi" boat waiting by the "ghat", patch green and light with its silence, the space becomes a natural habitat within a manmade dwelling and the layers of understanding to unfold nothingness.
The traditional courtyard connected to the adjacent pond transformed into one in an urban context and created a quad of water symbolizing nothingness yet containing the power vase of capturing, reflecting and refracting the sky, flying birds, smiling sun, shying moon, composed earth and so on.
When light caresses the wall, or the water touches the land, or the land pats the green, or the green cuddles the breeze or the breeze touches ……… Its all about touching and feeling soul. The destiny is 'nothingness' where soul and shell cohabit and purify themselves. Let the soul come inside the home and let go off it. And let it be and let it be………………..