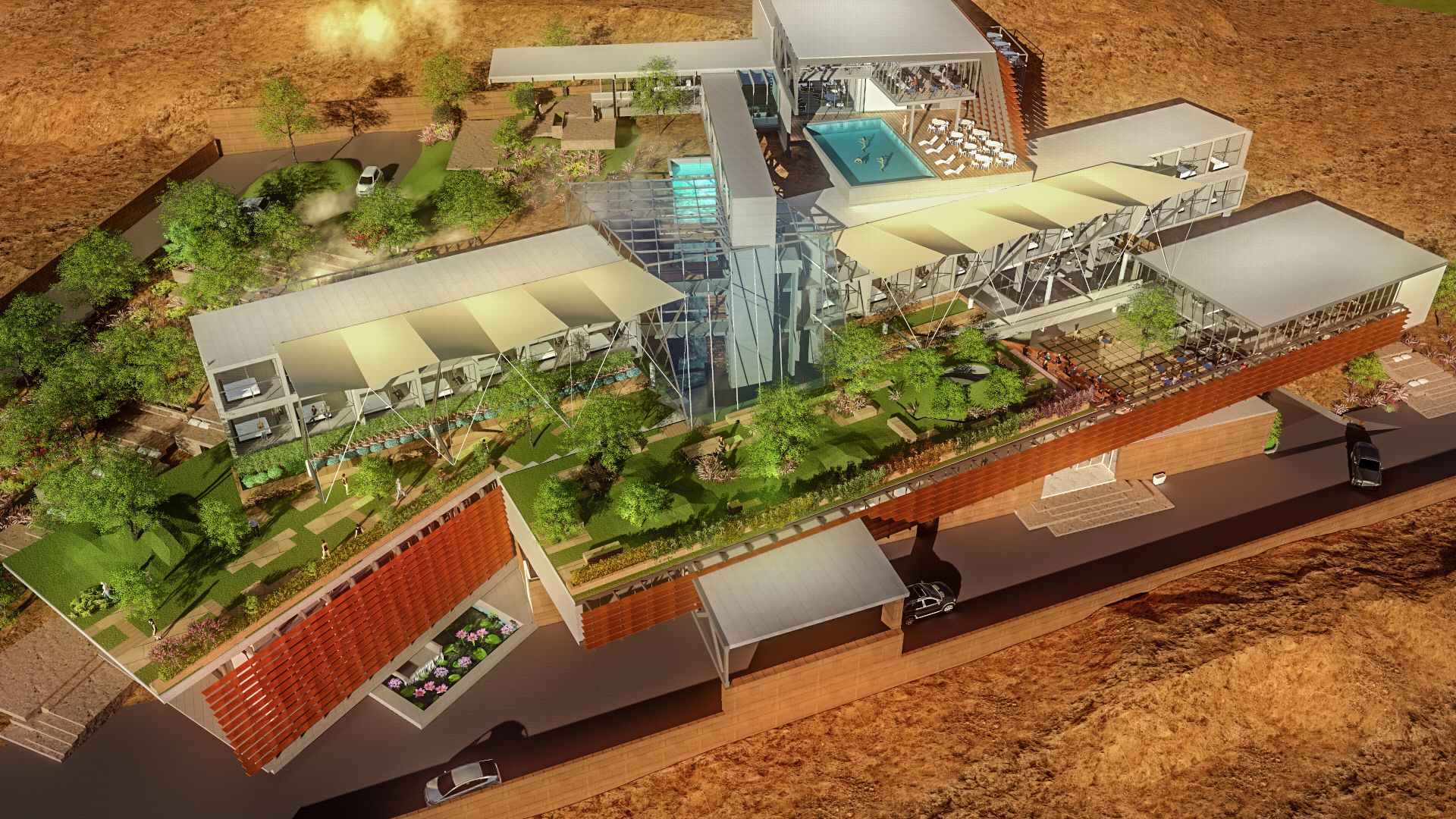 The rock-face project, Bhopal, designed by flYingseeds Studio
The prime objective while conceptualizing this futuristic Hotel design was to create a concurrence between the built mass and the existing rocky plateau through the ecological weave and by providing optimal, sustainable, green environments for different desired activities.
The idea emerges from the rock face backdrop of the site, going as high as 20 meters. The tectonics of the design, meandering along the contours of the existing terrain, frames the backdrop and merges with it simultaneously. The guiding contours make the floor plates glide over each other, creating skewed volumes within. The voids are carefully created to introduce permeability within the building for an accentuated interaction of the user, through the built, to the existing natural rock face!
The building here is conceived from top to bottom. It starts from the vantage point at the top of the rock cliff, which houses the health club lounge, terracing down to the foothill, creating a huge lush green terrace garden on the intermediate floor which acts as an insulation layer for the lower level while also catering to a gathering for more than 1000 people at one time.
The design strategically infuses decks and terraces at various levels and bestows wide-angle views of endless rocky plateaus experiencing windy pleasant evenings of subtropical humid weather of Bhopal.
The central arena, with indoor courts (atrium) superimposed with huge glass covers, is surrounded by areas that can be adapted for small or large group settings(Lounges, lobbies, terrace gardens). There are opportunities for both formal and informal nature throughout the building- making essential use of existing natural rock with strategic landscape courts, terraces and, most important of all, the 'waterfall' maintained as a spine feature for all the connected spaces they can be reconfigured to accommodate the client needs.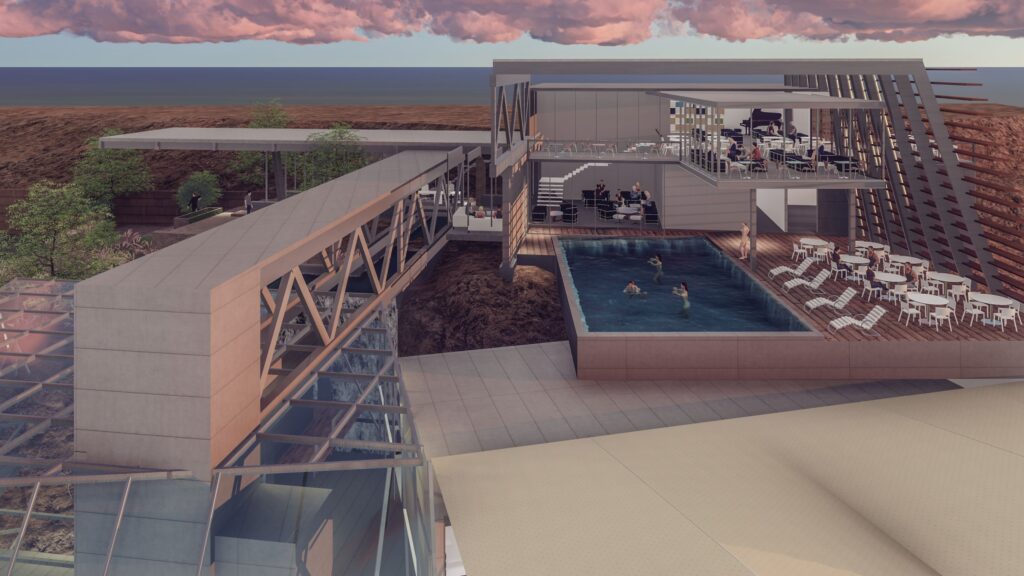 Project Concerns:
Ecological sustainability
Following a green design approach in planning and detailing
Formulate waste management schemes
Giving back to the nature
Energy and water conservation
Social sustainability
Generating interactive design for community involvement
Formulating club rules as per the local social structure
Excellent staff management, motivation and public relations
Financial sustainability
Increased brand value and well-prioritized branding scheme
Risk management
Awards and recognition
Regulatory compliance
Sustainable green design approach and factors
Organic pool
Green roof
Drip irrigation system
Natural STP, eventually used for irrigation.
Use of local materials
Optimum light and ventilation
Low e-glazing system
Optimised waste management system, recycling and composting
Biogas for cooking and generating biofuel from waste cooking oil
Gallery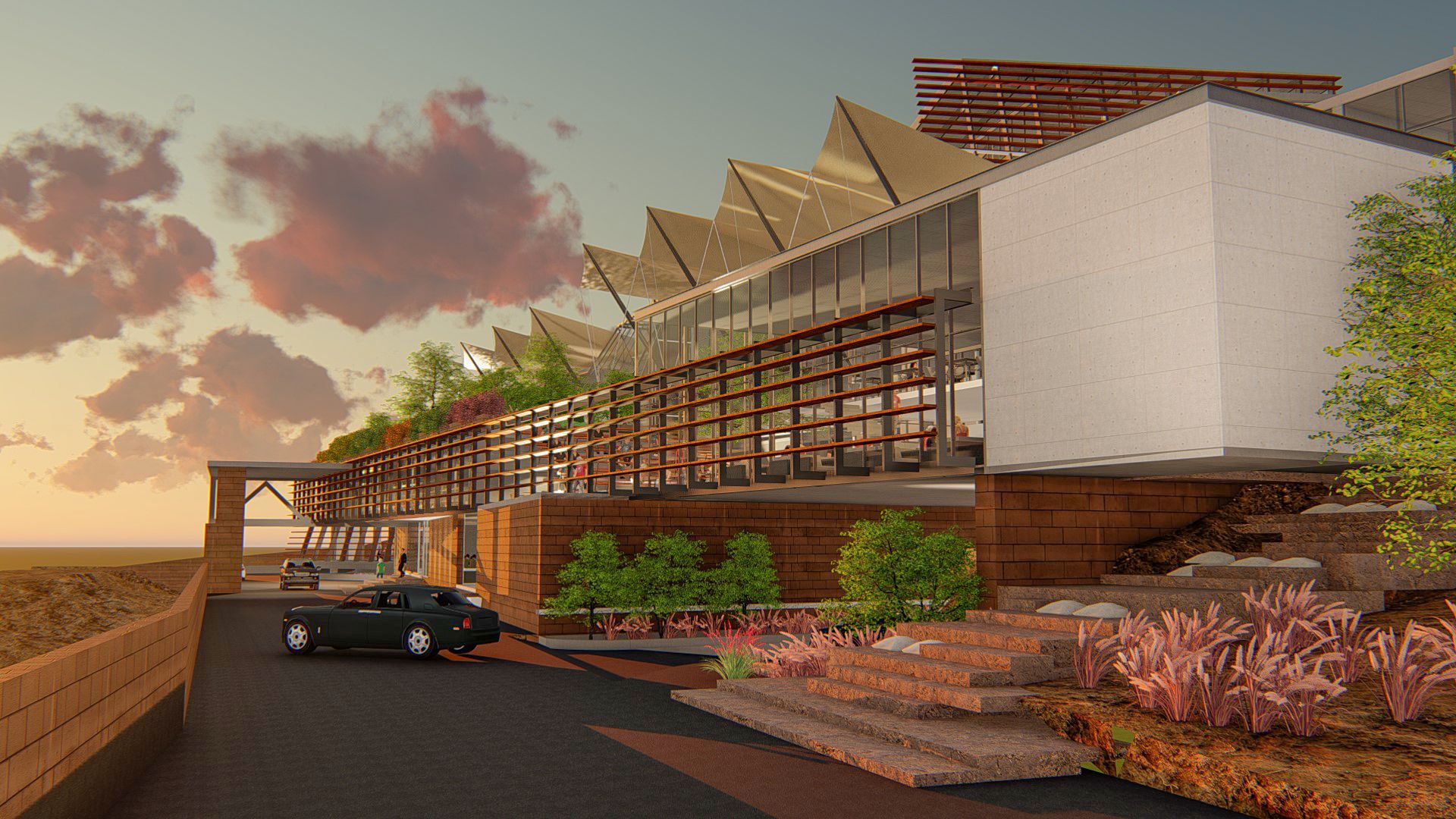 Project Facts
Project name: Rock-face project – Ranjeet Resorts
Architect Firm: Flyingseeds design studio Pvt. Ltd., New Delhi
Lead Architects: Abhinav Chaudhary, Kakoli Bhattacharya, Shubham Vasudev
Project Location: Bhopal, India
Commencement year: 2019
Gross Built Area (square meters or square foot): 75000 sqft
Site Area: 2 acres
Drawings and Diagrams