Text: Peeyush Sekhsaria
Images: Rajendra Desai
Editing: Anupriya Saraswat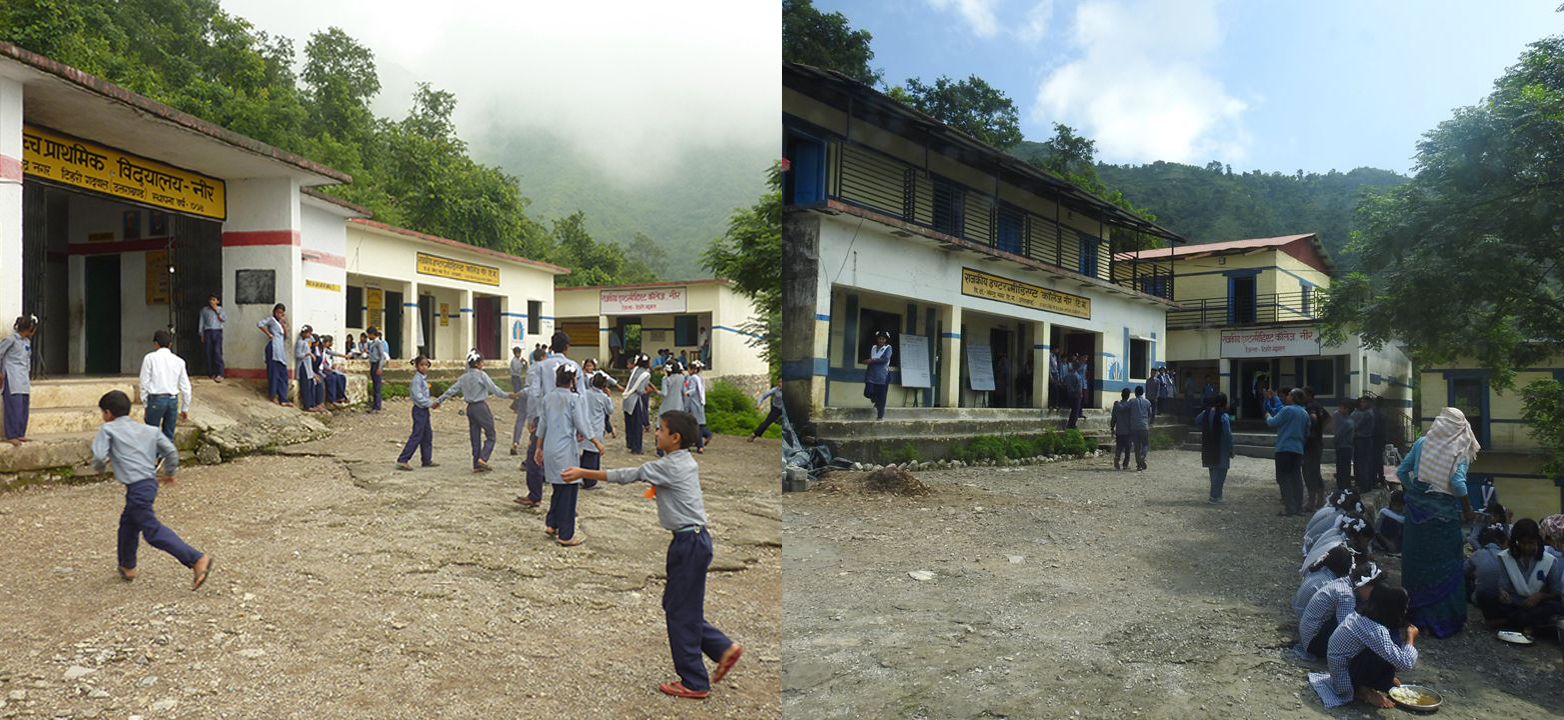 4350 feet above the sea level, nestled in the Shiwaliks, a small collection of run-down buildings and  sprawling fields partially hidden among dense green foliage is what constitutes Neer Village.
A few kilometres east of Narendra Nagar (a small, but somewhat popular tourist destination) Neer constitutes of barely a 100 households, a tiny populace for plain-dwellers, if a sizable one for the foothills. This region of Uttarkhand has been classified as Zone 4 or High Risk Damage Zone for Earthquakes, the risk factor exacerbated by high rainfall and subsequent soil erosion, and is consequently prone to landslides.
Access to the village is compromised, and telecommunication services are barely functional. Despite the government's attempts to decentralize power and give this village some autonomy and adherent facilities, the outlook is bleak.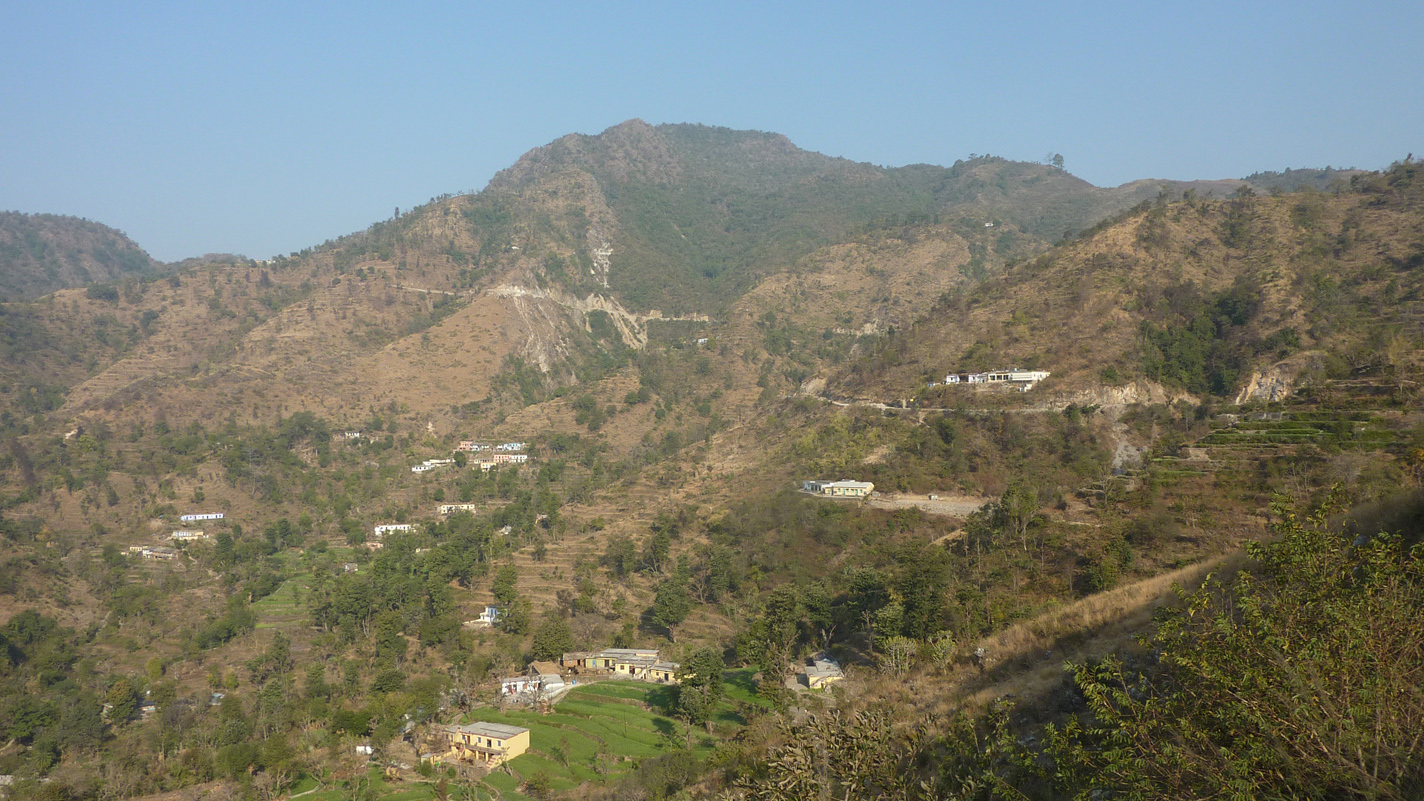 One such example of derelict infrastructure was the Government Intermediate College. A single-storey, two building affair, the masonry building sat beside the equally small primary school, the two buildings sharing a small, unkempt frontyard which doubled as an assembly ground. Of incredible importance to the local community, it was vital that the school complex be as well-maintained and disaster-resilient as possible.
Keeping in mind the delicate ecological balance of the region, the need for a safe, spacious learning environment for the students, and limited access to resources in this remote location, NCPDP stepped in with a vision for seismic retrofitting of the school – combining technological innovation with simple building techniques.

NCPDP (National Centre for People's-action in Disaster Preparedness) strives to empower communities in creating and safeguarding their own habitats, especially ones who live in hazard-prone geographical regions and have limited economical and technical resources. An initiative directed towards ensuring disaster preparedness in high-risk earthquake zones, NCPDP was started in 2000 by Rajendra Desai and Rupal Desai as an offshoot of their organization CEDAP (Centre for Eco-centric Development And People's action) which focuses on directing underdeveloped communities create sustainable built environments and better living conditions for themselves.
CEDAP guides the building process and trains the local artisans and labour hence propagating skill-acquisition and consequent economic growth. Their work in remote areas of the country – which would otherwise have been bereft of basic services like safe shelters and proper sanitation – aims towards self-reliance and sustainable building practices, bridging the gap between ecologically suitable vernacularism and low-maintenance modern engineering.
Working in tandem with Vinod Chopra of TARN, a Dehradun based NGO, NCPDP set about reducing the seismic vulnerability of the existing structure, while adding an additional storey of classrooms – demonstrating the use of hollow concrete block masonry and non-masonry gable walls. As Rajendra Desai tells us, "…Our effort was to demonstrate the hollow concrete block construction in lieu of brick. In the hills, the bricks are hauled over a long distance creating a huge carbon footprint. In many locations, construction quality stone is difficult to find. In such places, or when there is a time crunch, the hollow blocks would provide an excellent alternative. These blocks facilitate the placement of vertical reinforcement that helps make masonry ductile.

The project also employed timber saving options in roof gables, in addition to coating all timber members with wood preservatives for extending their durability despite the harsh climatic fluctuations. Drawing from their decades of experience and their expertise in conducting more than a dozen school-safety projects in the past, NCPDP relied on on-site innovation and informal drawings, especially given the scarce topographical information of the site, which consisted of three levels.
Artisans who had previously worked on a similar project for Gauna Village in 2015 provided invaluable support in this endeavour, demonstrating how technical skills can be transferred to rural populations and enable them to take care of their own built environments. A project of this nature is an interesting and important case study of how architects, with their technical expertise and sensitivity to sustainability, can help evolve contextually appropriate mitigation strategies and aid in community building.