Under the Sun – Residential Development Fortius Infra, by RSP Design Consultants
Under the Sun is a residential development set in the lush landscapes of Devanahalli, nestling amidst a myriad mix of 2650 fully-grown fruit yielding trees alongside a protected lakebed. The design sensitively responds to the climate, topography and context. Character of the street and existing vegetation dictates the form and massing, while the design is expressed in a distinctly contemporary language. Each plot is bounded by trees on all sides and within, reminiscent of a lush tropical eco-retreat.
Every villa is designed with clean modern lines juxtaposed on a natural setting. The entrance foyer is naturally ventilated and provides panoramic views of the orchard setting. The design places special emphasis on family spaces to support interaction between the family members. The concept of outdoors flowing indoors is animated by positioning all the principal room around courtyards. Large windows and roof-lights flood the heart of the house with natural light, with sliding-folding doors further extending the internal spaces into the garden. Courtyards and orchard trees are set along the circulation spine to enhance wide avenues and lung spaces within the residence. Functional façade finishes allow for a delightful interplay of hues and textures. Further, the interiors reflect understated luxury, exclusivity, meticulous attention to details and the use of carefully handpicked material and fitments.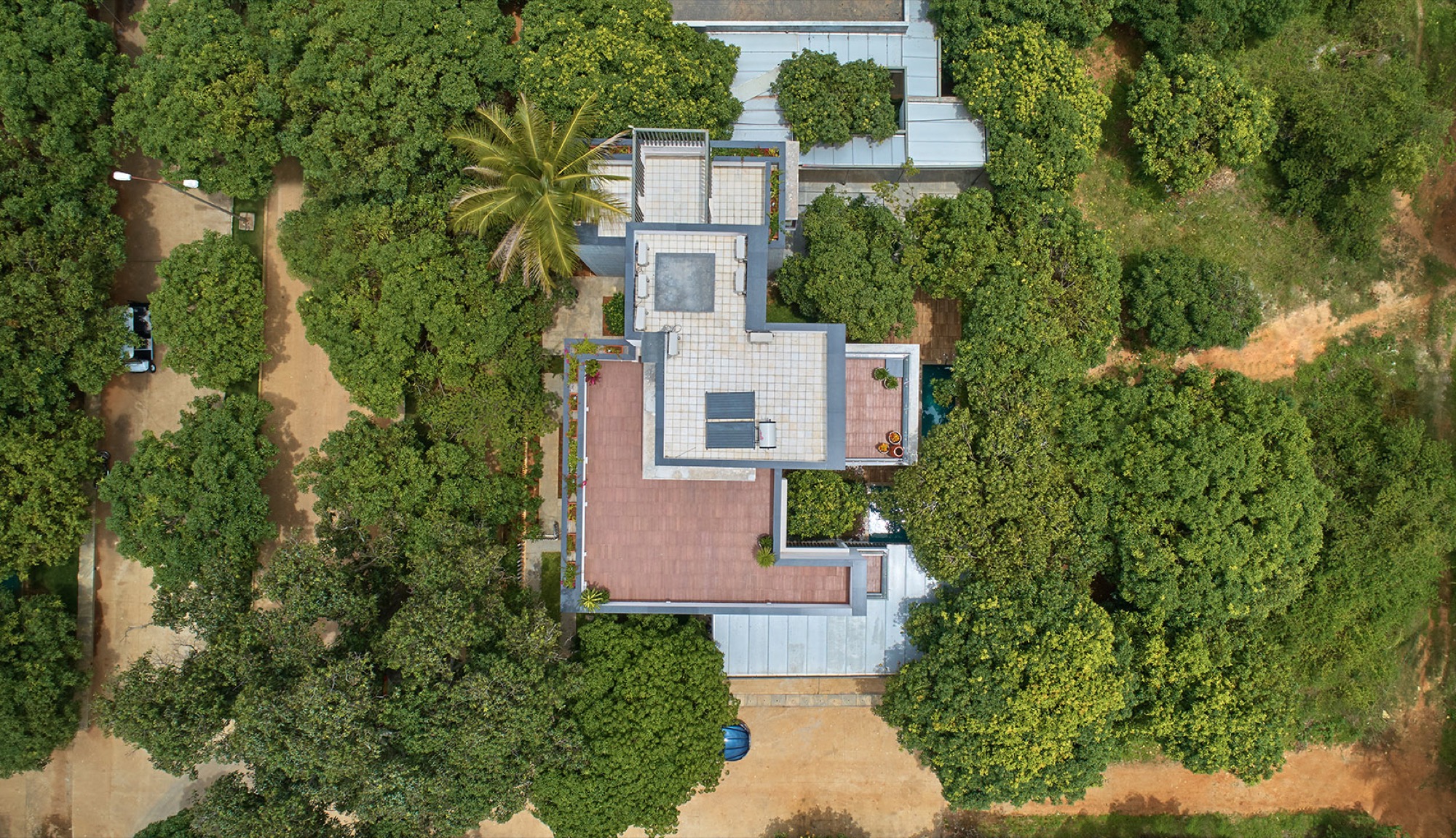 Retaining all the existing trees on site, Under the Sun is designed to achieve LEED Platinum certificate. Key design highlights include extensive cross ventilation, enhanced daylighting and enhanced fresh air ventilation. The upper level of the units faces north, east & west, maximizing on daylight harvest, while the terrace and landscaped extensions let one enjoy the orchard setting. The masterplan utilizes an existing perennial well for the collection of water run-off. Every unit is fitted with water-supply and replenishment system to minimize wastage of water and to utilize rainwater harvesting systems, while processed wastewater from the sewage treatment plant supports irrigation needs for all the landscaping.