Vijaya Pushkarna, a journalist wanted a dream house, which would be sustainable and low cost. Her search ended with Anil Laul, one of the pioneers of indigenous architecture in India. ArchitectureLive! approached Vijaya Pushkarna to share her experiences of working with Anil Laul. Following is her narrative as a client, who along with the dream home also got a friend in Anil Laul.
---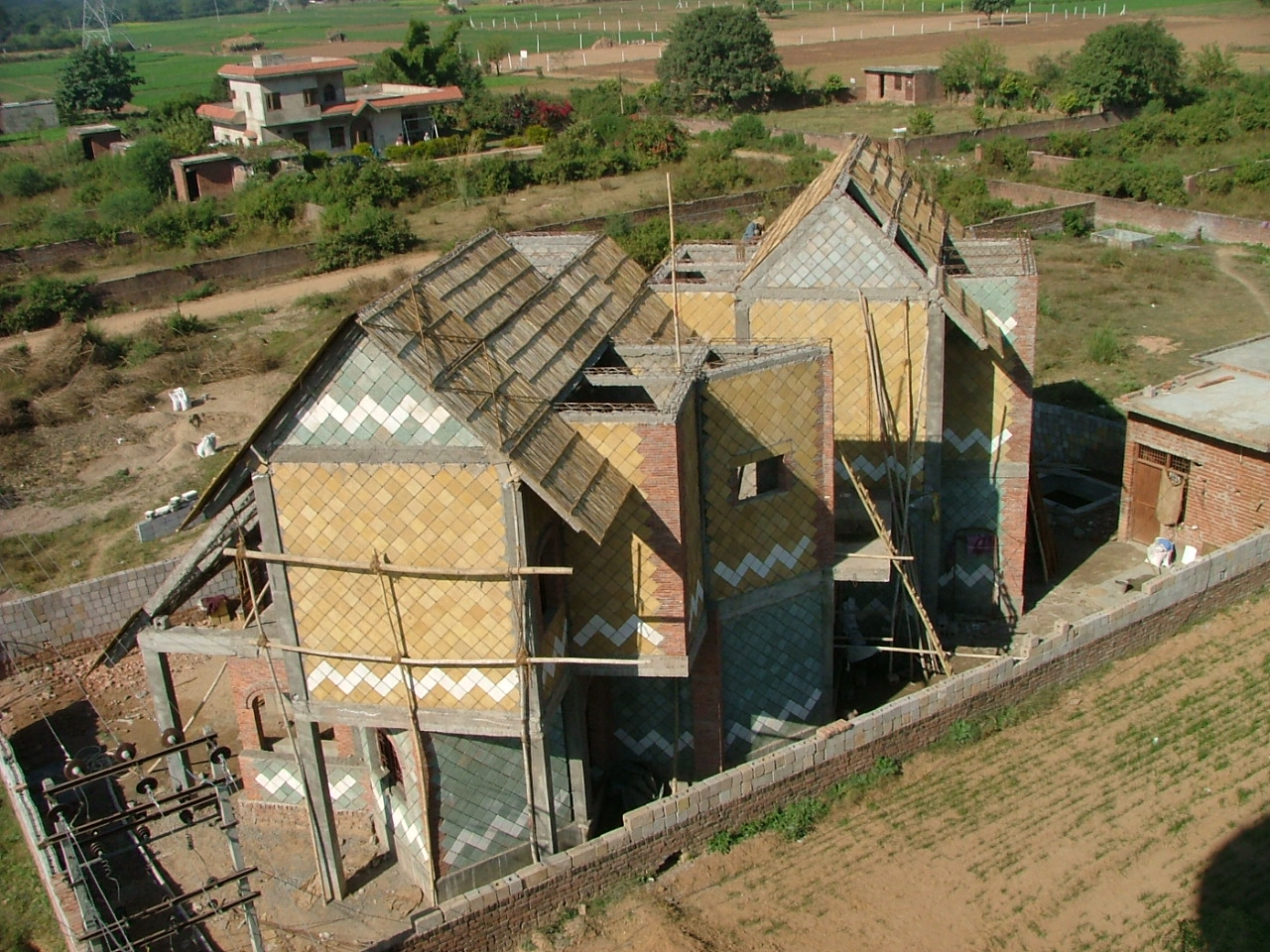 It was sometime in early 2001, the days of dial up internet connection. I was the proud owner of a one kanal plot on the outskirts of Chandigarh, with a view of the Shivaliks rising from behind the plot. It had to be a dream house no less. It seems I was unconsciously, and naturally wedded to sustainability well before I knew the meaning of the word in its entirety.

And so, I was googling for materials I would use in the house, like the flooring,wondering if it was possible to do away with the use of wood, reduce the usage of cement. It was when I was reading the merits of the humble Kota stone, that I saw an advertisement of the Anangpur Building Centre, with small images. I clicked and saw many of them, showing a wall, a ceiling, an exterior, many that were not clearly decipherable, because they were incomplete. There was no finished house! Yet I liked them all enough to send a mail to Anil.

Who builds houses for others, using those concepts? I asked him. Frankly, I had not even heard his name, and knew nothing about him, well known though he was in the world of alternate construction. I did not expect to get any reply.

But I did. In five minutes flat.

"I will, provided you give me a free hand..", Anil Laul wrote back. We exchanged our phone numbers.

The next day when Anil called, between coughs, he explained me what the pictures meant, what funicular shell was, welded trusses, etc. I told him that he had unreadable stuff on his site, and he hit back saying they were not for the lay people like me but for mainly for students of architecture. I had decided I wanted him to build it. It was to be on a turnkey basis. I said I wanted a house with a sloping roof!

The next time we spoke, he asked me to write him an essay of sorts of me, my family members, whether we had dogs, who stayed with us, our work, our life style etc etc. In an hour he received some 5000 plus words. The next day, I received the drawings in .jpg formats — two or three pictures, one of elevation, one the ground floor and another the first floor. I loved it, showed it around to friends. They discouraged me totally! "Nobody builds houses like this. You are putting in your life's savings, you haven't met the architect, seen houses built by him..this is not the way," counselled many. But I was too much in love with the design and the concepts by then. Unfortunately, when I called Anil the next time, a feminine voice answered. I told her I wanted to speak to Anil. "There is a Vijaya on the line, wants to speak to you", I heard her say. Then I heard Anil's voice, in top form as always, but he was at the AIIMS ICU! Then it was silence for almost a year and a half, and I was more or less reconciled to the idea of the dream house going out of the window!

But I did not give up. When I called, he was back from the hospital, though still ill.

"Of course, it is possible to build, but not on turnkey basis. you will have to send a couple of young women fresh graduates from an architecture college, we will train them here and they will supervise the construction", Anil said. And I would also have to employ a number of women on the site, and pay them daily wages directly, to make it a women's empowerment project, Anil said. I was left with no choice!

Sumedha Kumar had just finished her Masters in conservation architecture from SPA in Delhi. She is a friend's daughter, and was not interested in anything other than conservation. I had to goad her into the idea of doing this, because it was all about conservation of nature, for it was going to be an energy efficient house, without upsetting the ecology, using local material etc etc. It took her a month to make up her mind, and she was on board, bringing with her, her cousin Vidhi Gupta. And so with Sumedha in charge, Anil instructing her, a couple of masons from ABC, my husband Pramod Pushkarna as the builder, and me as the coordinator of the project – -we began. Everyone in the neighbourhood was amazed, for they had seen nothing like it. As colourful hollow pre-finished blocks got stacked up, we began to have visitors. When we went scavenging all over Punjab for the 16th century Nanakshahi bricks–hand made, cow dung cake -baked tiny bricks–from old havelis being pulled down, these bricks acquired a value. Hence you have the Haveli restaurants on the Delhi-Ambala and Chandigarh-Jalandhar highway!

Anil Laul would speak at different times with Sumedha, the masons, Pramod and me, to keep himself abreast of the construction. We sent him digital pictures on a daily basis.When I decided to have, and actually had the masons make a mezzanine each on two bedrooms, I got stuck without being able to locate the stair case for it. Sumedha received drawings, on which was clearly written– client shall not interfere with constructions and make changes without consulting the architect. Anil had seen a bamboo show,and decided we will have bamboo reinforced roof instead of steel reinforced roof. Even more visitors, with unabashed curiosity! One night he called up around 11 , asking if we had fixed the hooks on the panels for the roof. I checked and told him, and by the way asked him how he thought of it at that hour. At Anangpur, he had a problem with mobile signals, so he would make calls on his way back from Delhi, and that night he felt none of the four of us he spoke to had mentioned the j hooks.Sure enough, we had missed it! He had not.

Towards the end, a side feature for the sit out outside the drawing room had to be incorporated. He wanted to test Sumedha, by then his star pupil. She did a drawing he heartily approved. And he endorsed her in every manner for the American universities where she applied for further studies. This house was the main part of her portfolio. She got admission everywhere and was spoilt for choice.

When a house warming was on at a huge house across, the hosts and their architect came over to see my house. How is it so warm without any fire or heater, the architect asked me. I asked him to think about that, since that was his job

The house is cool in summer, warm in winter. You actually don't need anything by way of art work to decorate it, as it looks like fine, hand embroidery whichever way you look at it. We don't have rain water harvesting because Anil preferred to harvest all the water we use, by having perforated pipes that allow the water from the baths and the kitchen to drip into the soil and recharge it. The flush water is connected to the sewage. We have white terrazzo flooring, no marbles. We have steel door and window frames, no wood has been used. In fact, there is a very natural look and feel to the house that Anil built, but has not seen it with his own eyes! And all this transfer of building technology way before telemedicine, e commerce etc!

My friends who discouraged me from putting my money on a piece of paper, an email and a telephone call, are happy I stayed with my stubbornness. Along with the house, I got a friend in Anil.
---
[button-yellow url="http://amzn.to/2aZQdaF" target="_self" position="left"]Buy Green is Red Book on Amazon[/button-yellow]