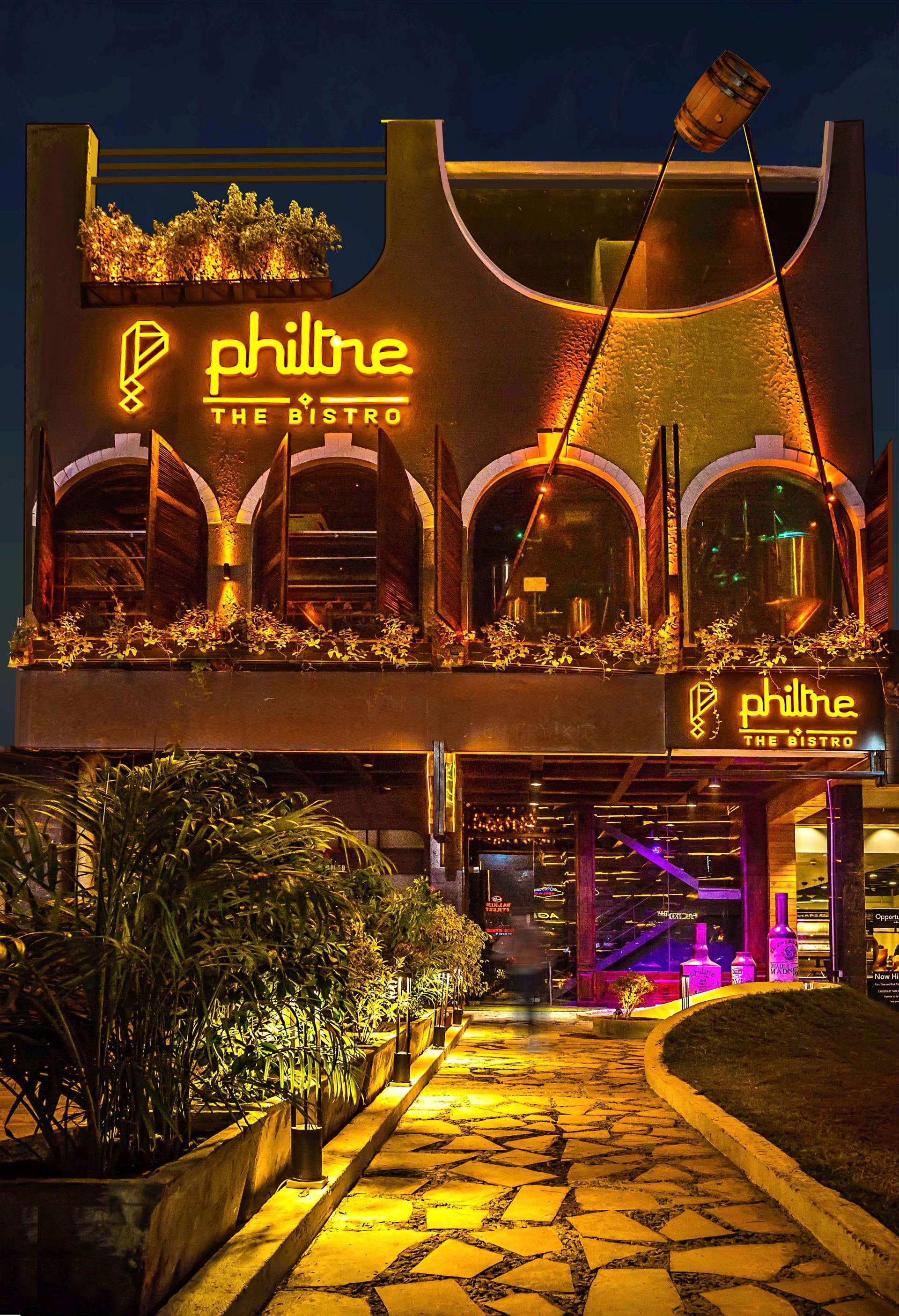 With the city going dotty over Gurgaon's brewery frenzy, Philtre-'the bistro' couldn't just have been a yet another addition to the line up of sector 29. Philtre [French] connotes a place of mystic love potion where people would tend to develop fondness amongst themselves as well as the distinctive experience on offer. The eccentric exterior instantly draws attention, sketching the classical European balconies with falling planters and boozing folks, juxtaposed with a post modern illustration of fresh beer spilling down the facade from a barrel.
A signature European street ride parked at the ground level marks the entrance, followed by a quirky 'selfie wall' which captivates and pull in the crowd. As we ascend through the stairways, The transcendental potion profiles elevate upto the first floor entrance where an extravagant, flowing bar display wraps around the walls and the ceiling, making the most prominent statement possible. The bistro speaks more of an outdoor street experience collocated with classical European spirit. The smoking area on the left with high-bar sitting opens to the exterior, overlooking the magnificent view of the area. The massive brewery equipments caged in a glass box with steel honeycombs, rests in the opposite corner, leaving the guests gazing into it -'Beer-lust'. The chequered black and white flooring stripe extending along the length of the cafe floor speaks of the European ambience which is again juxtaposed with rustic wooden flooring and slatted pergola ceiling, swathed in dense greenery. This is further complimented by faintly lit fairy lights which almost brings the outdoor inside.
The existing columns are profusely blended in with the theme by spiralling them with lovely scintillating lights, making the experience even more zestful. The walls are adorned with exposed bricks and rustic textures and are articulated with expressive graffiti and stimulating props. A small booth with invigorating lights and popping-out gramophones, houses the DJ in the rightmost corner. the dynamicity of the theme led to the creation of a number of flexible spaces in the bistro where the sitting area doubles up as dynamic performance spaces where artists could bring in their crazy equipment and take the crowd for a roll.
As we climb up the terrace, the guests are exhilarated by overpowering greenery with two vigorous trees on either side of the terrace and lush green planters strapped on to the walls creating a green, cosy stockade. The pleasant lounge seating in the open is again made flexible with a motorised retractable roof above, administering against the ambiguities of weather. The woody, countryside bar supplements the supply of potion, keeping the guests amused. Holistically, it is the mystic aura of the space that crusades to create a lasting impression.
Drawings
Project Facts
Project Name: Philtre- The Bistro
Project Architect– Shreya Gera, Ravideep Singh
Area: 4600 Sq. feet (First floor +Terrace)
Graffiti: Gunjit Purswani [Graffiti Inkorp]
Text by-Ravideep Singh
Clients: Sandeep Gera, Neeraj Sharma, Aman Dua