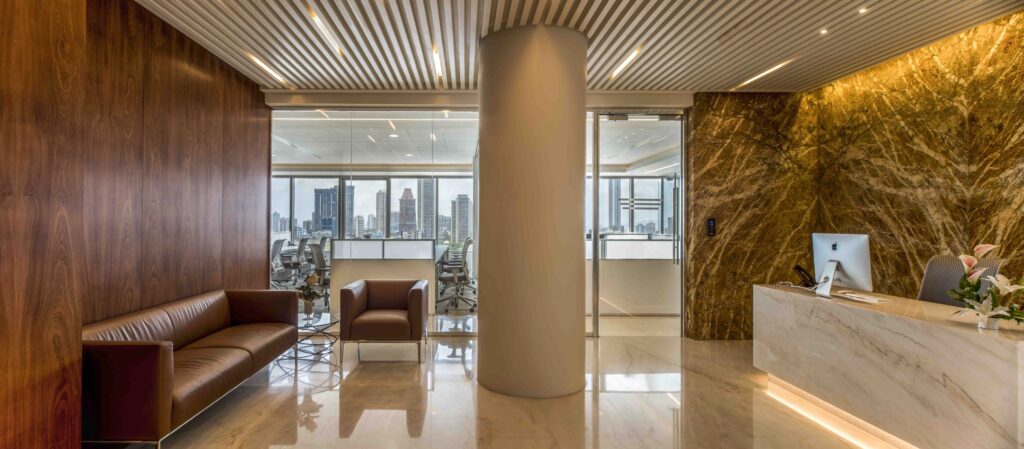 Office for Kedia Exports, Mumbai, by Edifice Consultants
Nestled in Lower Parel, in the heart of Mumbai, the office for Kedia exports is located amidst a corporate hub. Carrying forward the intrinsic values of the workplaces of today, the overall intent of the design approach is to bring value and consequence to the client and benefit the employees emotionally and financially. Together with a clear design brief for the corporate headquarters for this imports-exports company, and a process of working meticulously with the client, a unique and dynamic workspace is created. With staggering views of Mumbai's concrete megaliths all around, the warm and grounded material palette manifests in creating a welcome, contemplative contrast to the bustling metropolis just beyond the glazed building envelope.
The layout and design are driven by the desire to allow the maximum amount of daylight in the office for all employees. With sweeping views of the city to keep the inhabitants inspired and connected to the world outside, the spatial planning is manipulated in a manner that invites the spaces to face and interact with the non-curtained windows of the building facade. The visitor experience starts from the Reception which is located in the east and from here, the workstation areas are designed to flow subsequently and seamlessly. An abstract stone backdrop along with a Corian-baffled ceiling elevates the look and feel of the space, augmenting the experience. Enabling unobstructed views of the outside, the Director cabins are positioned along the South/Southeast and workstations are positioned along the north, an orientation that is compliant with the traditional planning principles of Vaastu-shastra. The spaces are connected visually by means of clear glass partitions, that allow for natural light to permeate in. The conference room is planned in the corner to maintain privacy. The service area such as the pantry and washrooms are strategically placed and well camouflaged with the veneer panelling. This veneer wrap segregates the service areas from the main workspace, thus creating a visual barrier. 
The elegant appeal of the interior space stems from a clutter-free and minimally furnished design philosophy. The open office workstations are minimalistic and white, with simple, straight-lined spaces that are grounded by rich colours to convey professionalism. Special attention is given to every aspect of materiality and design elements, keeping in mind the penetration of natural light as a planning determinant. Stone, wood, leather, steel and glass are carefully selected as materials to be in sync with nature. Developed with exquisite class and elegance, they come together to create a timeless space that explores the styling of the early 70s as well as the contemporary new. The office design provides the feeling of transparency and openness against the urban canvas.
Project Information:
Typology: Commercial Interiors
Name of Project: Office for Kedia Exports
Location: Lower Parel, Mumbai
Name of Client: Mr. Subhash Kedia
Principal Architect: Ravi Sarangan
Design Team: Dessignn Slate (Collaborative Architects)
Carpet Area: 378 sq m  and 4069 sqft
Built-Up Area: 408 sq m and 4392 sqft
Start Date: June 2015
Completion Date: May 2016
Photographer: Mr Bharat Ramamrutham
Consultants
Mechanical: Avinash Raj and Consultants
Electrical: Avinash Raj and Consultants
HVAC: Avinash Raj and Consultants
Contractors
Electrical: Gautam Electrical
Access Control Data: Ascent Networks Pvt. Ltd.
Civil and Interiors: Chitsons
HVAC: Anukool
Plumbing: Chitsons