'WE' adopts a philosophical method of enquiry into design and investigates the relationship between built form and space through a lateral and rigorous thought process. Working within the constraints of indigenous construction technology, the studio explores the underlying value of spatial principles in each of its projects; space is the protagonist. With an abiding interest in austerity and simplicity, the studio focusses its research on the fundamental problems of space, proportion, light and materials. The studio believes that there lies an inherent sensuality in designing and building with restraint, order and control. This is what we strive to achieve; an architecture defined by the rightness of what is and the richness with which this is experienced. The studio consistently aims at pushing the boundaries of this   research whilst providing comprehensive and highly customised solutions for all its clients.
Saahil Parikh graduated from the AA School of Architecture, London with an M. Arch in Architecture & Urbanism after obtaining his undergraduate degree from Mumbai in 2002. His research has been displayed at the Macedonian Museum of Contemporary Art, Thessaloniki, Greece and the DHUB Museum, Barcelona, Spain. Since 2002, he has worked with DP Architects, Singapore and Zaha Hadid Architects, London, where he was involved in the design development of several international building projects. Saahil has taught architectural design at the Academy of Architecture and the Balwant Sheth School of Architecture (BSSA), Mumbai.
Nupur Shah graduated from the Academy of Architecture, Mumbai in 2002. Since then, she has worked with Studio Mumbai and Serie Architects in Mumbai and Zaha Hadid Architects in London, where she was centrally involved in several successful high profile building projects and international design competitions. She has been involved with various aspects of the profession and has handled projects of different scales in various stages of design and execution.
PROJECT BY WE DESIGN STUDIO – HOUSE ON THE HILL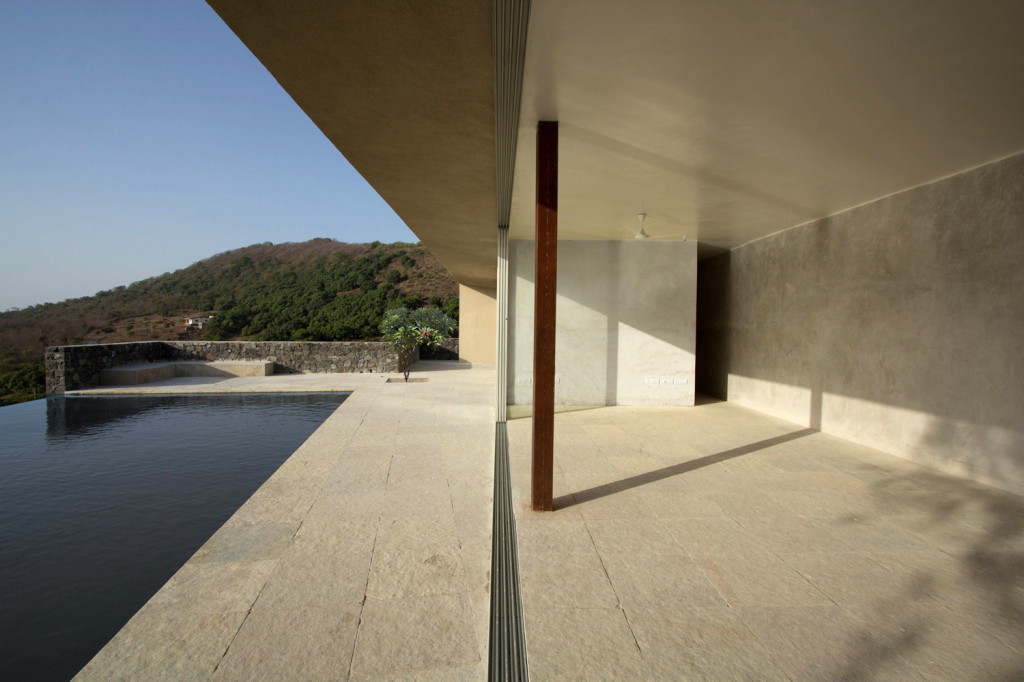 This single family house is located on a two acre hill in Alibaug, India. The house comprises of two intersecting monolithic volumes that are oriented to maximize a spectacular panoramic view of the Arabian Sea. Two stone retaining walls made of local basalt wrap around the front and rear of the house. The articulation of space is governed by the different ways in which these volumes interact with the stone walls. The pool and deck seamlessly integrate interior with the surrounding landscape, establishing a strong sense of continuity. The house is a result of a continuous negotiation between topography, programmatic requirements and economy.
More details and images of the Project can be found HERE.