Founded in 2010, Studio Osmosis is a multidisciplinary design practice formed by Sameer Balvally and Shilpa Jain Balvally. The Studio's foundation is based on the genesis of the 'Osmosis' phenomenon where the ultimate design is a product of client collaboration and intricate aesthetic detail. The firm has to its credit, many award-winning designs and clients. Within a short span of time, Studio Osmosis has become a venerable name in the design and architecture space. Staying true to its name, the design philosophies of Studio Osmosis exhibit a sense of fluidity and dynamism. A more adaptable and flexible approach to design is followed by not sticking to one particular formal style of design but instead, by understanding and absorbing the client's needs and developing tailor-made solutions to projects. Young minds collaborate creatively and fresh ideas and concepts are transformed into unique, tangible endeavors in experimental and sustainable design. This approach to design is what makes projects stand out in a crowd and brings a sense of dynamic freshness to the table.
Sameer Balvally & Shilpa Jain Balvally have graduated from the same alma mater, Academy of Architecture in Mumbai post which they pursued their Masters in Architecture at Texas A&M University. During their stay abroad and whilst working with reputed companies abroad, they would always brainstorm about starting their firm together. It was an idea wherein they wanted to start a studio where like-minded designers could enjoy working and execute projects which showcase their design philosophy.
Being a part of a passionate academic and work environment and interacting with students, faculty, employees, and peers from different cultures with a wide range of ideas led us to understand that the most important part of a design was the ability to absorb, assimilate and extrapolate information and ideas and practically turn it into aesthetic logical solutions with a strong core. Thus was born the idea of Studio Osmosis, true to the genesis of the word. Shilpa and Sameer
Once they moved back to India, they had the opportunity to work in Mumbai where they learned how the design system works locally. Just after a year's work, they took the big step. Studio Osmosis, the name itself was the whole crux of the practice. They started against all odds; a slow economy and virtually no contacts or leads.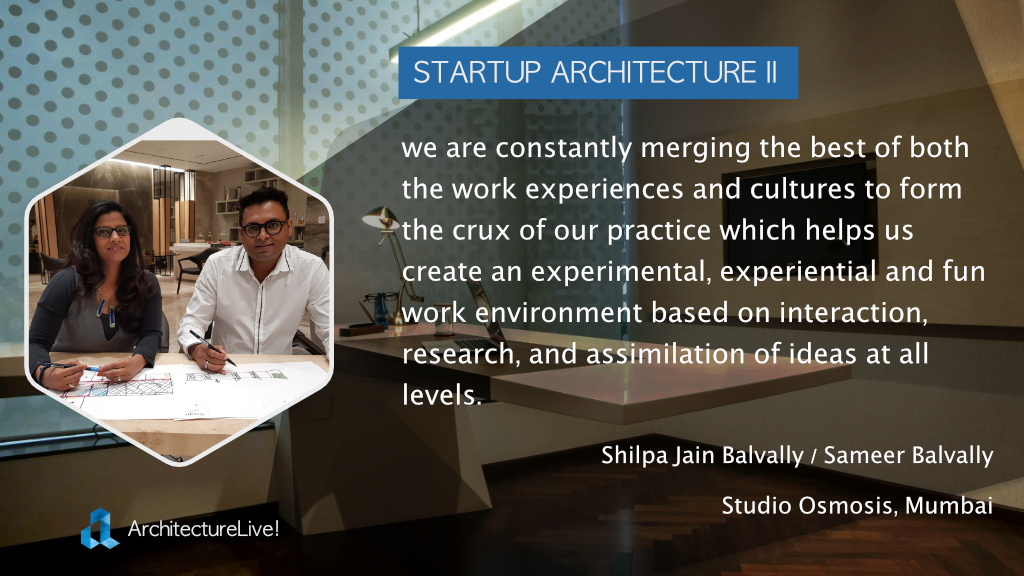 Each of our important landmarks in the last two decades is an experience we had together. I would add that the experience of studying and working in the US might not have been a necessity if you look at the big BOOM we missed in India, but if I hadn't done it, I would have missed out on the biggest learning experience and exposure of our lives. It has been an influential base for setting up our own practice, management, employee and client relations, and our core workspace philosophy. Most of it taught us how to respect all and treat no work as small. It made us a more sensitive designer, manager, and person. We are blessed with a family who encouraged our endeavor and Studio Osmosis started from the dining table of our home. Although we needed some convincing to do and started with undercutting fees too, we were blessed with clients who were willing to invest their faith in us. Over the years, we have had several clients coming back to us, we got recognized for our work with numerous publications in design magazines and have also been awarded the IGen 50 next-generation designers. Ar. Shilpa Jain Balvally.
Talking of the challenges, Ar. Shilpa says that it was obviously challenging at the beginning, running their own office. As compared to working for someone, there is so much more at stake as the competition is internal, and the struggle to set personal benchmarks takes on! Also, the standard architecture education hardly teaches the business of design which leads all to a self-learning mode; this eventually works out as the worse is usually over and dealt with!
"We have been lucky to bag some very good work and design opportunities in various typologies and clients choosing to come back to us are always an honor. As far as the working environment is concerned, the methodologies are different here than in the U.S., from dealing with clients, employees, pitching a design idea, budgeting schedules, and many other things. As Shilpa said, we are constantly merging the best of both the work experiences and cultures to form the crux of our practice which helps us create an experimental, experiential and fun work environment based on interaction, research, and assimilation of ideas at all levels.", says Ar. Sameer Balvally.
We had always worked in large-sized firms and worked on large scale projects which could even go on for years while in India and abroad. It was challenging as well as good self-realization to work on projects of varied scale which allowed us to explore our design sensibilities, materials, and technologies. We slowly realized each of those ended up being important milestones and learning experiences. When ideas and thoughts are reinforced by a coherent philosophy, they transcend scale. Inquiry and growth are an inseparable part of the creative and analytical mind, and so is the urge to challenge the boundaries of one's own comfort zone. This exploration can take place at many levels, from typology to material to process to scale. These became the building blocks of a very strong foundation at Studio Osmosis.
Talking of major achievements, Shilpa says that they had designed the architecture and interiors of a 40,000 sft hospital in Bengaluru which was a defining and huge learning curve for the practice in the early years, considering that hospital design in India is such a niche to break into. Also, for her, it was a personal and professional satisfactory milestone to be applying the Healthcare design background, education and all the research from the US in the Indian context. This was not just a challenging but super learning experience with the most complicated of collaborations and site contexts, especially, when it ends with a happy client and self-satisfaction.
When clients come back to us for the next many projects, understanding and appreciating the value that we add, nothing could feel more exciting. Especially when the design intents have been met at both ends. The business development of our practice heavily relies on clients coming back or good referrals from colleagues or clients- mostly word of mouth based on past experiences. More recently, we volunteered on projects that were more close to the heart, whether it was uplifting an underprivileged school in a village or building a Research/Intern outhouse for a completely volunteer-based Animal rescue center. These projects gave a different kind of takings which cannot be enumerated.
Team Studio Osmosis looks to continue to design spaces that are enriching and go beyond the physical program given by the client. For them, it is important to challenge themselves to critically examine the context and respond meaningfully. Visions are constantly changing, evolving with each project. End goals will not just be the outcome but also the process and the journey that has been made, something that the team can look back and feel gratified about. "We strive to be a practice where professionals enjoy what they do- building relationships and spaces. As a firm, we believe we will have to continually research, experiment, learn and innovate, and absorb further from the failures and tough situations too. We also see a lot more collaborations currently as well in the future at various levels of the design process, execution, art, architecture with other designers as well as creatives, craftsmen and technical persons from other allied fields. That is the way to go.", says Ar. Sameer Balvally.
Advising young architects on the course of future action, they say that in the early stages of one's career, he/she won't know much empirically, but if one strives for knowledge and further education, confidence will follow. Trust in yourself that you can face any challenge that comes your way- not only because you're strong enough, but because often, you don't have any other choice.
Things will come for you in their own time and at their own pace when you have the knowledge, the experience and the power to do what needs to be done. It's important to remember what or who inspires you when things are tough. Be curious, ask questions, and don't worry about being judged. Find a mentor, be firm yet don't forget the humor and fun. Aim high and ask for what you want. Even if it seems unrealistic, give it a shot anyway. Use social media judiciously to connect with contemporaries, display your own strengths and expressions in the most unique ways possible but also don't overdo it. Shilpa and Sameer
Also, if you plan to take the plunge of starting your own practice,- • Don't be afraid to make mistakes and learn from them. • Always revisit what would you do differently the next time. • Don't be afraid to ask questions or share experiences with peers, colleagues, mentors and keep learning. • While we keep looking for end results, don't forget the process is most important. • Keep building your relationships whether its ex-staff, students, colleagues, peers, clients, contractors, consultants or suppliers. • Stay grounded wherever you reach and yet keep dreaming.
There is always a new learning while trying to balance the creative and the business aspects of design, while still always feeling satisfied and content with the final outcomes to keep going. The idea of growth, in this case, is to keep outdoing your own self while building relationships of people and spaces. Sameer Balvally & Shilpa Jain Balvally.
Practicing Architecture and Design is both exhilarating and challenging. While the initial years in entrepreneurship (they still cannot get themselves to call it a business) can be tough with financial hardships too, the joy of being able to create and shape the built environment to be an influencer is incomparable. Each project has to be approached regardless of scale and size with an understanding that we have to power to change lifestyle, society and human interaction. And with great power comes great responsibility.