NITHYA SRINIVASAN
Date of Birth: 15 August 1970
Education:
1. B. Arch. [Hons]: IIT, Kharagpur 1993
2. M. Arch.: Iowa State University 1996
Brief profile
Nithya Srinivasan is co-founder of InFORM Architects with Kiran Venkatesh. InFORM Architects, a practice known for its critical re-thinking of architecture, has experimented, grown and evolved over the last 15 years. InFORM's works has won 54 national level awards and is widely recognized in the profession and has been extensively featured in multiple publications.
Along with her practice, Nithya is also active in academics and interested in Architecture Education. Nithya has been at juries at the School of Architecture & Planning for the M. Arch (Digital Design) reviews and on the Board of Studies (syllabus subcommittee) in addition to teaching and reviewing work at various schools of Architecture. Nithya has been engaged in instructing senior design studios at the architecture schools in Bangalore. She has been instrumental in developing and teaching introduce cross-disciplinary courses, which enhance awareness of contemporary thought through presentations of works of contemporary art, sculpture, media installations, etc. The courses aim at widening the students' perspective towards design and at the development of aesthetic and graphic sensibility at various levels.
Along-with Kiran, Nithya founded InCITE in 2008. InCITE is an initiative dedicated to the dissemination and discussion of contemporary Architecture – enabled by EVENTS and PUBLICATIONS. It is a focused effort to increase responsibility, visibility, voice and impact of the Architecture profession in a larger context. Since January 2012, its activities have been anchored in the 3000 sq.ft. InCITE Gallery, which has hosted several international speakers and exhibitions of their works.
Her projects
KS Residence, Bangalore
The single family residence is an acute index of architectural experimentation, progress, aspirations, ambitions and perhaps even of individual whims and quirks. The design of the KS Residence reflects the Architect's response to a host of issues: self-interest in the interior organization of spaces, dynamics of form and a contemporary expression of material combined with a strong desire for a minimalist intervention that contrasts with the capitalist consumption-based nature of society.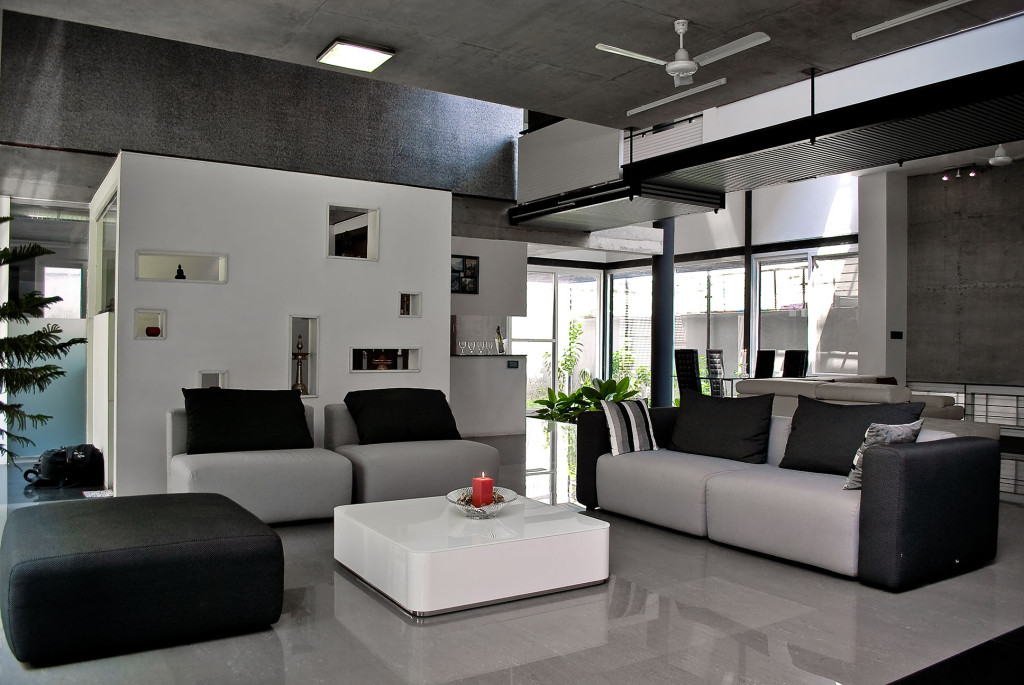 More details about the KS Residence can be viewed HERE
InCITE 
InCITE is an initiative by Architects Nithya and Kiran [founding principals of InFORM Architects], dedicated to the dissemination and discussion of contemporary Indian Architecture – enabled by EVENTS and PUBLICATIONS. It is a focused effort to increase responsibility, visibility, voice and impact of the Architecture profession in a larger context.
Over the last four years, through exhibitions and publications, InCITE has created an event-platform that show-cases the diverse works and interests of Indian and International Architects from residences to larger, more public buildings. InCITE activities have drawn a wide audience across the country and found great traction with Architects, Students, Designers, Industry Partners and the public-at-large.
As the next evolution of its endeavours, InCITE has launched a 3000 sq.ft. multi-functional Architectural Event-Space that will simultaneously be:
An Architecture Gallery for display and installations [physical and virtual] A Space for a Film Club focused on Architecture – Design A Lecture – Presentation forum A Library | Digital Design Classroom A Workshop environment  
The intent is to incubate an open, inclusive, event-space that will be an Intellectual Hub for Contemporary Architecture to a wide audience.
The Gallery will continue and further propel the InCITE interest of publications and exhibitions. In addition, it will spearhead new initiatives such as an Architect-in-residence program, custom installations, group monographs, experimental studios, research initiatives etc.
The content of the Gallery will be dynamic and will be evolved in collaboration with national and international partners including Architects, Designers and Institutions / Organisations focused in the architecture & design space.
The InCITE Gallery was inaugurated in January 2012 by Caroline Bos of UNStudio. This was followed by presentations by Kas Oosterhuis and Iwan Baan. In June 2012 InCITE in association with Terreform One (www.terreform.org) hosted an exhibition of the entries for the one prize (www.oneprize.org) 2011 competition.
InCITE is a partner with the Architectural Association London for the AA India Visiting School India (http://www.aaschool.ac.uk/STUDY/VISITING/bangalore) 2012 & 2013. The Hyper|Threads 2012 & 2013 workshops concluded at the InCITE Gallery with installations which were on display.