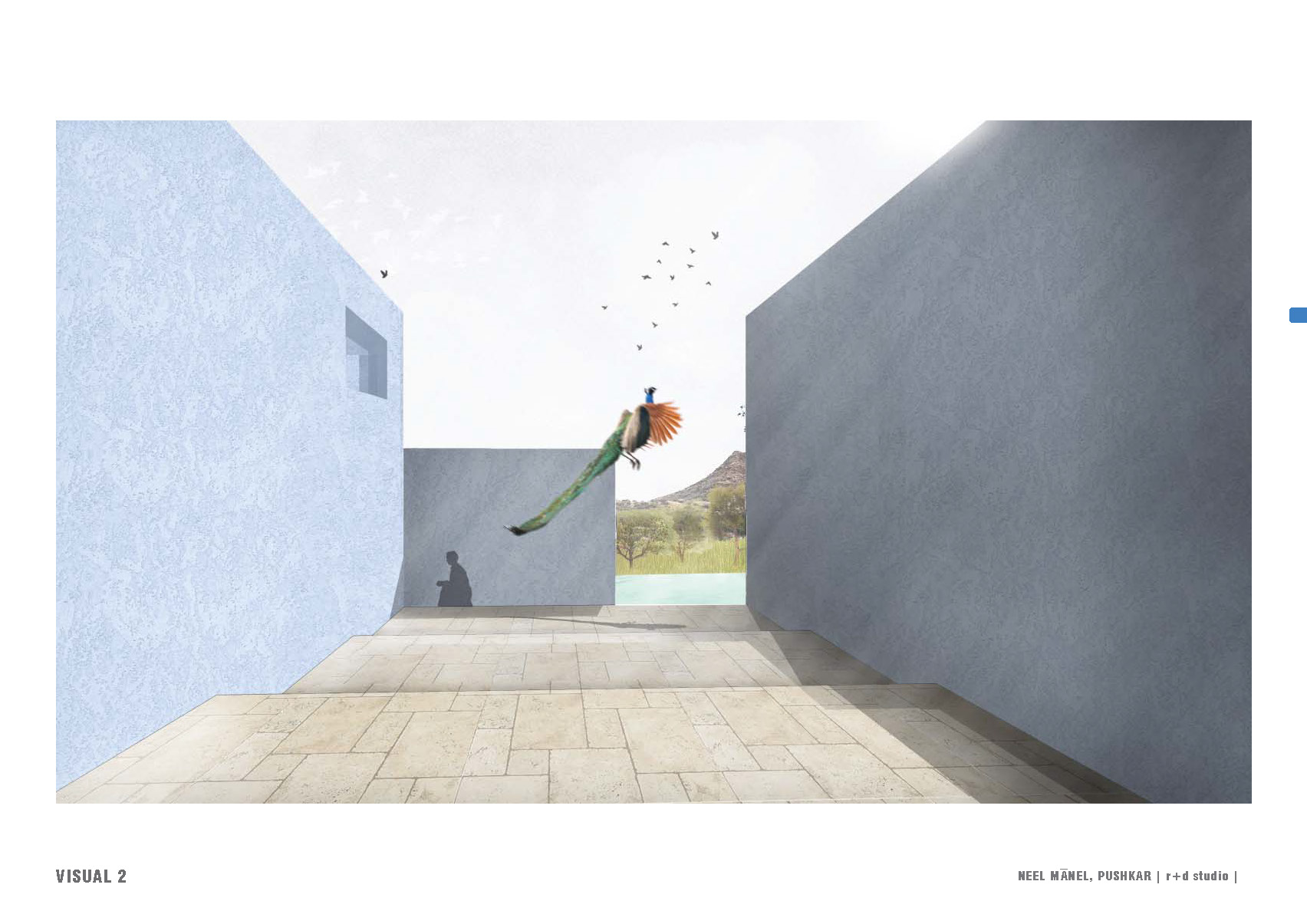 Client Brief:
100 Room Resort at Pushkar, Rajasthan. with a 200-year-old 2 storey Haveli, Chhatris and a step well. 5000 sq. ft. Banqueting facilities with speciality restaurant, spa and event spaces.
Pushkar, a city in Ajmer, Rajasthan is a significant pilgrimage site. The region dotted by havelis, stepped wells, Ghats and temples portrays a vivid image of traditional Rajasthani architecture. The urban morphology suggests human-scale volumes with narrows alleys among them opening into the sacred Pushkar Lake. The streetscape appears homogeneous with edifices of similar character. The city fabric is dense but a many intermittent chowks and alleys keep it porous.
The program involving an extension and adaptive reuse of derelict heritage buildings required a proposal for resort in the Pushkar district. Upholding the traditional identity of the place while creating a contemporary piece of architecture was crucial for a site with such a strong context.
Design:

Catering to the relationship among the functions and adjacency of spaces, the recreational areas- restaurants, library and meditation center are zoned within the existing heritage structure whereas the rooms and conventional hall are a part of the extension. The layout is designed with the higher built forming a backdrop and the lower further stepping down towards a proposed lake. The design reiterates the city fabric and the visuals which Pushkar brings forth. The terraces evoking the image of Ghats become the vantage points for the lake. Voids between the built allude to the alleys leading to the waters. The built stays permeable and intends to merge with the surroundings. The rear-built stands in sandstone while the front in a pale blue stucco finish toning down the materiality towards the lake. The platforms at the junctions make up for event spaces to liven up as the sun sets.
A pale blue stucco finish knits the blocks in tranquility of the lake.
– R+D Studio
Drawings:
CREDITS
Neel Manel Pushkar, Rajasthan
Design Architect: R+D Studio, India
Developer: Vishal Anand Sharma
Team: Shikha Doogar, Shridhar Rao, Ashwjit Singh, Shreya Gera, Neha Deswal, Raghav Raj, Karishma Garg, Arushi Chand, Durga Prasad G., Sonal Jaiswal.
Program: 100 room Resort Hotel
Collaborators: Whizztech Projects Ltd.
Area: 17,850 sqm.
Status: Unbuilt