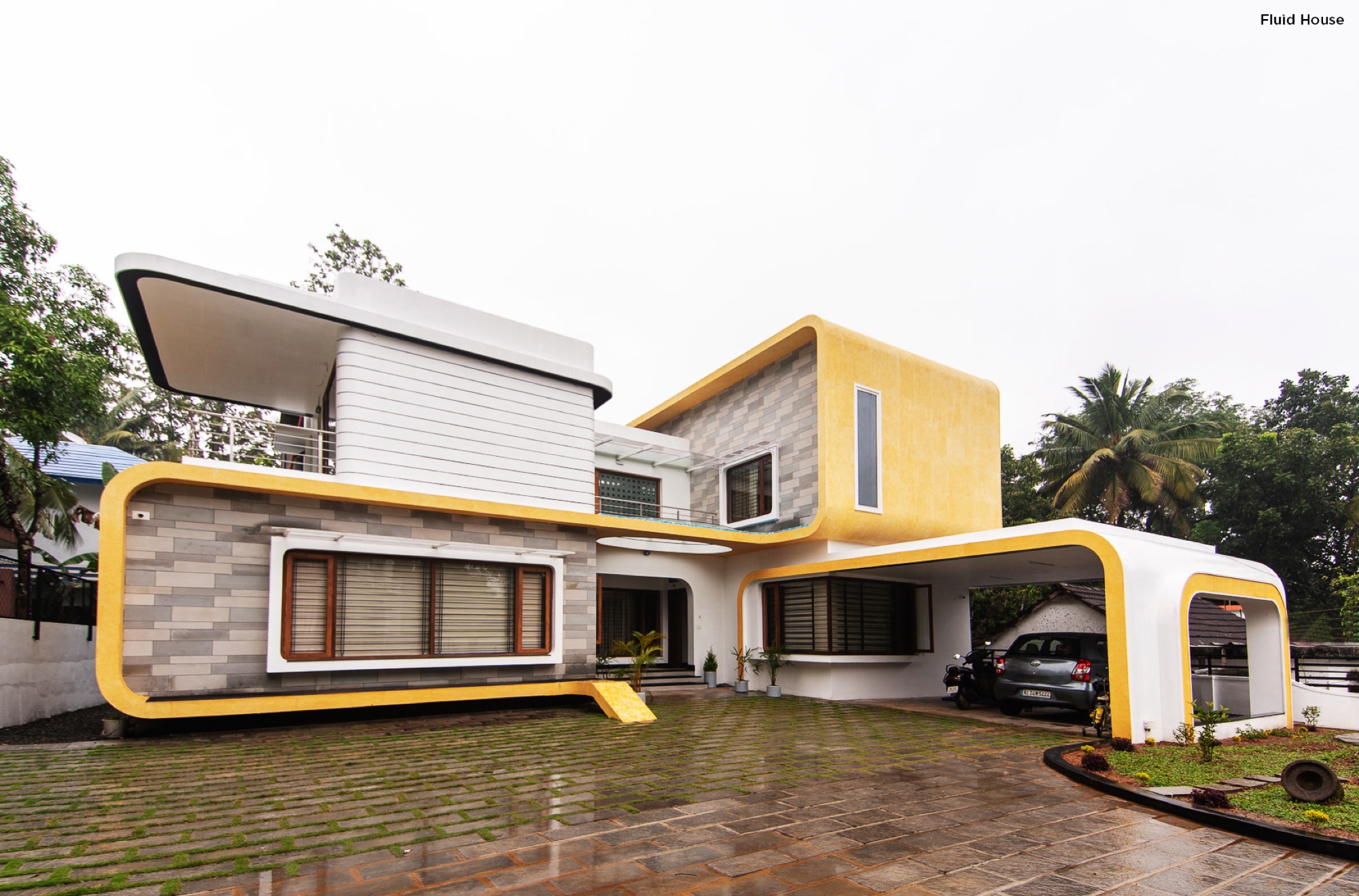 Text: MySpace Architects, Photographs ©Jino Sam and MidhuSreenivas
Concept Note
The project embodies a desire to sculpt rather than build, a structure with 'soul'. The idea was to create an impression of "growing" from the earth, engulfing the space and returning to it. The curved contours impart a fluidic demeanour allowing the space to flow instead of dividing it. This conveys a sense of 'organic dynamism' and vitality.
Design Process
The design process started with the inspiration to think out of box and disrupt the conventional design language but at the same time adapting to the vagaries of the local climate. The initial idea was to build two tubes and a connection bridge. The claw like porch was added later. Exterior design avoided the multi-layered intersecting straight lines, sharp corners and skewed facades instead adopted a simple, easy on eyes elevation with focal point on an undulating band that emerges from the landscape, embracing and connecting the tubes and the bridge together. The interior design takes the same design cues and blends harmoniously with exterior.
Modern minimalistic theme is followed in keeping interior simple but a certain panache and warmth is brought in by wood finishes and bursts of colour. The real challenge was adapting to the local climate. Shades needed to be adequate enough to protect from torrential downpours without disrupting continuity. Glass on white powder coated frames were used to keep shades in background, upvc frame installed for windows without protection.  The main living area is double height with ventilation shaft to provide air circulation and cooling in summer.
Drawings
PROJECT FACTS
Project Name – Dr. Gerald and Anila's Residence
Architecture Firm – MySpace Architects, Noida, Uttar Pradesh, India/Principal Architect – Ar. Alex Joseph
Office Website – www.myspacearchitects.com
Completion Year – June 2018
Built Area –2700 sq. ft.
Photographer – Jino Sam and MidhuSreenivas • Website – www.jinoandmidhu.com
Other Technical Info
Clients – Dr. Gerald Johnson
Budget –Rs. 1.1 Crore
Lead Architect – Ar. Alex Joseph
Team – Ar. Dona Alex
Jr. Architect: Danny C. Mathew
Consultants
Structure – Srishti Projects, Delhi, India/ Er. Noble P. Thomas
Collaborators
Interiors – Bajrang Interiors, Delhi, India/Mr. Shanti Prasad Semwal
3D Visualization – Spawner Visualization Studio, Delhi, India/Ar. Rajat Arora . www.spawnervisualizationstudio.com
Metal Works – IONA Steels Website – www.ionasteels.com
Staircase Details – VEGA Associates (Rajeev Raveendran)