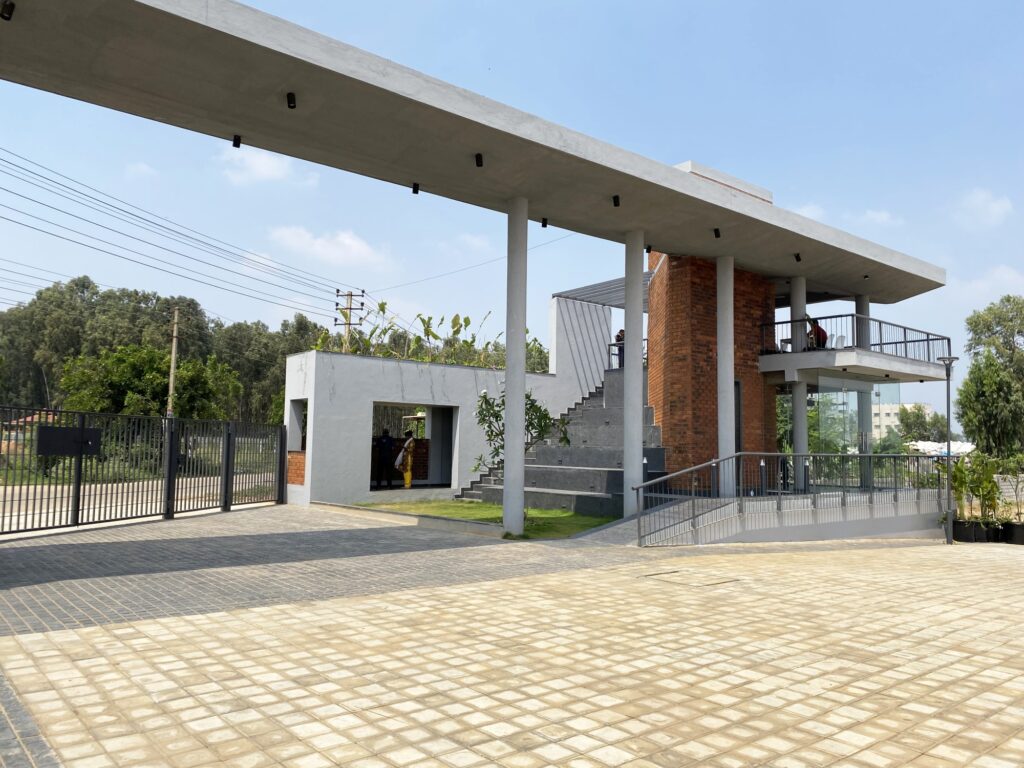 Set in an urban-industrial hinterland, the pavilion is designed as both a marker for entrance into a gated community as well as a multi-functional space.
Sited on a tight, trapezoidal plot, adjoining the road, the design sought to provide respite from the extensive built area of the gated community. The western edge of the plot is a linear strip with security cabin and services, capped by a planter bed. On the eastern side is a glass pavilion at the lower level and a semi-open space with a pergola at the upper level. The pavilion will facilitate sales activities initially and serve as a community space later.
Anchored by an exposed brick tower, is the entrance portal – a horizontal concrete plane, parallel to the road, resting on a wall at the southern end. The portal's chamfered section is derived from the structural logic of a balanced cantilever, which is supported in the centre by an array of double-height cylindrical columns.
An amphitheatre nestles between the linear strip on the west and the vertical brick mass on the east, lending a porous urban edge.
Project Facts
Project Name: Entrance Pavilion
Architects: Samvad Design Studio
Location: Bangalore, Karnataka, India
Built up Area: 1500 sq.ft
Completion Year: 2023
Design Team: Surabhi, Ramalakshmi, Aditi, Tanisha, Vaishnavi, Sanket, Srehari