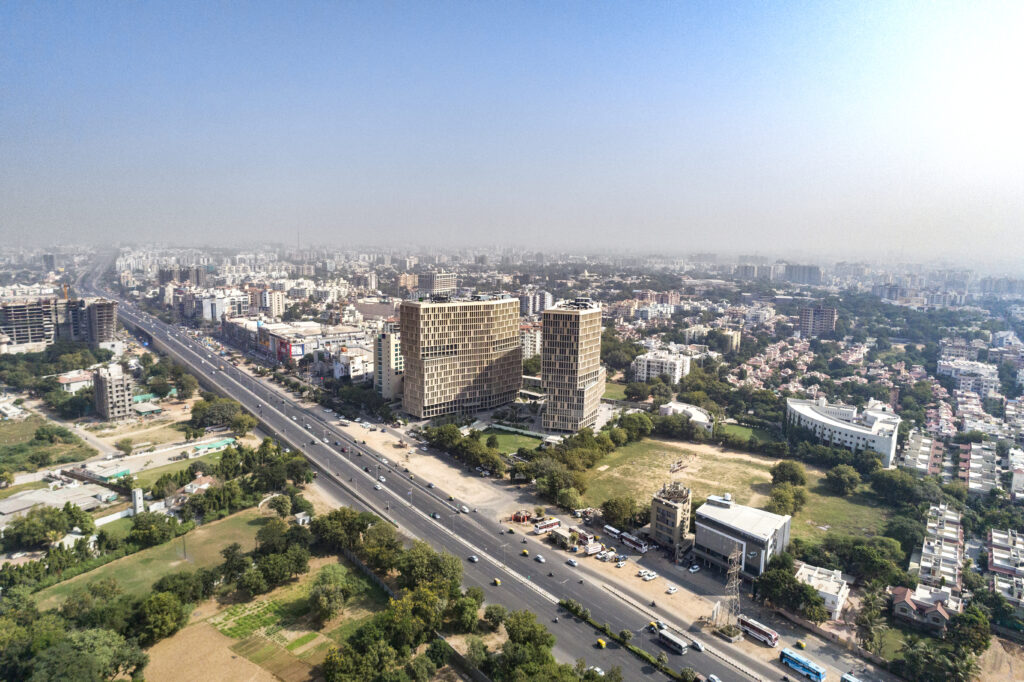 Blocher Partners India, the architects and interior designers behind the highly praised Mondeal Square complex, built a further landmark in Ahmedabad, Gujarat: Mondeal Heights, a multifunctional high-end ensemble for business and leisure on 65,000 square metres. A project that integrates itself perfectly within the city scape.
Road users and passers-by sense every day what already is one of Ahmedabad's most iconic twin towers. For Hartmut Wurster, Country Head at the architectural office Blocher Partners India, something extraordinary has been created:
"The exclusive mix of urban structure and top technological standards provides a haven for India's modern business world."
The 70-metre-high towers house generous office spaces and conference rooms, as well as an exclusive clubhouse with a fitness centre and spa areas.
The façade is a grid of open, semi-transparent and closed rectangles. Hartmut Wurster explains:
"Depending on the time of day, the sun casts different shadows on the building envelopes, with an enlivening effect,"
and adds:
"Seen from afar, the multi-faceted design broadcasts noble exclusivity."
Mondeal Heights is a business centre of international standing, adding a new accent to the aspiring metropolis.
Local architects with a global background
"Architecture," says the Country Head, "is always influencing the character of a city and, at the same time, an echo of a social movement. Some projects even have a guiding function besides their actual purpose. They stand for a departure, an evolution, a paradigm shift."
The buildings of blocher partners India always form a harmonious unit with their surrounding; at the same time, they radiate self-confident individuality. Founded in 1989, by Jutta and Dieter Blocher, in Germany, the company responded to the growing requests from Asia with the foundation of a subsidiary company in Delhi. Especially for the Indian clients it was important to have an office on location. The special competence of the architectural group is the interlocking of structural design and interior design. This holistic approach is hardly reached by any other architectural firm.
"We are convinced, that such a one-stop concept is the best solution for companies, because all areas fit together like the parts of a puzzle," explains Angela Kreutz, responsible at blocher partners for the Indian market.
To stay true to the own demands, the 17-headed team of the Ahmedabad branch office never stands still. "We always are up to date regarding current developments and trends. Therefore, we travel to the world's most interesting hotspots; to be close at the action," Mrs. Kreutz says.
Ahmedabad has quickly become a second home for the Indian team. Also thanks to HN Safal, one of the long-time, loyal clients which stand behind visionary real estates like the breathtakingly beautiful Mondeal Square, the one-of-a-kind Mondeal Retail Park – and now also Mondeal Heights.
"The close connections led us to lay more emphasis on Gujarat and especially on the city where we feel at home – Ahmedabad," Hartmut Wurster, Country Head, explains.
Blocher Partners India moved to the metropolis in 2009 – and incorporated their office into a self-planned architectural masterpiece: Mondeal Square. A striking building ensemble that – amongst other highlights –boasts with India's largest media façade.
"From our office I sometimes look over the city and think: there are so many more ventures waiting for us down there," Wurster describes his unbridled ambition to beautify the city with unique buildings.
Blocher partners India belongs to the most successful architectural offices of our time. But what are their plans for the years to come? The answer is simple: to be where their clients are and to accomplish their wishes and realise their visions. "We will continue to offer our clients the highest quality and sophisticated aesthetics," Angela Kreutz explains. "Furthermore, our journey through India has just begun. Surely, there are many exciting tasks waiting for us."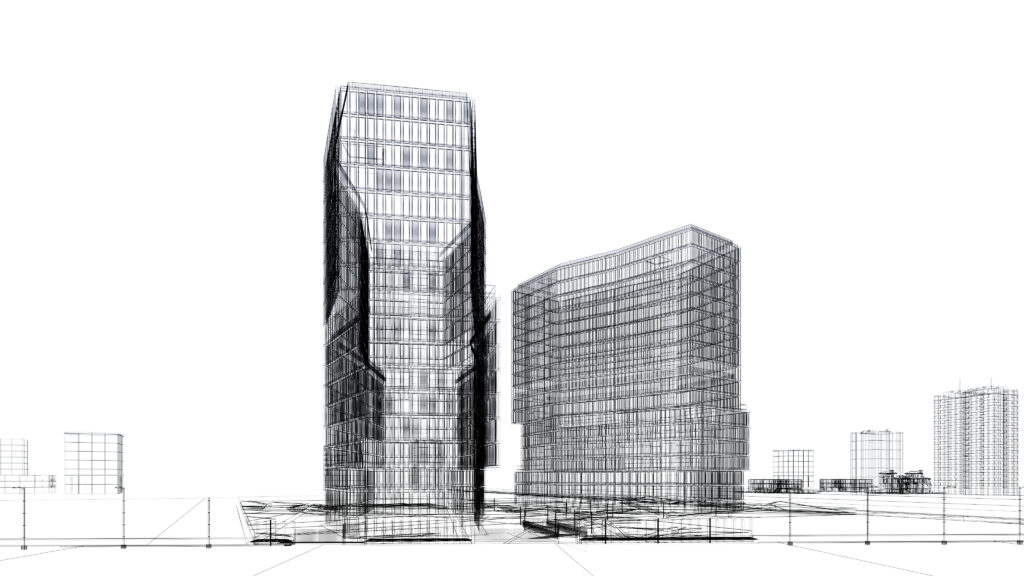 Project Facts
Project Name – Mondeal Heights
Location – S.G. Highway, Ahmedabad, India
Client/Owner – Hn Safal
Project Types – Commercial, Entertainment , Office
Project Scope – New Construction
Size – 47,600 SQ. Meters
Year Completed – 2016