July 2020: Michelle​ Poonawalla is delighted to announce two new digital stop motion artworks, 'From​ Dust to Dust' and 'Mother​ Teressa, the eternal symbol of Love and Peace' which will be available to view or purchase from 16 July on SeditionArt​.com.​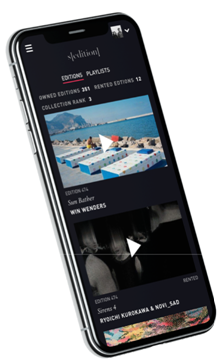 Sedition (pictured right) has shown exclusive works with globally renowned artists including Damien Hirst, Yoko Ono, Wim Wenders and Bill Viola among others and is an online art platform that presents limited edition digital artworks by leading artists at affordable prices. Artworks are stored with certificates of authenticity in an online 'vault', for viewing or sale, which can be accessed via an app or web browser. In July, alongside Poonawalla's work, Sedition will be launching Jono Brande's collection The​ Transcode Series and works from Paul Benney and Louise Stern.
'From​ Dust to Dust' and 'Mother​ Teressa, the eternal symbol of Love and Peace' have​ been produced during Poonawalla's time in lockdown and reflect the challenging times many of us have gone through whilst also being symbols of hope. The works are produced using a digital stop motion video technique, for which the precise and slow nature formed a meditative process for Poonawalla during the lockdown.
'From​ Dust to Dust' is​ titled after the phrase 'from ashes to ashes, dust to dust' and is a reaction on nature's ability to humble humanity – something Poonawalla sees as an important message from the Covid-19 pandemic. The work depicts the slow and precise disintegration of a single rose before the petals metamorphosize into butterflies. A vivid representation that however powerful you may be, life is always transient.
The second work 'Mother​ Teressa, the eternal symbol of Love and Peace' reflects a sign of hope. Influenced by Mother Teressa who devoted her life to millions of poor, destitute and downtrodden people, the work looks out to so many of the nurses, doctors and care workers who are helping today. The two works remind us that every aspect of the world is controlled by nature including destruction and regeneration but if we respect everyone and everything around us there is always hope and regeneration.
Both works are available to buy at Sedition.com. Alongside this Michelle is also showing works from her 2019 Hope​ series​ on Sedition. The three works from the Hope​ series​ stems​ from the artist's large-scale multi-sensory installation Introspection​ and draw inspiration from pertinent questions that we find ourselves asking today about where we are headed.
About Sedition
Sedition is the world's leading online platform for artists to display and sell their art in digital format for connected screens and devices. Sedition offers everyone an easy, enjoyable and social way to experience art-collecting at affordable prices. The company was founded by Harry Blain, the owner of Blain|Southern. The mission of Sedition is to change the art world by introducing a marketplace for collecting and trading art in the digital age.
How It Works
Art on Sedition is presented as digital limited editions that exist in the digital realm. Any purchased artworks can be experienced seamlessly across all of your devices including TVs, smartphones, tablets and computers. Works are either streamed online or offline using our free apps for iPad, iPhone, Android, Samsung Smart TV and Apple TV devices.
Sedition presents an unparalleled selection of artists and artworks – starting from only £5 – with works by leading contemporary artists including Michelle Poonawalla, Wim Wenders, Tracey Emin, Aaron Koblin, Yoko Ono and many others. With an abundance of tools at their disposal, members can share, gift and invite friends to join the Sedition community of artists, collectors, and curators.
About the Artist
Growing up between the UK and India, art has always been an integral part of Michelle Y. Poonawalla's life. With a graduate degree in Interior Design and a Bachelor of Arts from the American College, London, Poonawalla's practice formalised when she had her first show in 2016 at the Gateway School, Mumbai and has since continued to exhibit her work in solo and group shows in India and internationally . Poonawalla's practice marries a more formal paint on canvas style with experimental digital technology, particularly digital video mapping and motion sensor technology, to create interactive works that push boundaries of conventional painting.
The artist's key exhibitions include Khushi​ – India On Canvas in conjunction with Sotheby's, New Delhi, 2017; India​ Art Story,​ Kolkata, 2017; Elephant Parade Jaipur, Delhi, Mumbai and London, 2017 and 2018; What​ If You Fly,​ a solo exhibition at Vis A Vis Gallery, New Delhi and Spazio Gallery, Pune, 2018; Moving​ into the Future – Harvest 2018,​ a group exhibition at Stainless Gallery, New Delhi, 2018; a project at the Parma Art Fair, Italy with Gallery Marco Antonio Patrizio, 2018; Born Free at​ Jehangir Art Gallery, Mumbai, 2018; and Introspection​ a​ digital installation shown as collateral project at Kochi-Muziris Biennale 2018; as a guest exhibition at Alserkal Avenue, Dubai, March 2019; and at START Art Fair, London's Saatchi Gallery, 2019.