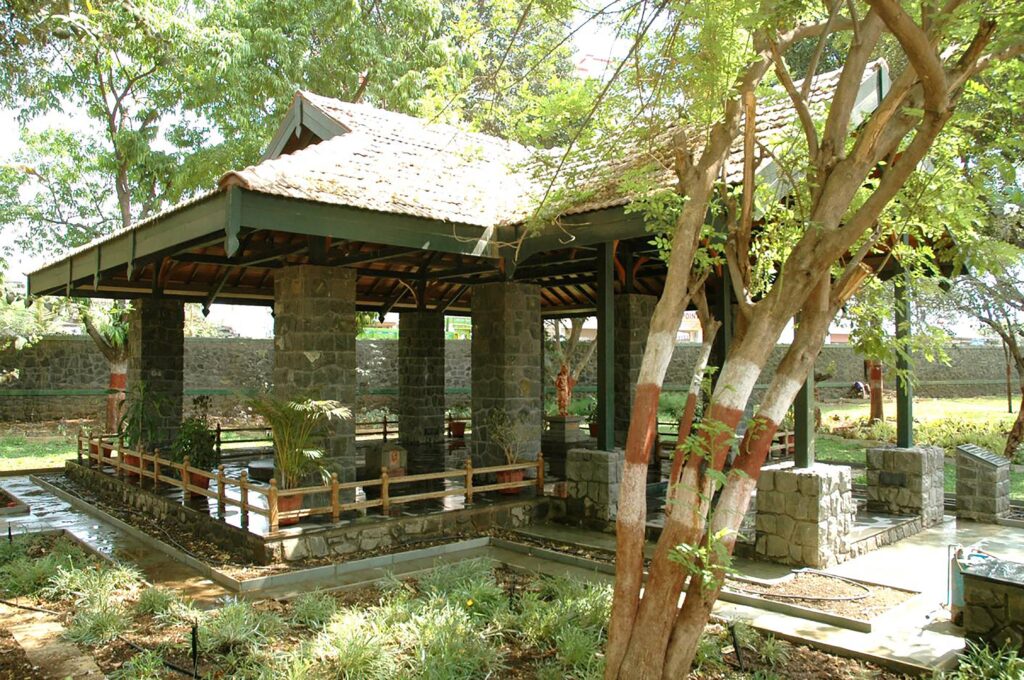 The project consists of two buildings- the samadhi and the memorial for Maharshi Karve on whom the President of India conferred the nation's highest honour of 'Bharat Ratna' for his pioneering work in women's education and emancipation in 1958.
The museum was conceived a little later. The two buildings are interconnected by a pathway through the existing garden.
The display area is planned in three wings, around a central circular open-to-sky courtyard. The courtyard and the roof create an Amphitheatre for the son et lumère show thus becoming an interactive space. A leaning staircase tower connects the roof. Sustainable in approach, the design of the memorial uses, bounced natural light, and natural ventilation throughout. Walls have been provided with fresh air inlets at the low level and exhaust at the roof level. The sharpness of the natural light is diffused by bouncing it off the tall chimney-like wall. The construction is in composite masonry in coursed trap basalt stone externally and with brick internally, the somewhat inclined tower and the parapets are in exposed concrete.
Project Information
Architects, Interior Designers & Illumination: Narendra Dengle & Associates, Architects
Location: Hingne, Karve Nagar, within the MKSSS Campus Pune
Client: Maharshi Karve Stree Shikshan Sanstha (MKSSS)
Year: 2003-2006
Photo credit: Narendra Dengle