Who among us does not remember in stunning clarity the platform scene in Dilwale Dulhaniya Le Jayenge? Or the grandeur of the Calcuttan hawelis in Devdas? Or the panoramic beauty of the indoor city of Saawariya? Beyond the memorable dialogue and multi-faceted characters, the visual memories of these movies linger with us, often continuing to weave stories even as the curtain closes.
Loud, colourful, and larger than life – movies have long been a vehicle for our fantasies as well as our aspirations, creating an exhaustive world that draws us in and leaves an impact that goes beyond the screen and often pervades our real lives. Charting this phenomenon is Sangeetha Polisetti of Lights, Camera, Architecture, who combines her pedagogical expertise with her love for cinema to deconstruct, document, and analyse memorable scenes from magnificent movies.
"The physical realm of the space cannot the erased from our memory – it definitely influences the way we think about certain things," says Polisetti. "As rightly said in Drushyam, 'People may forget what they heard but it is very difficult to forget what they saw.' The way we perceive a dark corridor with a door open at the end is immensely influenced by horror movies. It is very difficult to remove all these pre-conceived notions about a space, and movies have a huge influence in forming our decisions."
It is this influence that drives Polisetti's initiative. "Architecture doesn't only comprise of constructed buildings and unrealized projects of architects," she tells us, "but also includes its evocation in art and culture. This is why I set out to address the architecture of the imagery in the world of cinema, which explores spatial design to a great degree… Although the Utopian cities and visionary buildings like those seen in Avatar or Bahubali might not be possible in the real world, a great amount of spatial understanding goes into making them appear convincing to the audience."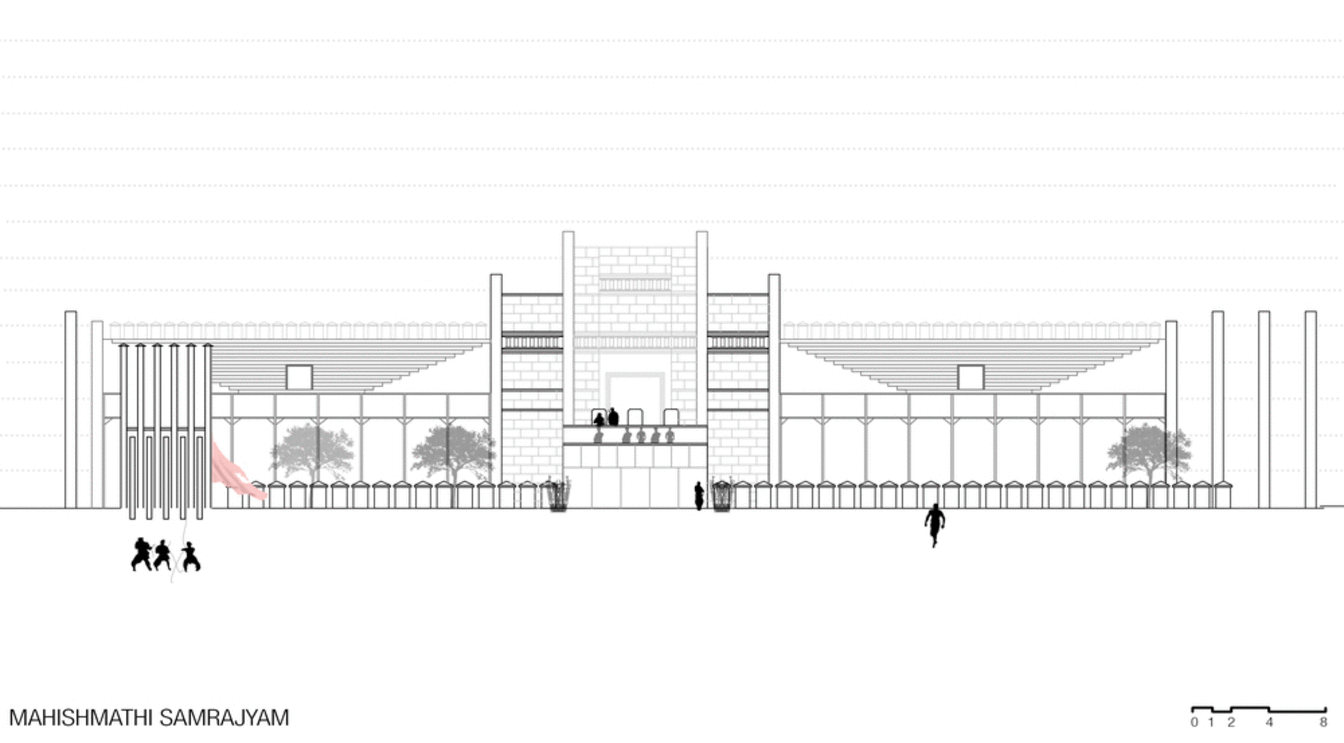 The brown colour palette and minimal usage of green represent the sad and angry state of people of Mahishmathi and the cruel nature of Bhallaladeva. The perspective employed here also establishes the power of the monarch and his confidence in his son's strength, and adds drama to the conflict between man and beast.
How we perceive spaces and how we portray them is inextricably linked, each affecting the other; the depiction of space ranges from the tropic to the iconic, and drives the story forward as much as – if not more than – the characters and the dialogue. "Sometimes, space in films acts like a background – sometimes unnoticed (e.g. Drushyam), sometimes creating an impact unconsciously (E.g. Arundathi and Sakhi, where multiple scenes are shot at the same spot to subconsciously connect the viewers to the space) and sometimes to establish an impression about a character before physically introducing them (e.g. Hrithik and Farhan's rooms in Zindagi Na Milegi Dobara)."
"A scene can translate in few seconds what dialogues cannot. Visuals are a great tool to communicate information – they have more impact over the audience than mere narration does."
The strategic placement of windows and furniture in the Mascarenhas Residence aids the telling of the story of Ethan's rise in fame and subsequent downfall
From tracing sight-lines in Bajirao Mastaani to studying the impact of characters on the places around them in Mayabazar, Lights, Camera, Architecture applies the classical parameters of spatial analysis to the make-believe set-ups in popular cinema, proving how principles of design – especially in their scope to incite anticipation, infuse familiarity, and inspire emotion – provide consistent results despite diversity of media. "This is how I go about analyzing a scene: I watch it at least 5 to 10 times and make rough sketches – it is very important to watch it multiple times to understand the proportions, scale and relation of character with the space."
"Every time I watch the scene, I focus on a new aspect – like once for the patterns on walls, once for the column placement, once to estimate measurements, etc. After this drill is done I decide which diagram can best describe the scene. I also try finding the script of the film online – and any other references that I can find – movies and read them, make notes, collect screenshots and then sit to write the analysis."
"I don't have a fixed team for Lights Camera Architecture as yet," Polisetti tells us, when asked about the team behind the project, "It just started as an idea of combining the two things I love the most – Architecture and Films; I realized the amalgamation of both is very intriguing, and really enjoyed doing this."
"It is mostly me working on the drawings, research and text, but my friends are a great support system. They help me with the work occasionally, mostly through providing invaluable critique; my friends, Kondal and Bindu – both architects – also helped me with the drawings for few projects. I am also currently looking forward for some collaborations to get some new ideas, styles and analysis on board."
Sight-lines are carefully crafted in Sanjay Leela Bhansali's movies to evoke a sense of grandeur and romance, enhanced by the intricately detailed backdrops.
The impact of spatial depictions on the viewer's mind often reinforces and subverts popular tropes at the same time. Given this incredibly nuanced effect, Polisetti's work gains a higher significance than one would ascribe to a mere exploration – it is an introspection on social mores regarding spaces and how these affect the principals of architecture.
"The world of cinema influences the lives of millions of people and they tend to aspire from the architecture shown in films. It demonstrates the ways people have put meaning on the notions of the home, public spaces, monuments and landscapes. Through Lights, Camera, Architecture, I basically want to find answers to the following questions:

Can movies be taken as a medium to educate people about spaces and sensitize them to architecture?
Can they be used as a medium to understand the emotion and design of space?
Can we consciously make an effort and notice the unnoticed in films to better understand various aesthetic sensibilities?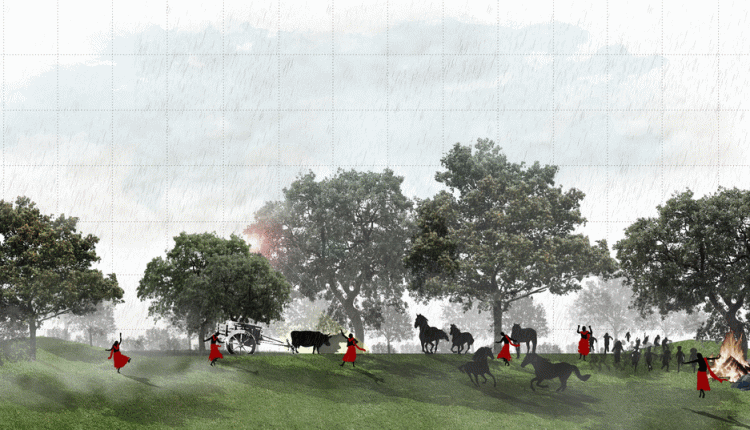 The first song of Mani Ratnam's Geethanjali  is shot in Botanical Garden, Ooty, with careful use of lush greenery, mist and rain to establish the character of the female protagonist as a foil to the melancholy male lead.
You can explore her work in detail on her Blog as well as on Facebook
---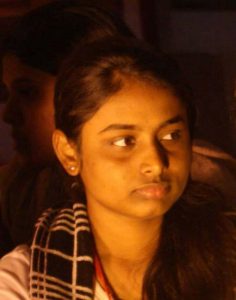 Sangeetha Polisetti graduated from SVCA, Hyderabad, and worked with Matharoo Associates, Ahmedabad for more than a year, till Oct 2016. She is currently working with Design Experiment, Hyderabad, and has been working on Lights, Camera, Architecture for the last 6 months.