Laurie Baker Centre Summer School 2019
On Laurie Baker's Approach to Sustainable Habitat Development
Date: 19 May-01 June, 2019 & 16-29 June, 2019
---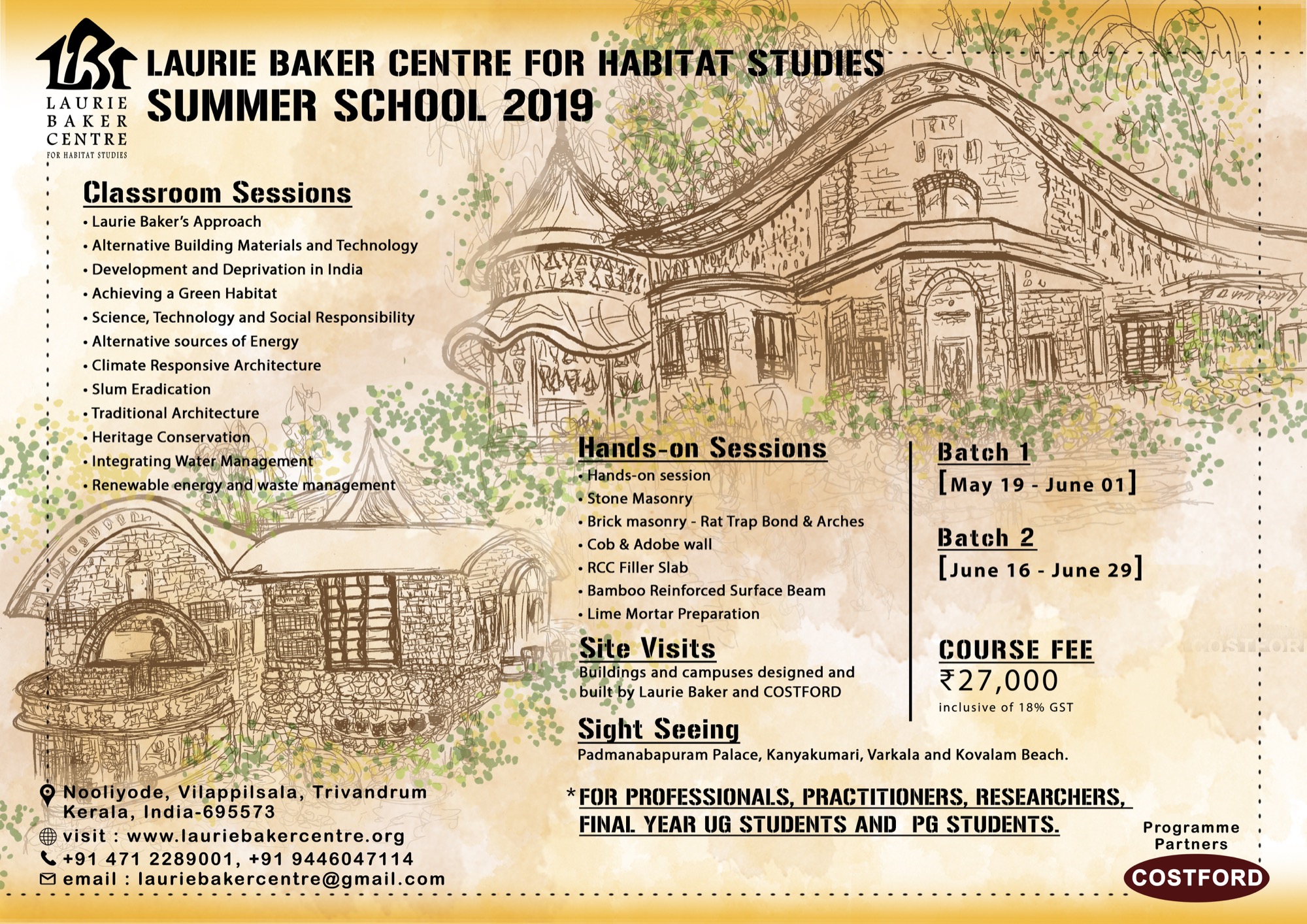 Aims and Objectives
The objective of the Summer School is to create awareness about the need to move towards a 'Sustainable Habitat' based on cost-effective building design and construction technology. The concept of the Summer School is to explore Laurie Baker's approach to habitat development, rooted in the idea of sustainability.
The Summer School aims to equip students, individuals and professionals with additional skills to envision and execute real projects in line with the sustainable habitat approach, through advanced hands-on work, integrated classroom sessions as well as field visits to ongoing and completed projects.
Target Group
Final year undergraduates of architecture and engineering.
Post-graduate students of other disciplines like architecture, planning, civil engineering, urban and rural studies interested in sustainable habitat.
Practitioners and Researchers in the field of sustainable habitat and community development, interested in the area of environment and development in general and socioeconomic planning for housing, water and sanitation, and waste management in particular.DurationThere will be two batches of the Summer School, each for a period of two weeks (14 days).

Batch I: 19 May, 2019 to 01 June, 2019 (both days inclusive). Batch II: 16 June, 2019 to 29 June, 2019 (both days inclusive).

Venue

The main venue for the Summer School will be the Laurie Baker Centre for Habitat Studies, Vilappilsala, Thiruvananthapuram (also known as Trivandrum) in Kerala.

Curriculum

The curriculum will consist of a combination of

Classroom sessions
Learning- by- Doing; Hands-on sessions
Practical assignments
Field visits
Audio-visual sessions
Interactive sessions and feed-back sessions
In terms of subjects, the curriculum will cover topics that include:
(i)  Sustainable habitat and green economy
(ii)  Laurie Baker's philosophy and approach to architecture and building construction
(iii)  Alternative construction techniques and materials, non-conventional energy sources, waste management and recycling
(iv)  Traditional architecture, heritage conservation and the need for innovation,
(v)  Social engineering such as role of women's organizations, people's movements and decentralized planning.
The hands-on experience will be in such areas as:
(i)  Masonry using brick and rubble
(ii)  Construction with Mud (adobe, cob, etc.)
(iii)  Use of bamboo as an alternative construction material, (E.g. bamboo surface beam, bamboo beams).
(iv)  Filler-slab, bamboo-mud screeding and other structural systems.
(v)  Arches and Domes.
Field visits will consist of visits to urban housing colonies, institutions and selected buildings designed and constructed by Laurie Baker and COSTFORD.
Practical assignments will be given to groups of participants depending on their background and experience. These assignments are based on the on-going work of COSTFORD/LBC in the area of Green Habitat.
Faculty
The faculty will consist of a team of renowned experts and scholars drawn from such disciplinary backgrounds as environment and development, ecological sciences, architecture, civil engineering, energy, economics and other related areas. Other notable professionals and scholars drawn from various fields are invited to interact with the participants.
For more details, refer to the brochure below:
[wp-embedder-pack width="100%" height="600px" download="all" download-text="Download" attachment_id="28608″ /]