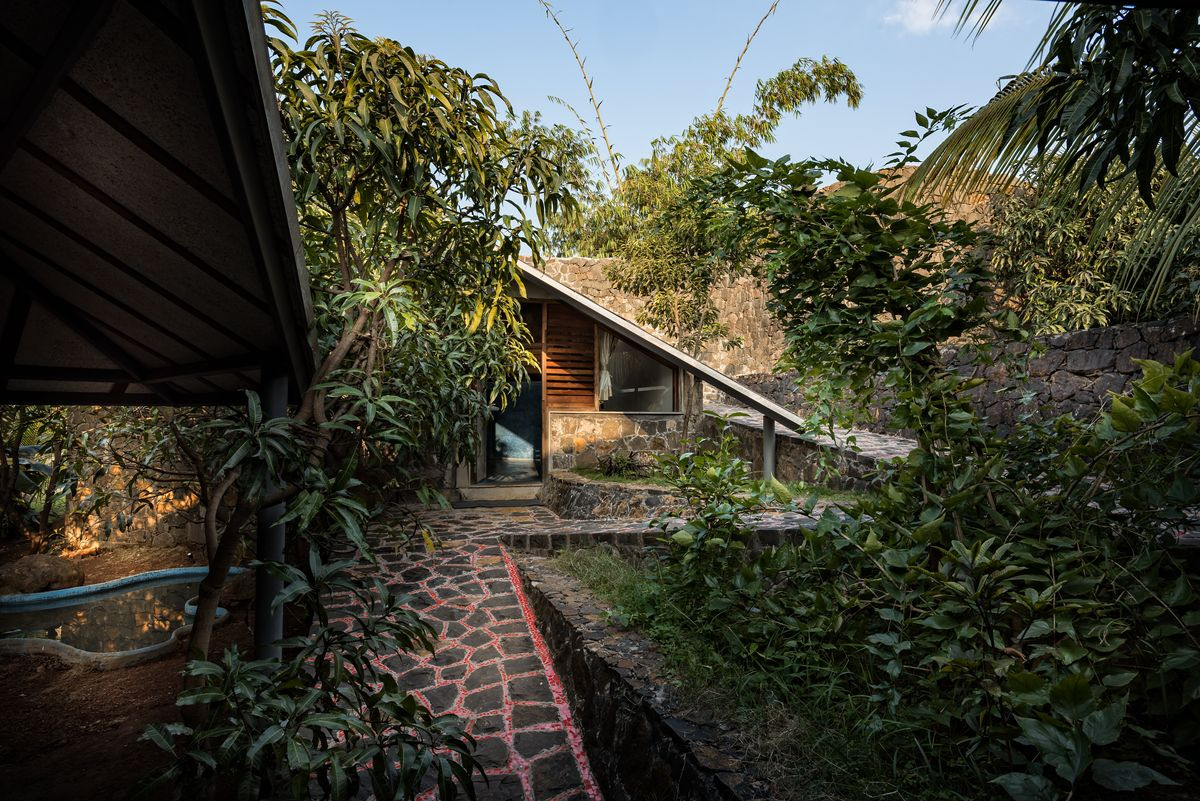 Maval, a scenic region between Mumbai and Pune facilitates the needs of these cities like food, dairy, power and water supply. Though rich in natural resources, the villages along interior hills still lack availability of transportation, school and medical facilities. Only income source here is farming and dairy. The client chose the site so that it would not only satisfy his business module but also open up livelihood opportunities for local people. The project sprawls over 30 acres of sustainable campus, out of which 5 acres is dedicated for the resort, 3 acres for the water lagoon and power management plant and 7 acres for plantation and nature. The remaining land is leased out for economic sustainability of the project.
Design Philosophy was based on these core factors:
1)   Site should be self-sufficient in terms of water resources.
2)   Strategic energy generation to achieve high performance with low maintenance and minimum dependability on the grid.
3)   Development with minimum intervention to the site by its proportions, planning and everyday waste management.
4)   Proper site management, suitable Landscape design with local plants to maintain its primitive ecosystem.
5)   Use of local resources in the form of material and manpower.
6)   Providing opportunities for locals retaining the traditional values to uplift the current living standards.
Design: In the process of maintaining the virginity of the site, it was divided into social and private spaces. Only the built form is designed to facilitate the use with actual urban level comfort and the surrounding has left to retain its original sense, encouraging the user to adjust with surrounding nature. Social space includes workshops and stalls for artisans, a moha (Madhuca longifolia) orchard for weekly farmers' market, and a hall for conferences or other informal gatherings. Ghats (stepped reservoir) and upper lake, is designed to enhance the economics of the project as it acts as a big catchment area. It is designed that reflects the nostalgic values of traditional public spaces, where people connect themselves with the characteristic elements like main door of any fortified city  "Pramukh Dwara" (ceremonial gateway), water kund (stepped reservoir), streetscape of traditional bazzar (shopping street), designs which are proven to deal with the maximum people by enriching quality of spaces. Considering the scale, the site is zoned with 8 walls of individual characters, resulting in interwoven spaces for different activities. This eventually grew the built form with its own characteristic microenvironment without disturbing the existing site condition, flora and fauna.
Spaces:
1) Reception, Administration & Restaurant : accessed through the pramukh dwar (ceremonial gateway), the reception area creates an experiential connection from public to private zone via a gently rising, narrow and introverted lane that eventually opens onto the restaurant's main deck with a stunning view of the valley to the south.
2)   Suites Aamrai :  are the introvert multilevel cottages inside the existing mango orchard. These spaces play along with trees on existing contours with courtyards and open garden toilets.
3)   Tarangan Cottages : a series of six cottages cantilevered off an axial spine towards a grove frequented by fireflies.
4)  Swimming Pool : spreads organically through a cluster of trees, ending in an infinity edge towards the eastern valley. Its organic shape and two existing trees excel the 'nirvana'.
5)   Health and Spa, located on the north-eastern end of the site, the spaces open onto the forest, with parts that are open to the public, such as the indoor sports facilities and gym, being accessed directly from the public area.
Construction: Effort has been taken for each amenity not to disturb the terrain of the location so that rain water flow is maintained as per existing site. Available stone from excavation has been used for walls with different typology used extensively in various interpretations of vernacular techniques like dry masonry, thin composite stone wall, finished stone wall. Roofing in lightweight insulated wood wool panels and bamboo roof to achieve the economy and free flowing nature. Local artisans are used for stone light fittings and mosaic work. Laborers from nearby villages trained for skill work in construction and later endure them as a team to run the resort.
Aesthetics:  The project with clusters of open, semi-open and closed spaces creates an inclusive experience to enjoy the nature of surrounding rainfall, clouds, trees, birds, and fireflies. The whole project was a great process of close understanding about this region, their people, and beautiful landscape.
Social: In India, where multiple and diverse cultures have evolved over generations of living in specific geographies, regional identities and traditional wisdom are losing their relevance in an increasingly uniform global culture. Ideas of progress and permanence have found common expression in the incongruous concrete boxes found across the country. This project presented us with an opportunity to create a model for development that is as much about cultural sustainability, and the focus then was not merely inclusivity, but rather a celebration of the context. And for us the greatest reward was that, after seeing the resort, someone in a neighboring village built a stone house for the first time in decades.
Reception and Restaurant
Tarangan Rooms
Ambrai Cottage
Swimming Pool
Drawings: