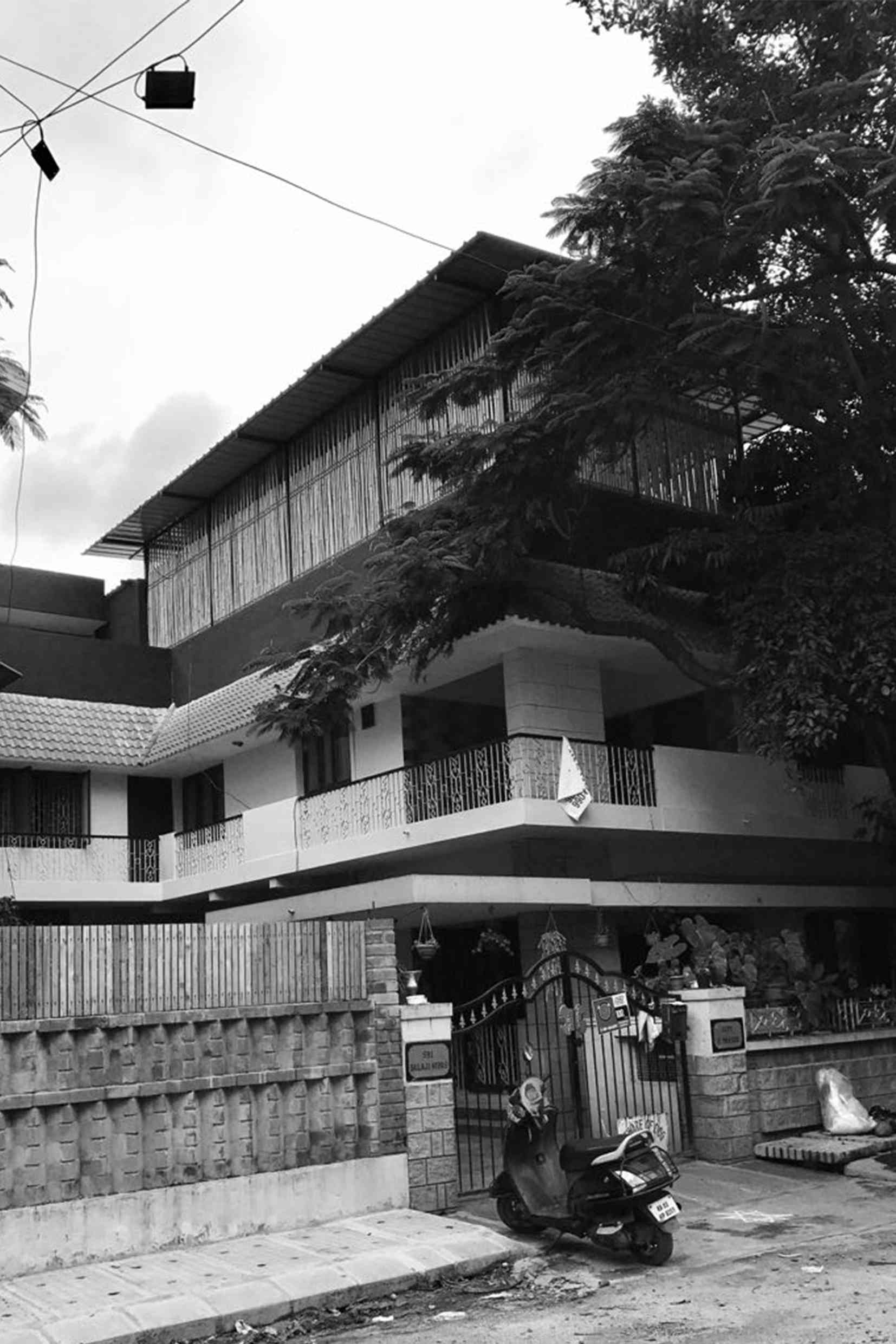 The Kalari Pavilion is conceived as a light, porous, linear bamboo structure juxtaposed against a low concrete mass reflecting the program – a semi-private, yogic martial arts practice space and a private healing space respectively. An impression of urbanity can be perceived through the lantern-like structure. Dense neighbourhoods in urbanised pockets of Bangalore have seen a surge of vertical extension. The Kalari Pavilion, measuring 115 Sq.m, is also one such extension with a constraint to be dismantled at will. The pavilion is erected on a load bearing structure, on the second floor, in a quintessential mixed-use neighbourhood.
The design tries to negotiate its context by allowing the existing organic surroundings to interact with a designed intervention – where mature trees form the walls along with bamboo screens, tied rhythmically with industrial precision, creating a pavilion, modulating light and wind. Instead of creating an aloof vertical extension, the attempt was to take advantage of the dense foliage of Mango, Pongemia and Ram-phal trees, which hug the parapets. Thus the insertion was tucked between and through the foliage while still rendering an impression of urbanity which can be perceived through the bamboo screen. A minimal and industrial like quality of the pavilion warranted bamboos of fairly uniform cross-section.
In the local variety of bamboo, the cross-section tapers beyond 10 feet. Hence the proportion of the screen wall is derived from this parameter. The structural grid of the metal columns are reflected on the floor grid. The black oxide floor and low height parapet walls form a seamless black vessel, contrasting the light-sifting bamboo screen above – echoing the traditional 'kuzhi kalari' practice arenas which were dark, earthen pits, open to sky.
Drawings: