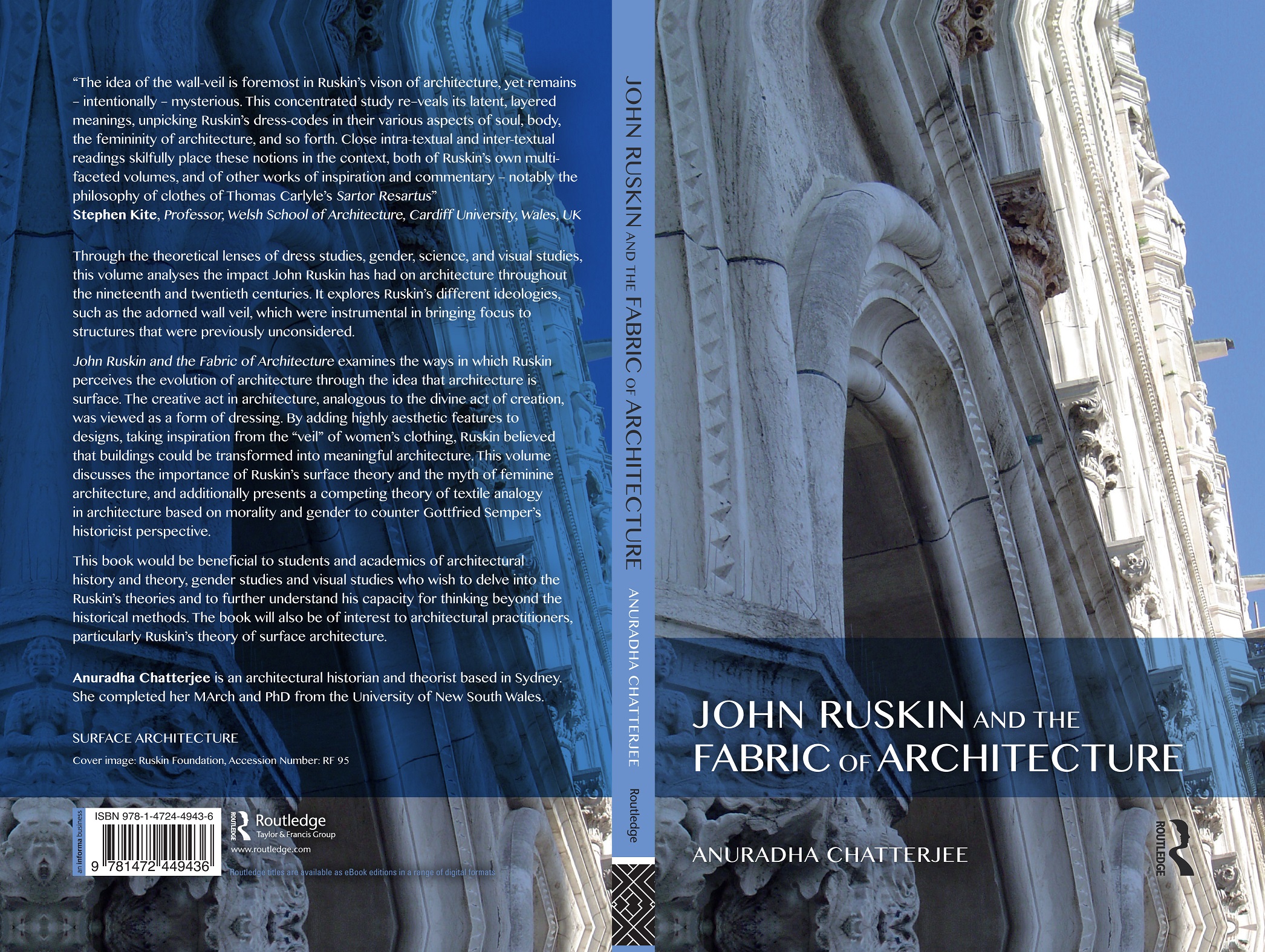 2019 marks the bicentenary of John Ruskin's birth. John Ruskin and the Fabric of Architecture, a Routledge publication (2018), authored by architectural historian Anuradha Chatterjee is timely and succeeds in firmly resurrectingRuskin as relevant and his thought processes as timeless and thus merit deeper engagement.
This 144 pages book is dense, captivating, intriguing, illuminating and inciting. It is rigorously researched, referenced and cross-referenced and yet presents a narrative that is focussed on a chosen aspect – that of façade or as Ruskin preferred 'surface' as architecture.
Architecture studies in mid- eighties and early nineties in India were focused on the efficiency of space and a form that responded to climatic context. Ruskin and his seven lamps of architecture were rarely heard of. Frank Gehry and his Bilbao Guggenheim museum perhaps shattered the stance and ushered in another era – that of sculpture and surfaces and world architecture has not been same ever since. The renewed interest of architecture as surface as was first proposed by Ruskin should thus not surprise. However, the unravelling of this theory as has been done by Chatterjee throws up a few unexpected punches.
The four chapters, Ruskin's theory of wall (veil), architecture as dressed female body, Ruskin's theory of dress and the adorned edifice(s) decode Ruskin's coding of façade in architecture decisively and with precision. This is no easy task and the author must be credited for her patient and laborious unbridling of an exceptional mind that cross-pollinated and wrote exhaustively on all subjects and became naturalist, satirist, educator while he was a painter and ardent traveller who thought his duty to show what he saw either by drawing or writing. With much of the original material available to study, to then take up the task of comprehending and presenting on a singular aspect but builds relevantly on the largeness of the canvas that is Ruskin's mind is lot like a woven tapestry where the pattern stands out even while the weaving is discernible.
The unravelling begins with the setting out the premise and the context of nineteenth-century England and walks you through Ruskin's stance thread by threading an exceptional manner tracing the evolution of his thought process from medieval to industrial within the context of society as parallel process and thus lends this academic work of an architectural historian a vigour beyond the theory. The voices of Ruskin and his colleagues, mentors, abdicators, followers are distinct and take the centre stage while the author provides the background score that keeps it all in symphony. This style of writing does take a little time to adjust to but soon, the revelations prevail and dominate.
While the first two chapters set the stage, it is in the third chapter that many of the confounding issues related to both Gehry and Zaha's work got illumined in my mind's eye while being on this journey of revelations with Chatterjee on 'architecture as dressed female body'. It is in the unravelling within the context setting that Ruskin's theories become accessible and thus comprehensible that can be missed in reading Ruskin's writings in original. Thus to be the core strength of this book is in baring the man's mind and all that shaped his stance, to then perceive his thought, even and perhaps more so the schism of genders and the gendering of built form! Captivating and made me wonder of the outcome if traditional settlements and Independent India- settlements were to be viewed through this lens! I shall be re-reading this chapter soon!
The fourth chapter- adorned edifice(s) is inciting. Many dramatic passages and by hand or by machine – what is superior/ better or why and the trend of acridity in architectural writings perhaps-can be traced to this passage of time in Ruskin's life laying another brick in foundation of architectural reporting as he wrote extensively repudiated notes on renaissance artists and subsequently couldn't stand the Baroque. Only Ruskin could have found faults with Michelangelo's work approach(15th C)and then proceed to convince his readers of the same in contrasting with sculptors of mediaeval era(12th C) . This chapter is differently layered and very insightful as it reveals a very unique mind eye. One but wonders- if these writings gave the impetus to the quest for something bare, something altogether new!
In the last chapter, Ruskin effects, you meet the author's mind one to one and also find a clearer understanding of the origin of conservation philosophy. Reading of original, lamp of memory is mandated to all conservationists but speaking from my own experience, it is after traversing through the previous four chapters in this book that the foundation of his stance became clearer and in many ways less romantic, less obtuse. The clarity of thought is accessible in new ways and thus also made convincingly relevant in 21st century.
While the interpretation of Ruskin's impact may continue to chart more territories, it is without a doubt – that Chatterjee's book 'John Ruskin and Fabric of Architecture' is an asset for not only architectural and art historians but also an important key to unlock another dimension of understanding the trajectory of design evolution and the conservation movement. If the aim of any academic work is to ignite curiosity or to propel another perspective then Chatterjee succeeds with aplomb. The visuals in the book are adequate for supporting the reading though the positioning of the same with related texts would have assisted the reader more.
It is not a one-sitting read and demands continued reflections and may even require repeat readings to fully comprehend the layers. Undoubtedly, this journey of revelations with the author on 'architecture as dressed female body' shall stay as most remarkable encounter for me personally, propelling me to now view the walled city of Jaipur and the new Gurugram in fresh light altogether. The journey shall continue!
Reviewer: Poonam Verma Mascarenhas is practising architect, building conservationist, researcher and writer. Her Goa-based award-winning studio Archinova_Environs has climate contextual architecture as its cornerstone. She has authored 'Silent Sentinels, Traditional Architecture of Coorg' a HECAR publication (2005) and 'Mapped Heritage of Panaji, Goa 2017' published by GHAG in 2018.
– Anuradha Chaterjee