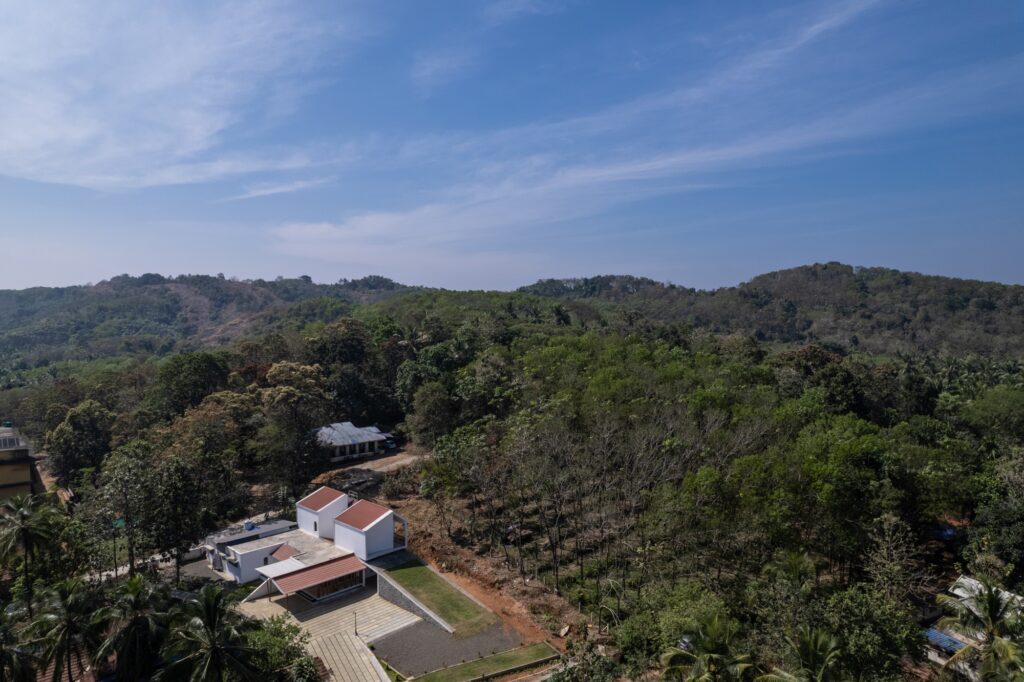 The H-shaped plan of the house creates two separate wings containing private spaces each, while the central bridge-like area serves as a communal gathering space, with open courtyards on both sides.
The exterior of the house is characterized by clean lines and minimal ornamentation, derived from the typical houses prevalent in Kerala, with vertical wooden fins at the front that provide privacy and shade while creating a dynamic visual element that mimics the surrounding rubber trees.
At the core of the design intention, transitional spaces such as hallways, staircases, and doorways are given more importance than just functional connections.
The result is a seamless connection between indoor and outdoor spaces, with maximum natural light and ventilation throughout.
The upper living area has no closed planes at the east-west directions, allowing for free wind flow and natural lighting. The two courtyards are strategically placed on either side of the dining area, with one acting as a children's play area and the other as an outdoor courtyard with a koi pond. The large outdoor living area also features a koi pond and offers a relaxing and serene space for residents to unwind.
This framing of the view adds a layer of depth and meaning to the design, highlighting the importance of personalized and meaningful experiences in architectural design.
The House Wandoor is a captivating example of architecture that strikes an introverted pose from outside while revealing an invitingly open plan and immersive spatial experience inside. The result is a beautiful and functional space that embodies the principles of architecture while providing a serene and relaxing space for residents to call home.
Drawings
Project location : Wandoor, Malappuram,Kerala
Project Category : House
Project Area : 3500 sqft
Photography : Turtle Arts Photography