Hostel and Lecture Halls at College of Engineering Pune
Pune, Maharashtra, India  2008-2012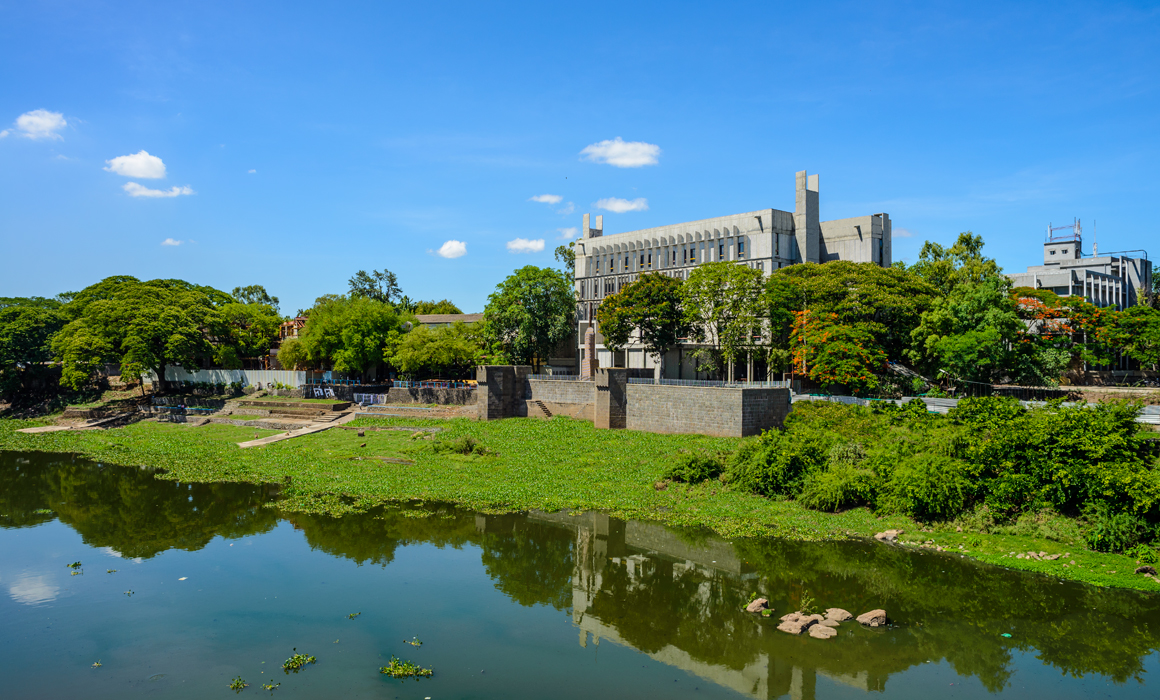 Initiated in 1854, the College of Engineering at Pune (COEP) is one of the oldest engineering colleges in Asia. Over decades the campus lands have been encroached upon for expanding highways, railway lines, arterial roads, and recently flyovers, resulting in five fragmented land parcels, one of which is covered by low income squatters. Over the years the campus, located on thirty-six acres, had grown indiscriminately while constructing low-rise structures and allowing vehicles of various types to enter and park at as hoc locations. A new management in 2006 formulated a vision to double its student intake, enhance its facilities and to increase its residential hostels, especially for women. Realizing that the future lay only in vertical growth, and in better utilization of their limited land, the institute decided to prepare a campus master plan and to initiate construction of new facilities.
Women's' Residence
The women's residence was the first initiative in this campus development program. This hostel is envisioned to anchor a pedestrian stem of four, twelve-storied structures, positioning common spaces on the ground level and locating residential rooms above. The strategy for the women's residence is to situate two bedrooms on either side of a wet core, accessed through a dry balcony lent privacy by concrete jaalis that filter views.  Each of the two rooms houses three students, with the six clustered students sharing two washbasins in the dry balcony and a shower and a toilet. With the ground floor dedicated to common facilities, and the roof garden level devoted to a gym, clinic, laundry and apartments for mentors, the remaining ten floors, of twenty rooms each, accommodate six hundred women within the college campus.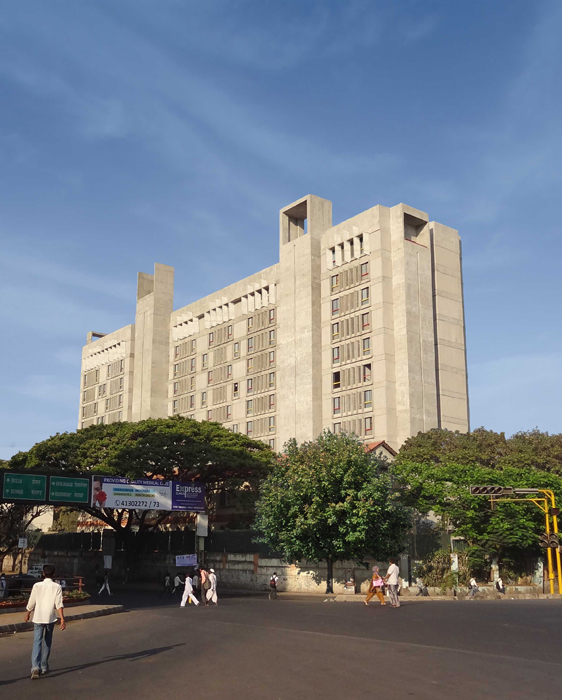 The ground floor level of this structure hosts a cutout-porch, through which the planned stem, or campus street, will later pass. To one side of this porch lies a coffee shop, and on the other side is the hostel entrance lobby, with elevators and vertical stair. There is also an entry into the large dining room, with cooking facilities behind it. This structure is wedged into a corner site of the residential campus with one side opening onto a narrow garden promenade, shared with a hundred year old, ground and two floors, boys' hostel that has been renovated into a postgraduate women's residence. On the other side of the dining hall, large glass windows look out into a garden. Several ancient trees shade the site, and the building shape was arranged to accommodate them. Thus, there is a single loaded passage to the south of the elevator core on each level and a double loaded corridor to the north.Academic Building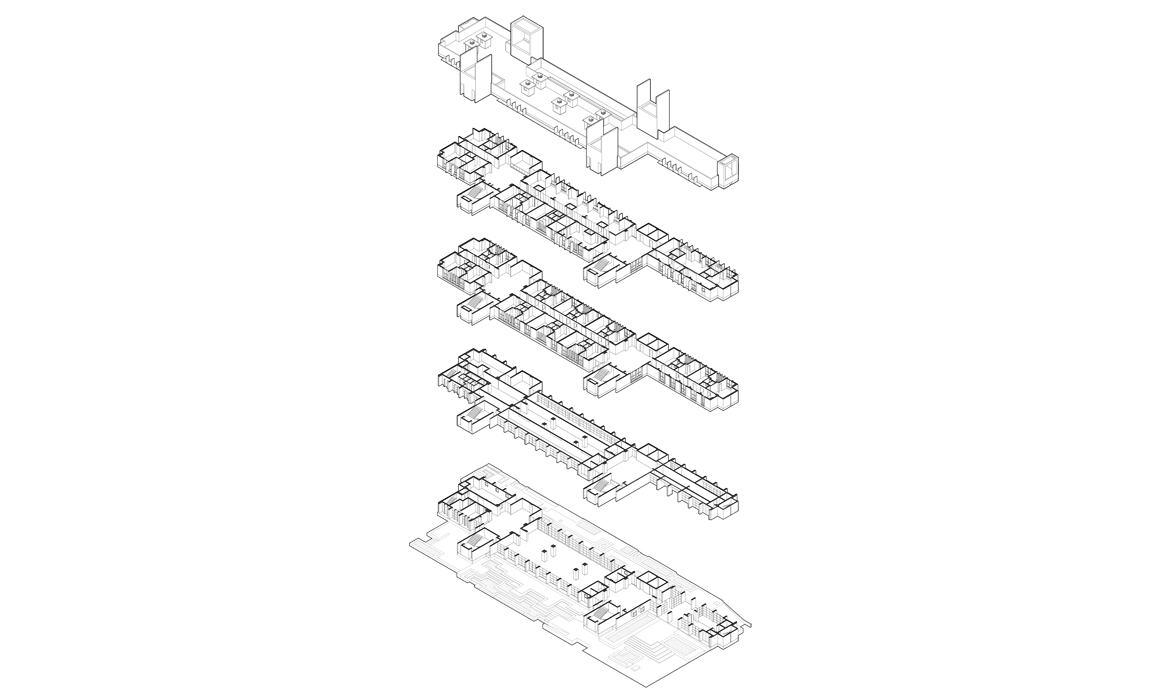 An Academic Building was constructed, facing a river, to accommodate all of the first year students' course work. The entry of the academic building is a through a double height, open lobby with coffered ceilings, merging with the surrounding landscape and views towards the river. The ground floor accommodates a large three hundred capacity auditorium for common lectures, and a computer sciences laboratory. The top floor of this five storied building houses offices for the professors. Classrooms and laboratories are located on the middle three levels.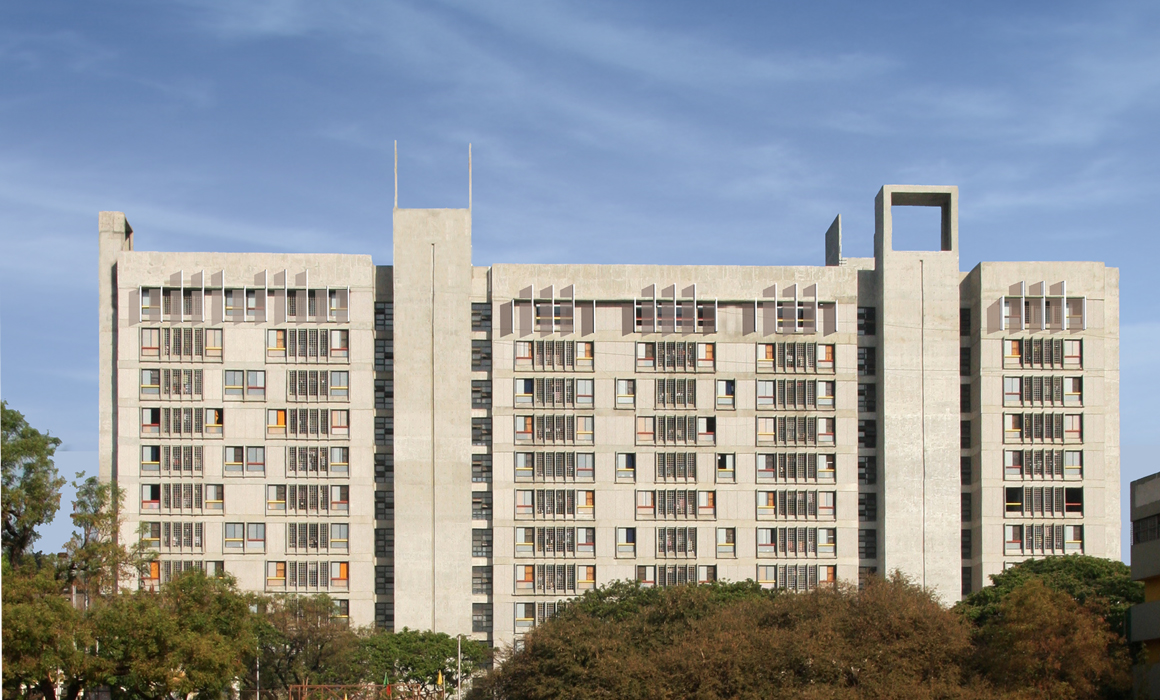 A simple language was employed composed of exposed concrete, coffered ceilings in double height entrance floors and common facility areas, murals cast in concrete walls and pebble stone panels between fenestration panels.