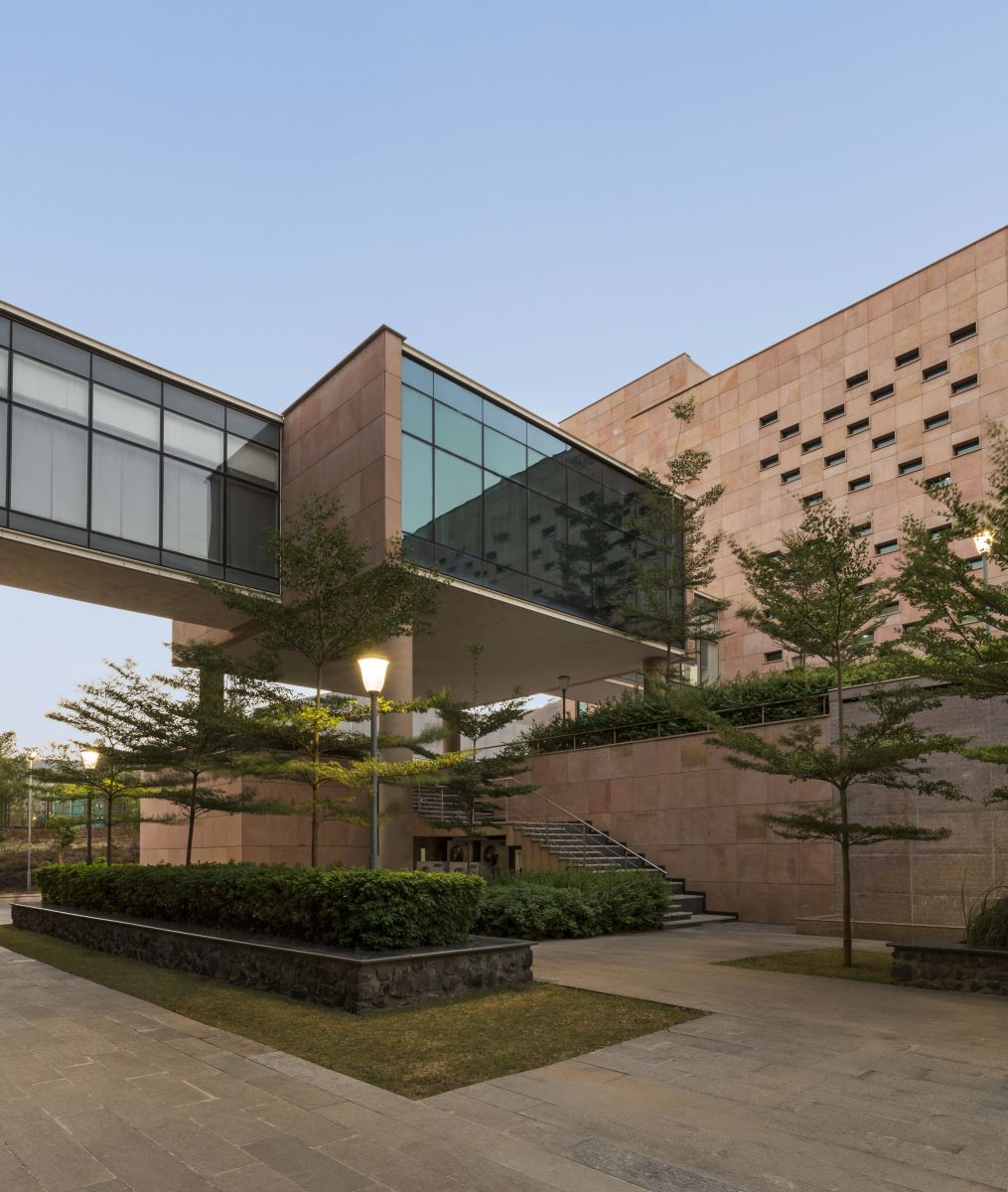 Spread across 23.8 acres in the outskirts of Pune, India, the design of Hexaware campus creates a landmark in a setting with limited architectural references and is representative of a strong brand identity. The five-story structure integrates 75,000 sq. ft. of flexible workspaces, training centers, recreational facilities and other support amenities. The design of this project was guided by the climate, its surrounding landscape, effective use of daylight and multiple functions that this building is set to host.
Planned around the idea of 'campus within a campus', this development is split into 4 phases of construction. The design of every phase aims to be resilient and unaffected by the operation of the next. Although functioning independently, the various units are connected through pedestrian linkages and sky bridges.
As a response to the contours on site, the master plan of the first phase is divided into 2 linear wings oriented to minimize heat gain and maximize on daylight. At the heart of this complex is a large central courtyard that provides a visual connection to all floors, and acts as the hub for socializing. The built mass is deconstructed to form several classical courtyards that foster interaction and collaboration. The interplay of volumes and voids ensure a visual tie with the hills running west of the project, besides creating several shaded outdoor spaces. Splayed rooms on the split-wings offer panoramic views of the hillside. Porosity in planning and form allows a continuous movement of breeze with wind tunnels creating a venturi effect.
The design derives inspiration from the vernacular architecture and is expressed in a distinctly contemporary language. The façade design is a rendition of the traditional jali work in clean modern lines, blocking harsh sunlight on the southern front and creating an interesting play of light and shadow. Complimenting a largely sandstone-clad exterior is a floating glass monolith, that functions as a meeting room, providing views of the hills on one end and views of the central courtyard on the other. A metallic circular frame binds the traditional and modern elements into a singular entity, in turn, enhancing the dialogue between the two styles.
The design boasts of high levels of sustainability, having received a platinum rating from LEED IGBC. The project achieves 32.39% savings over the ASHRAE base case and an overall saving of 49.66% generating onsite renewable energy of 334kWp. Use of water-efficient fixtures and reuse of treated water reduces water wastage by 56.24%. Extensive studies on daylighting and shading ensure ample daylighting and reduction in the use of artificial lighting. Orientation and façade design minimizes heat gain, thus reducing the load on artificial cooling. Further, Installation of a 334kWp capacity of onsite solar panels offsets 23.26% of total energy costs.
Drawings –