Intervened an old disused Commercial Space located at MG Road, Gurgaon(INDIA) to implement a designer's studio. The interiors are usually impersonal and monotonous environment which is why our approach was to break the stereotypes and introduce new design techniques that focuses on an alternative attitude to the convention corporate workspace aesthetic with an industrial approach. The objective was to satisfy the existing spatial requirements and simultaneously incorporate adaptable spaces for the future as an alternative architectural language. We focused to develop socially and environmentally responsible methodologies and expand on the knowledge of adaptive reuse as an aspect of an interior architectural practice.
The conversion of a small 150 m2 commercial space into an architecture and design studio, the project comprehends a sensitivity to the existing structures materials while considering present-day needs and utilized as an experimental canvas.
Description
The approach of the project was focused on GRID methodology – making it not only the conceptual basis of the identity, but also the DNA of all its visual manifestations.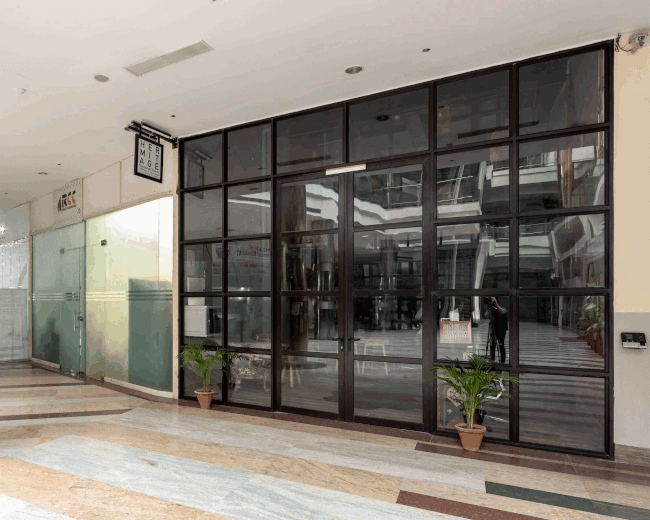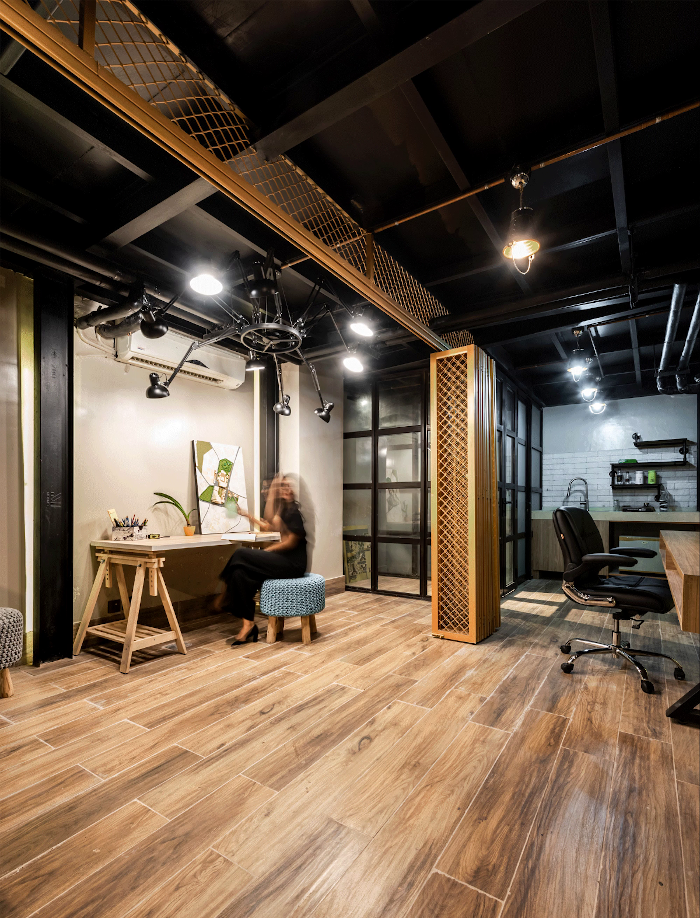 Considering GRID is an architectural interior methodology acts as a fundamental organization concept that when connected to one or hundreds of others to create a well- defined structure with the dimensions coordinated and desired. It forms a relationship between form and space give a solid void relationship. Thus creating an open plan, double height floor spaces and mezzanine provided an opportunity to create a separation between the private and public area in the office also balancing visual connections and exchangeable activity of events for clients and employees throughout the entire space.
Two main criteria were considered for the implementation through which all the materials were selected, first was they were environmentally sustainable and did not require an applied finish. The second was that they were proprietary and readily accessible to keep the cost of the project down. Almost all of the furniture, shelves, industrial joinery, framings were designed and custom made to balance the continuity of the design philosophy. The working desk were designed and constructed from MDF boards with open storage spaces that provide a design alternatives for interior workspace design, sustainability and ultimately re-examine our cultural attitude. The industrial lighting was custom made and subtle pieces of artwork like vintage window frames and doors on the wall which was also used as a wall finish at various spaces. This continuity and regularity created by the grid gives the compositions a sense of stability and organization. It units forms of dissimilar shape and scale.
Project Facts –
Project name- GRID RECALL
Type – Small and Young Design Studio
Area- 150 sqm. approx.
Location –  India
Year- 2018