Name of the Project: Flexi-scraper
Location: Mumbai, India
Designed By:  Hexagramm Design and Angshuman Das
Status: Unbuilt/Conceptual
It all starts with the Japanese origami magic ball; folded from a paper into a grid of squares – with two cross-diagonals each – the generated 'skin' has a unique property – it is malleable. The same skin with exactly the same of unit squares generates a variety of forms: a cylinder, a spindle, a revolved hyperboloid, a sphere, and also a disc. This is made possible by the unique geometry of the 'skin'.
The applications of this idea are numerous; one skin can be reconfigured into a variety of forms, creating, essentially, the same skyscraper (with similar or equivalent floor plate areas.)
The skin is also a dynamic multi-functional object. Part of it constitutes the structural system of the skyscraper, leaving the inside largely free for creating free-flowing spaces; it also has a heat collecting photo-voltaic grid integrated within its folds, and the fenestration system consists of a number of triangles at calibrated angles which catch, reflect and funnel both light and ventilation selectively into the building. A part of the skin triangulates into internal ducts, carrying all the building services. The form also harnesses the windy location of the sea front by channelizing the constant sea breeze into ducts within the outer skin, which consist of a series of micro-windmills that generate power to provide for the facade lighting requirements to illuminate the iconic form by night. Along with all these functions, the skin also allows for vertical gardens in the niches of the facade.
The 'skin' incorporates several essential building functions through Biomimetics
The Flexi-scraper seeks to investigate a facade that solves ALL the requirements of a skyscraper: a)that shades, b)leads to uniform day-lighting, c)cuts glare, d)channels air into the building, e)protects against rain and storms, f)produces energy for the building by harnessing the powers of wind and sun g)is the main structure of the building such that no other structure is required; and the last, but most important h)is malleable such that the skyscraper may take on different heights, different volumes and different shapes, without changing the essential grid/tectonics of the facade.
The Flexi-Scraper is an all-encompassing, energy-efficient, dynamic facade – rooted in economy and integration, and striving to achieve minimum energy configurations and multi-functionality with just a single concept.
---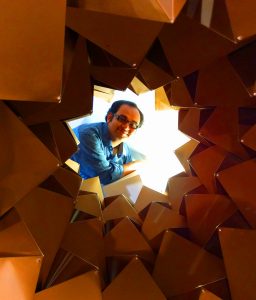 Ankon is an architect by training with a keen interest in the geometry and mathematics of plants, trees and flowers. A Gold-Medallist from the School of Planning and Architecture (S.P.A), New Delhi, and having pursued his Masters Degree from The Bartlett, University College London, he is Design Director (Landscape), at Hexagramm Design Pvt. Ltd. , working on resorts, farmhouses, hotels and residences of various sizes and imaginations. As part of his Oritecture initiative, he has conducted scores of workshops, designed interiors and sculptures for popular restaurant franchises, given a TEDx talk on the topic and hosted two solo art shows. He has also co-authored 'Questioning Architecture' with Gita Balkrishnan.
Coneect with Ankon Mitra on
Facebook: https://www.facebook.com/oritecture/
Instagram: https://www.instagram.com/ankonmitra/