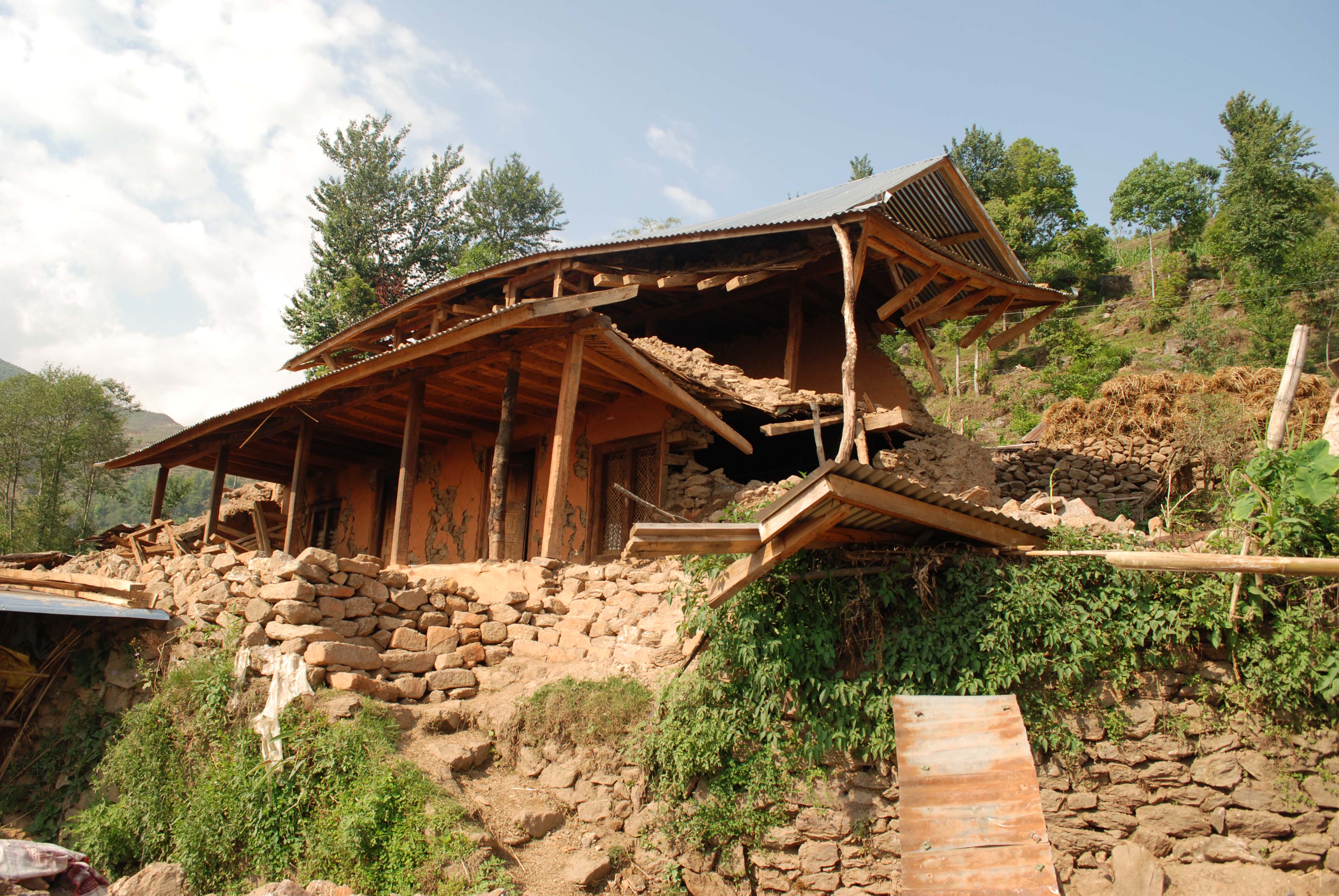 Preamble : April – May 2015
The Nepal earthquake and its aftershocks during April – May 2015 resulted in widespread destruction of lives and property. With the fragile hill road infrastructure badly affected across districts, transportation of relief, goods and services were restricted, making the re-construction effort a daunting task, especially in rural areas far from urban centers.
Rural habitats in remote areas – with their own distinct identities derived form local traditions and materials – form an integral part of Nepal's economy based on nature and culture tourism. The village of Kaule in Nuwakot District (N 27.91; E 085.36; A 1591), for example, mostly use locally available stone, mud mortar, and timber to build their houses. Due to the lack of sufficient seismic resistant measures used in construction, most of these were damaged in the earthquake.
Initial response: June 2015
In the aftermath of the earthquake, Nepal was flooded with diverse proposals for reconstruction. These ranged from houses made burnt bricks, paper rolls, sandbags, to steel and RCC pre-fabricated structures. While most of these proposals were structurally sound, they ignored an important community based reconstruction resource – use of traditional skills and materials.
A need was felt for a design to mirror the unique cultural identity the of Tamang community – expressed aesthetically and fluently in the design of their habitat for ages. Moreover, re-using salvaged material for environmental, energy, and economic reasons was also needed. Equally important was to engage the community in the re-building process, providing a source of livelihood for a community with its back against the wall in the aftermath of the earthquake.
Survey and study: Sept- Oct 2015
A survey was conducted in the villages of Kaule and Bhangeri over the months of Sept-Oct 2015. Bamboo and other building materials were sourced, and a site for the construction of a prototype was identified. A village committee was formed for an orientation and training programme for treatment and use of bamboo, mud and stone in construction using seismic-resistant concepts. The design allowed use of stone masonry up till lintel level on the ground floor, a bamboo frame with independent foundations that extended up to a lightweight upper floor (attic) with a bamboo frame, mud plastered wattle and daub walls, and a bamboo frame with pre-coated Corrugated G.I. Sheets as roof.
Skills Training: November 2015
A training programme on techniques used in 'The Kaule Prototype' was designed for 12-15 people. More than 60 people signed up! The two week long training session brought architects, craft persons, villagers together to explore treatment and structural joints in bamboo, as well as seismic resistant construction details in stone masonry, timber construction and mud finishes. The design of the Prototype was finalized during this period and submitted, along with structural calculations based on Nepal Building Codes, to DUDBC (the Department of Urban Design and Building Construction), Nepal. This was subsequently approved and published in the DUDBC Design Catalogue Volume II.
Prototype Design – Plans
The Kaule prototype in its context
The Team
Principal architect and team leader: Ashish Sharan Lal
Associates: Areen Attari, Manu Narendran
Structural Engineers: Minesh Ratna Tamrakar, Bipin Gautam
Technical Guidance: Prof. P. N. Maskey
Project Mentor: Vivek Rawal
Community Representatiive: Santaman Tamang
Funding Support: South Col Trekking Grou
Construction Manager: Shashi Tamang
Master Craftsperson: Ramesh Ji, Tribuvan Ji
Others: The Kaule and Bhageri Community
ALLEYA AND ASSOCIATES
Alleya and Associates is a multidisciplinary design practice in Kolkata. The firm has dealt with a wide range of projects – a 100 acre township in West Bengal, institutional buildings, corporate interiors, archival exhibits, adaptive re-use of historic buildings – among others.
A selection of our projects may be viewed at the following web address: http://www.alleya.com/home/
More details on the The Kaule Prototype project can be viewed here: http://thekauleprototype.blogspot.in/
PARTNERS
Ashish Sharan Lal Architect, Proprietor
Arch, School of Planning and Architecture, New Delhi, 1988
Registered Architect, Council of Architecture, India – CA/88/11882
Registered Conservation Architect, Kolkata Municipal Corporation
Registered Conservation Architect, West Bengal Heritage Commission
Nilina Deb Lal Conservation Architect
Arch, School of Planning and Architecture, New Delhi, 1991
Masters in Conservation of Historic Buildings, University of York, 2003
PhD at candidate at the University of Edinburgh, Department of Architectural History
Registered Architect, Council of Architecture – CA/91/13761
Registered Conservation Architect, Kolkata Municipal Corporation
Registered Conservation Architect, West Bengal Heritage Commission