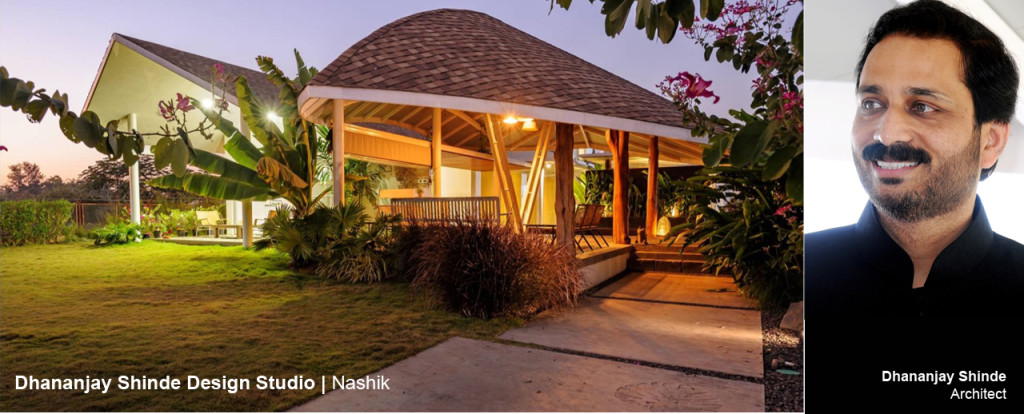 Dhananjay Shinde looked positive about the profession and was excited about the future. We asked a couple of questions about the profession and his likings.
"Times are good for art, architecture and design. There is better awareness among people about the nuances of design, music, movies and art at large. And, that's positive." He beamed.
After twenty years of having practised in the heart of Nashik, Dhananjay Shinde decided to move away from the city's cacophony, to a place which is closure to nature and peaceful..a place where he can experience a better creative freedom. Dhananjay Shinde Design Studio was conceived many years ago. He revealed that it was his dream to build an office like this and he has been saving every penny to fulfil this dream..
"Random people walk in, They move around the place, look at things, water, plants and enjoy spaces. Many are not sure what this place is about..but they love everything about it." The architect expressed with joy . He also shared a note (image below) left by one such visitor, doctor by profession, where he congratulates the architect for his design approach and vision..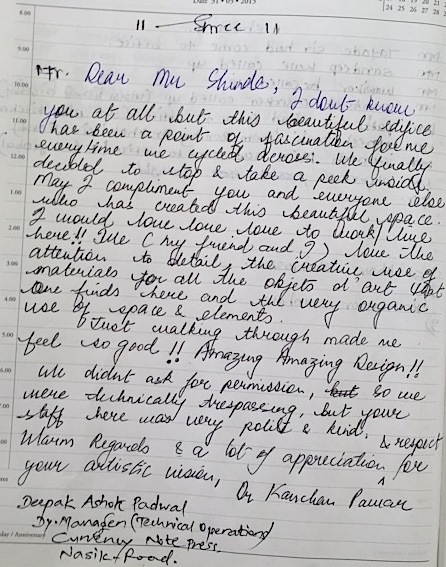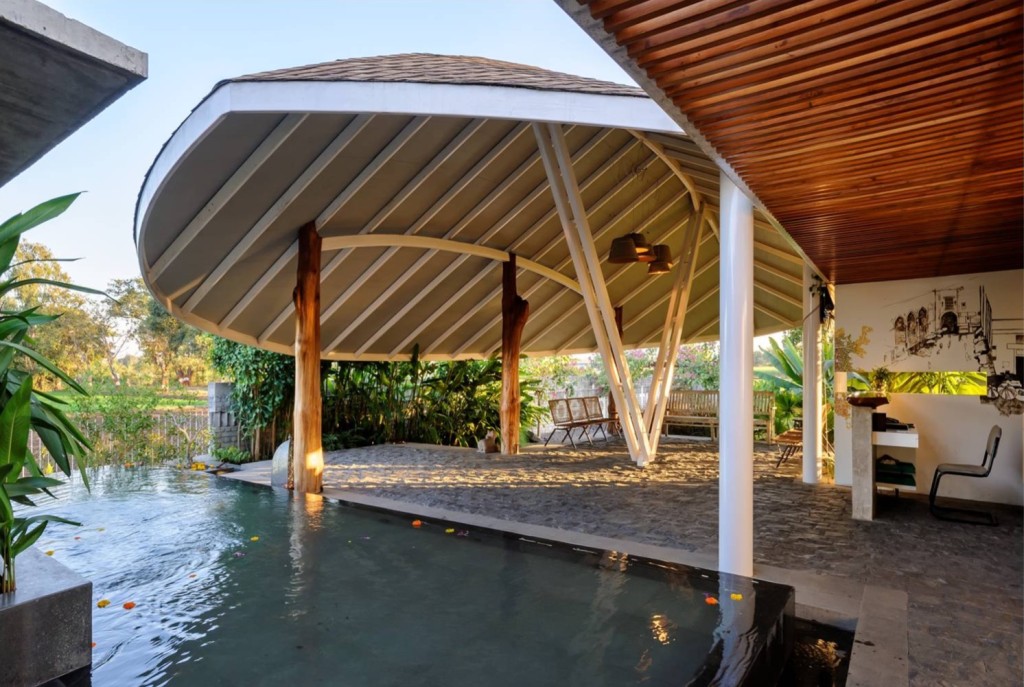 The office building has won multiple accolades at national, regional and local level. The awards include the NDTV Grohe 2014 Jury Commendation for Commercial Architecture Design, an award from Indian Institute of architects (JIIA) for Excellence in Interior Architecture, The Artist in Concrete Award Asia Fest for commercial interiors and an award from ACC Ultratech 2014 for Concrete Structure of the year.
"Things have changed for better. There is more awareness about the profession (Architecture). There are advancements in the construction technology and materials. This gives me a lot of time to focus on design and gives me a better creative freedom." He replied when asked about his journey so far, the state of the profession now and the future.
Among the living architectural practices from India, Lotus Design (Ambrish Arora), Studio Mumbai (Bijoy Jain and Mancini (Niels Schoenfelder) are his favourites. We have a couple of projects already published by Lotus Design on ArchitectureLive!
When asked about his favourite projects in India, he didn't have to think much and instantly replied "That hotel in Shillong..I have forgotten its name, but, I remember all the detailing..the location.."
Thanks to Google and some clues about detailing and the vicinity, we were able to find out the name of his favourite project. It is Hotel Ri Kynjai, Shillong.
Visit this link to view his profile and some of his works.