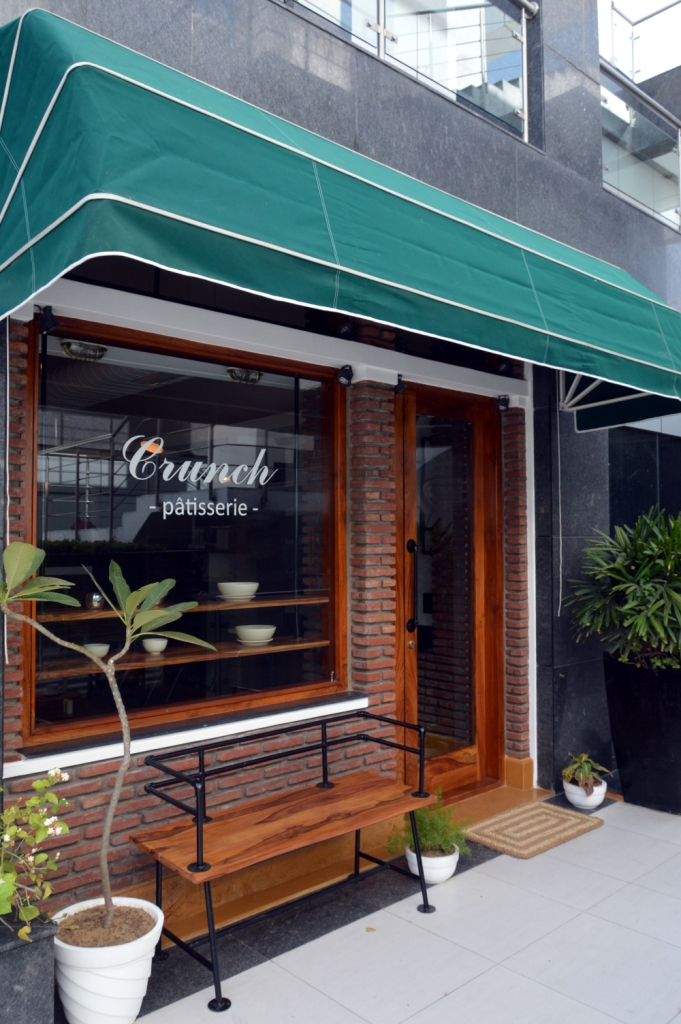 Located at a recently opened shopping mall off Sohna road, Gurgaon; Crunch Patisserie is a flagship outlet launched by Mr. Praveen Kalra, an entrepreneur in the food industry. His niece Disha is the pastry chef for this establishment and manages food production. Eros City Square like many other contemporary shopping arcades is composed of standardized modular elements and built with predominantly industrially manufactured materials. Main circulation courts and passages are open to sky, providing plenty of light to shop facades, while exposing them directly to the elements as well.
These site conditions called for a synthesis in approach, where both architectural and interior design considerations could harmoniously integrate. The given glass façade for other shops has been replaced at Crunch by a thickened edge of country brick masonry, framing a place of light. Additional illumination is allowed in, above lintel by removing the mall's standard Alucobond cap-strip. This intervention with the façade allowed for an appealing wooden doorway and threshold, marking a place of entry. A simple green canvas awning, attached to the facade provides shade and protects fenestrations against rain.
Crunch Patisserie's fixed glass window display hosts plank shelves of wood, suspended from a lintel slab cast above, by metal pipe fixtures. This same metallic pipe detail has been repeated in various forms throughout the space, serving as shelf brackets, door or cabinet handles, and as structural elements for furniture. By this approach, many design features have been assembled and welded on site by craftsmen, using locally available standard pipe fittings. This is to explore how multiple functions may be derived from a single material, by variety in basic detailing. The same principle is applied to other element forming materials; such as exposed country brick masonry, which varies in thickness across the space as means to serve varied utility. In some places this same brickwork forms sofa seating, in other places it shapes storage, creates partitions and even stands alone as a pier supporting the main counter.
Essentially such a space aspires to be considered as an authentic modern indigenous product, while arriving upon some type of contemporary urban vernacular language. Almost everything about this space is made in India, by hand, and more specifically in-situ. Most materials used are naturally occurring, locally available, low energy products. Technology detailing deployed is simple and widely achievable, unto the rural sector. Such a model could be replicated in theory, by moderately skilled craftsmen using human energy alone, with little need for specialized material, equipment or tools, almost anywhere in the country. This resultant prototype displays robust solidity, in contrast to a current age of transience and disposable consumer culture.
Sustainable solutions should ideally create employment and therefore, design decisions through this process maximized upon details, requiring human energy by labor and craftsmanship. Materiality as spatial identity, while refraining from thematic imagery; became the chosen design response to approaching this commercial space, while generating some sense of institutional permanence.
FACTS:
Area :35 SQ.M

Client / Owner :Praveen Kalra