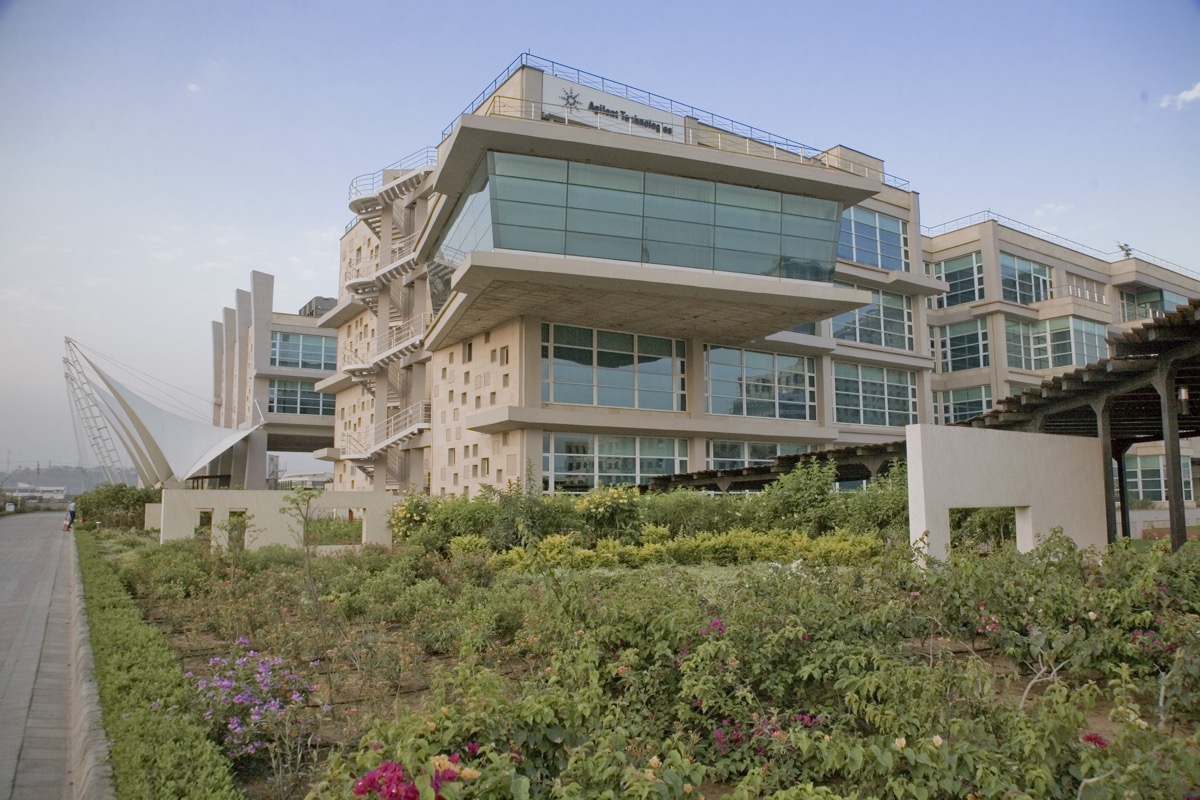 Agilent Technologies a leading life sciences organisation ,chose to set up a corporate hub in Manesar thus housing all its various offices at a central location. Crafted for the ultimate office experience, this building imparts a distinctive character to enhance productivity while maintaining the sanctity of a quiet work environment. Integrating various standalone features with energy efficiency, the project serves as an international model in ecologically appropriate office architecture in continental tropical climates.
One of the central roles of the Agilent building is to set an example of innovative design and construction that would inspire a change, and conceptually re-orient existing practices in the building industry. Agilent is not an only a symbol of green design, but has also taken into account all aspects of meaningful design by considering the holistic effect of embodied energy of materials used, energy efficiency in envelope, life cycle cost of equipment and systems, and is a real performer towards sustainable design. A real example of sustainable design.
The east approach within the campus is characterized by a large cantilevered office section with distinctive tensile structures which mark the staff entrance. This side lets the morning light filter in from certain portions. Elsewhere, the interplay of small square glass windows and local sandstone respond to the need to block the sun from the west and east. Despite this, the largely glazed (but protected) north and south façade instigate a feeling of the 'modern' glass office from inside without paying the attendant price of extra heat gain.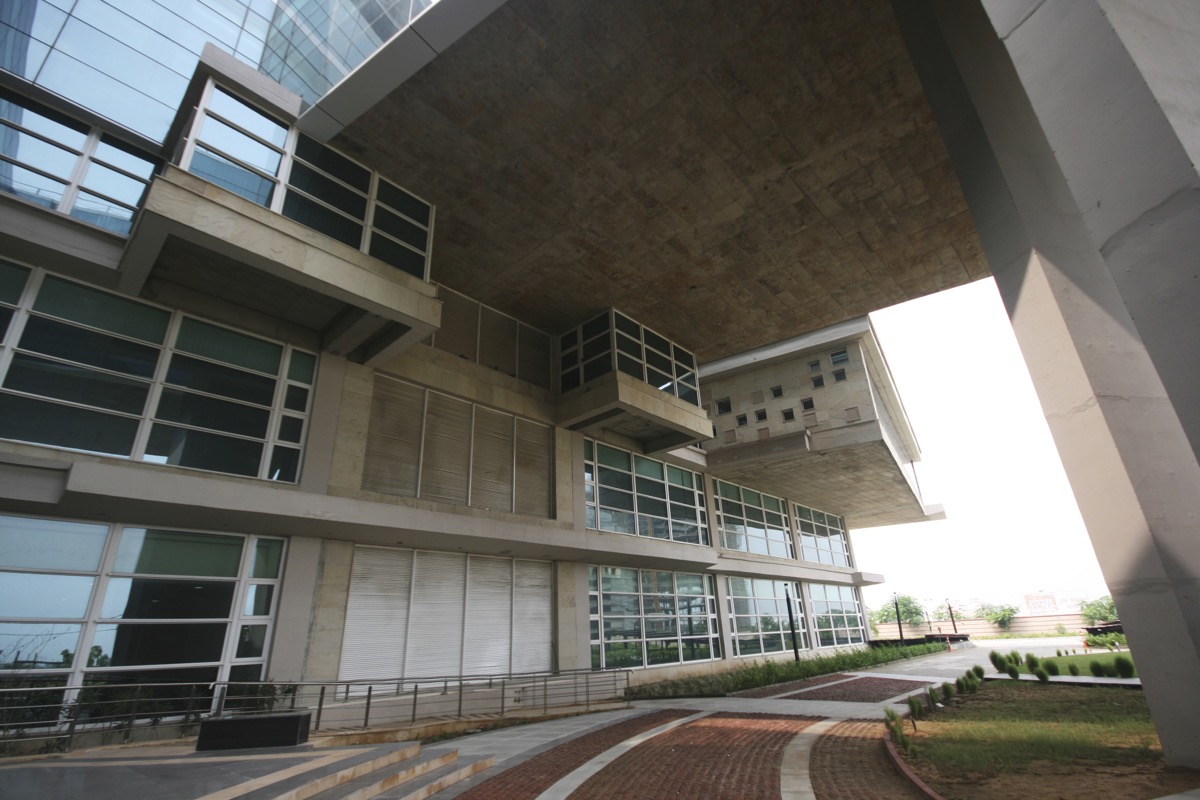 The northwest formal entrance, under a triple height space, integrates a water body and a concrete shear wall. This entrance leads to a grand atrium with a tree which is the connecting element of all the spaces within the complex.
Intermediate spaces have been provided for repose from the intense work environment in the form of a roof top cafeteria, gardens, terraces and the atrium itself. Intermittent provision of internal and external courtyards also ensures enhanced indoor air quality. Meeting rooms project outwards, as distinct entities offering magnificent views of the building and outwards.
Personalized work environments utilize a hybrid under-floor air conditioning system based on the principle of cooling the user (not the space) while efficient variable air volume systems work even for the increased ceiling height of 3.2 meters. The extra height, as well as the limited floor plate depth of 25 m, allows much of the office to operate in natural light.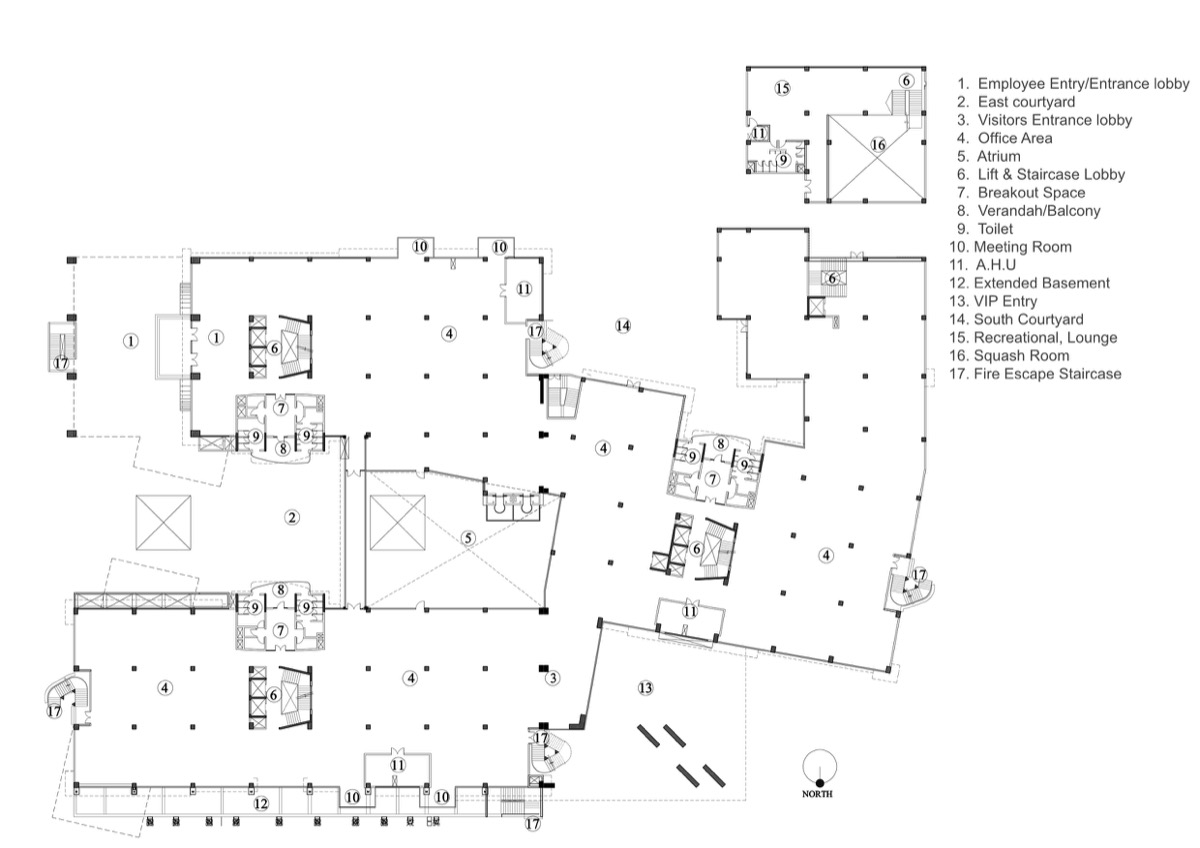 The building currently utilizes only about a quarter of the permissible floor area, allowing for future expansion to full coverage in the future. For now, this land (at the south) not only serves to create valuable outdoor spaces for recreation, but also enhances biodiversity by stepping the landscape, cutting dust and noise.
Drawings:
Analysis
Project facts
Client : Agilent Technologies
Year of Completion: 2009
Architect : SHiFt (earlier Sanjay Prakash & Associates)
Construction Management: SHiFt (earlier Sanjay Prakash & Associates)
Project Management : JCI
Location : Manesar, Gurgaon, Haryana
Approx. cost : Rs. 1,75,00 lacs
Built up Area : 50,000 sqm
Site Area : 10 acres
Contractors : Ahluwalia Contractors Limited (Main), MAS (Electrical), JCI (BMS), Bluestar (HVAC), Sidco (Interior), DSA (Plumbing), QCC (Landscape)
Consultants
Structural : Dr. Maqsud (NNC Consultants)
Electrical, lighting: Linus Lopez (Lirio Lopez)
HVAC, plumbing, fire fighting, BMS: Gian Modgil (Sterling)
Environment optimization : Tanmay Tathagat (Environmental Design Solutions)
Landscape : Mohan Rao (Integrated Design)
Interior : Anand Krishnamurthy (Firm Terra)