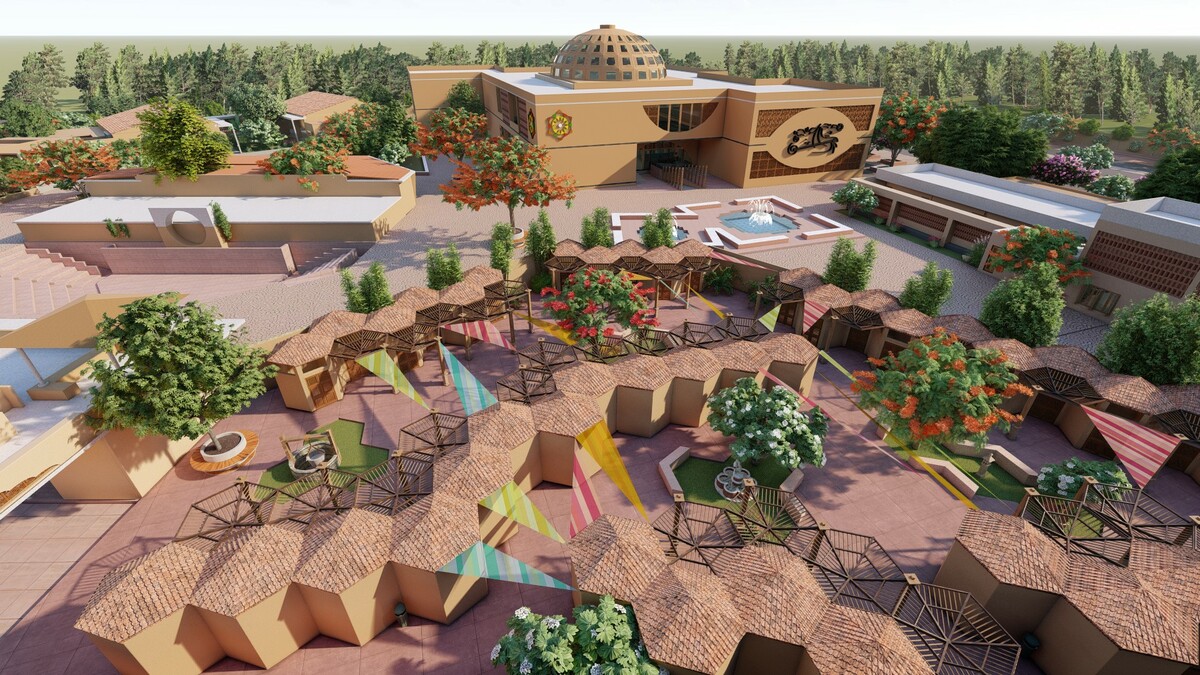 Historically, the Braj region (the biggest tourist's attraction place), is synonymous with the legend of Lord Krishna, has been home to a wide range of art and crafts. Although many of them have their origin rooted in religious rites and Cater to needs of devotees of Lord Krishna producing items such as Poshak and Tulsi mala. According to the Brief Industrial Profile of Mathura, there are 150 units of artificial jewellery (Kanthi mala) in the district alone. According to research, it is estimated the number of artisans in this cluster is around 1300-1500, who eke out a meagre livelihood.
The Project aims to bring the benefits of tourism to the communities that live around the assets by a platform that promoting local enterprises that improves the social and economic conditions of artisans while protecting the state's unique heritage.
The project comprises of  Seven blocks: Haat to exposed artisan's craft and talent, Museum to reflect and glorify the culture, tradition and heritage of Braj, Workshops 3 where visitors will be able to learn and interact with artisans to understand the nature of their craft, Amphitheatre 4 to organising the cultural programs and performances, Guesthouse 5, Canteen 6 and Admin block 7.
The concept is inspired by the historic references to design the spaces and to evoke out the elements of Narration through it.
A large domical roof structure, of the museum, reinterpret the feature of the architectural vocabulary of temple dome which allowing light to pour in and; punctures of courtyards and jaali between the thematic galleries providing sufficient lighting, ventilation; finishes with brick, red and dholpur stone i.e common material in the area.
Workshop emulate the form of an Indian village. Use of north light skylights to avoid direct sunlight into the studio.
Amphitheatre is placed as the heart of the place giving strong position in the plan yet keeping it shuttle due to orientation relative to craft court.
Formal, informal craft court is created gives a feeling of markets and bazaars. Clusters are connected with green patches completing the village scenes, having large overhangs of canopies shades the craft shops against harsh sun.
The flight of stairs reminiscent of ghats directs the view of kund; emphasizing the sacred nature; located at the lowest slope of the site to collect whole rainwater of the site is another ecosensitive feature.
-Mohini Dubey