Hasmukh Patel's architectural practice spanned the transformative latter decades of the 20th century. Patel navigated the political and economic changes of his time and brought his talents to bear equally on institutional, private and speculative development projects in a way that was rare amongst his contemporaries. He recognised that with every commission, regardless of budget, scale or type, came opportunities to further architecture's formal, civic and social agendas.
Patel rarely spoke about his approach to design. And yet, each of his projects is a built manifesto, an exploration of how architecture might enrich the lives of India's modernising citizens. His buildings are the result of profoundly practical deliberations combined with an intuitive appreciation for the power of form and space. They belong to a deep tradition of 20th-century modernist thinking, where the legibility of the architectural diagram is a primary concern.
Included here are 51 of Patel's buildings, many published for the first time. Each project has been meticulously redrawn from material in Patel's archive and is accompanied by photographs and text informed by his recollections from practice.
This book is both a tribute to Hasmukh Patel and a contribution to the ongoing documentation of modern Indian architecture, the gathering of a canon of works to inspire and inform the next generation.
Some inner pages of the book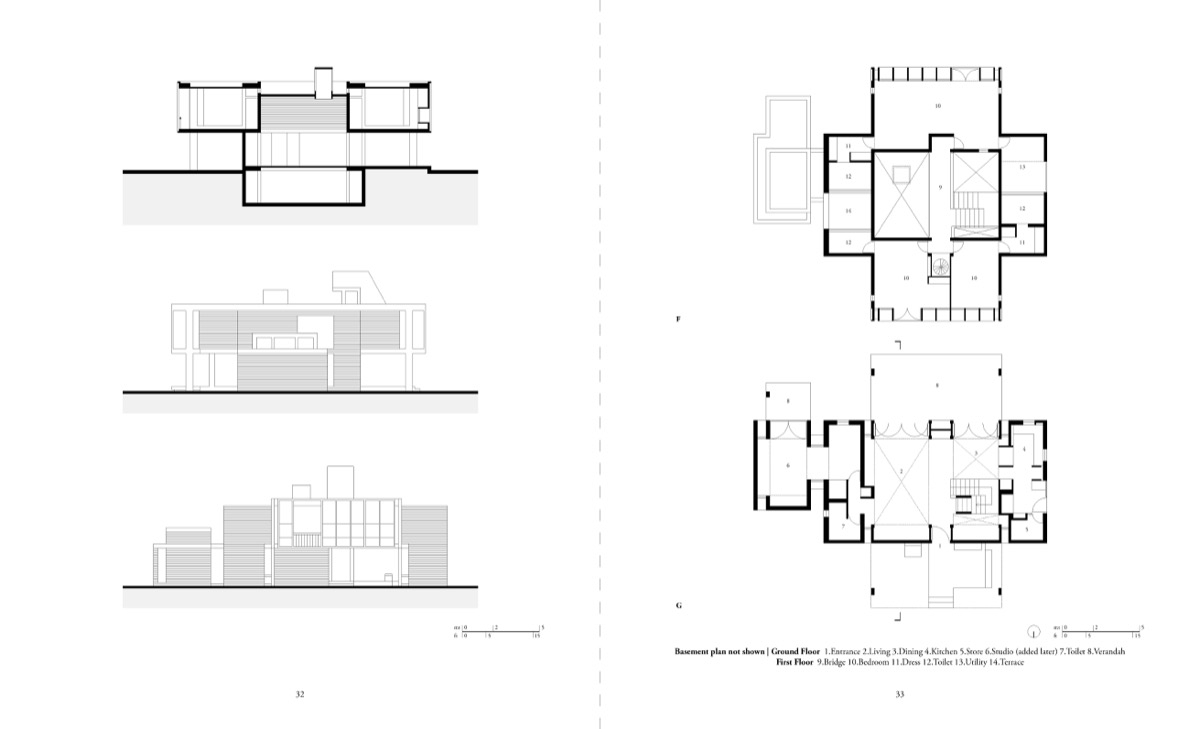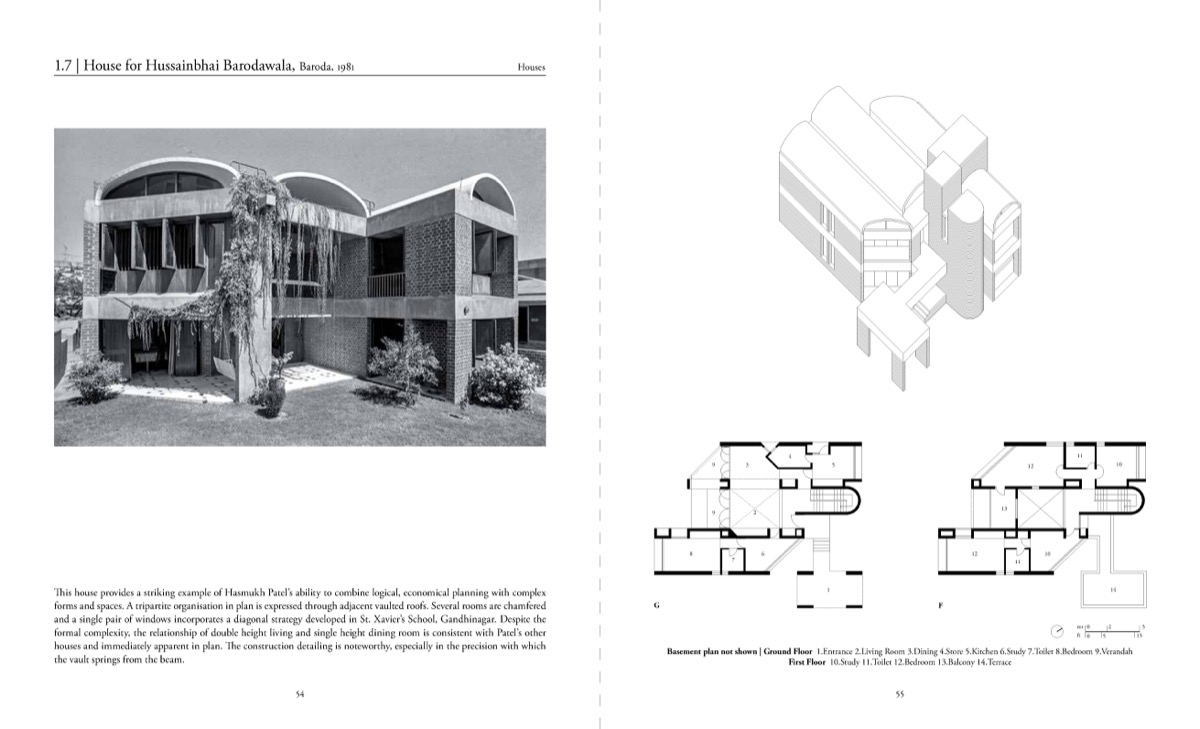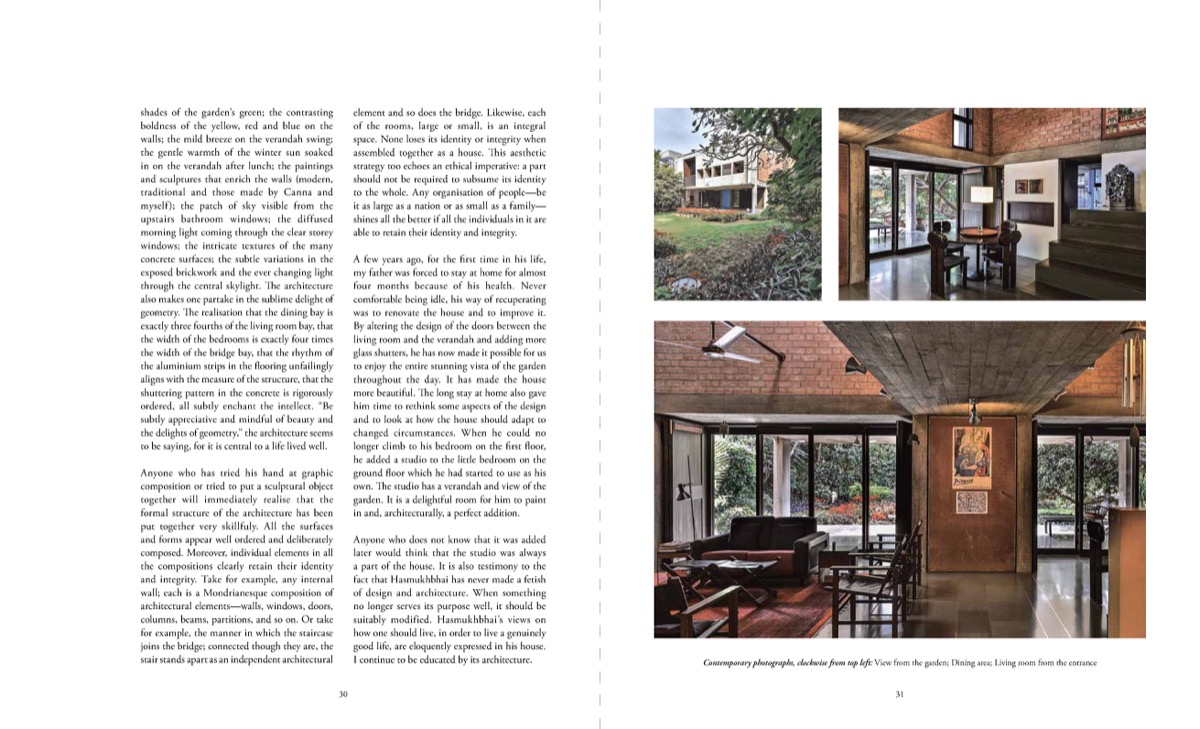 The book features 264 photographs and 150 drawings.
---
Authors:
Catherine Outram Desai received a Bachelor of Architecture with honours from the Royal Melbourne Institute of Technology, Australia. She has practised in Australia, India and the UK, working on both new and heritage listed buildings. Catherine first visited India to study the country's modern buildings in the early 1990s and has continued her research with frequent visits. Her knowledge of modern Indian architecture encompasses both well-known and less visited work, and she is an advocate for the preservation of India's modern architectural heritage.
Bimal Patel is an architect, urban planner and academic. He is President of CEPT University and heads HCP Design, Planning and Management Pvt. Ltd. Patel received a Diploma in Architecture from the School of Architecture, CEPT, Ahmedabad. He also received a dual Master's in City Planning and Architecture and a Doctorate in City and Regional Planning from the University of California, Berkeley. His research interests include land-use planning and management, real estate markets and building regulations. His numerous architecture, urban design and planning projects have won many national and international awards.
---
Book Facts:
Book Size: 222 x 270 mm | 8.74 x 10.63 in
Number of Pages: 394 pages
Binding type: Hardcover
Publisher: Mapin Publishing –  Ahmedabad
Availability: In STOCK at Mapin Publishing, Available at leading book stores from September 30th 2016
---
Images and Text Provided by HCP Design, Planning and Management Pvt. Ltd. Ahemdabad
---
More Books on Architecture: