"Believe in yourself. Acknowledge the opportunities that can be grasped upon and deliver on them."
In conversation with Akshay Heranjal, Principal Architect and co-founder of The Purple Ink Studio; a multiple award winning practice which was started in 2011. The brainchild of architects Akshay Heranjal and Aditi Pai , this Bangalore based firm evolved as a confluence of two distinct architectural backgrounds – one being extremely rational, aesthetic yet responsive and the other being based on strong responses to nature and inclusion of natural elements in the design. The studio believes in constantly exploring the parameters of design and blurring the boundaries between architecture, landscape, and sustainability to create a contemporary design which resonates with its context.
Through this dialogue, Akshay provides insight on the opportunities and obstacles that come with starting your own firm and reveals how he resolved the trepidations that comes along with establishing your own practice –
I personally believe that there is no specific time for starting your own practice, but what does matter is the experience and understanding that you can derive from your mentors while working under them. I believe I was privileged to have worked with three different architecture masters or 'gurus' – Karan Grover, Sameep Padora and Sanjay Puri ; all of whom have molded the design aesthetics and the ideologies that I hold today.
To do well, it is important to be rigorous when you are learning. Do not look at your current workspace as just a stepping stone for when you start your own practice. Do not work through it superficially. Invest in your workspace. You need to gather enough knowledge and experience before you can start on your own. Devote all your time and energy into learning and grasping as much as you can about design strategies and running a practice because as the principal architect of a new firm, you will have to undertake every role and responsibility necessary for managing your practice.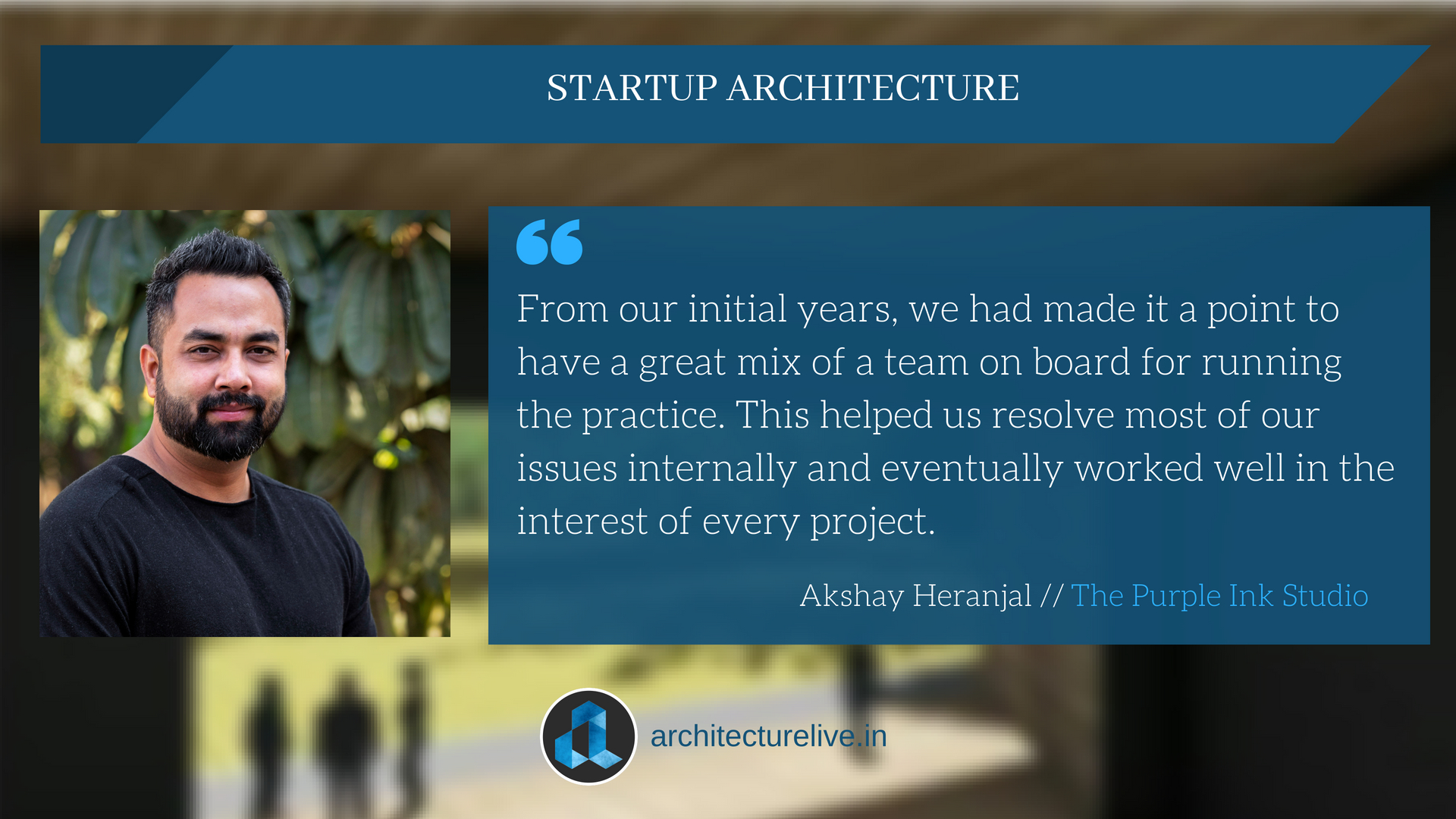 The biggest benefit of owning your own practice is that you define your own success, but this can also easily become the cause for your downfall. So, the question that arises here, is how do you initiate your practice.
When you start out, you do not have a well-established portfolio. Your work has to speak for you.
When we started our practice, we wanted to ensure that the first project we take, is of a scale and prospect which strongly reflects our strengths and ensues similar scale projects or like-minded clients to approach us. We were very concise about the scale of the project we wanted to work with back then. Branching out to interiors or small projects was never our intent, albeit now we work on all scales that excite us.
Coincidently, when we were first moving to Bangalore to start The Purple Ink Studio – through word of mouth we came to the knowledge that a client is looking for architects to work on a 80,000 sq. ft project involving architecture, landscape and interiors. The client was accustomed to working with experienced international architects, so our biggest endeavor was to establish confidence with the client. I feel establishing a good client base and getting clients to believe in your work, without any prior experience to show for it is the toughest part of starting your own practice.
We had to reiterate his confidence time and again, We would constantly show him new prospects – we would show him the possibilities and had to work out the details well enough to stand by them. When you start out initially, understanding and accommodating the finances, handling logistics, understanding the city bylaws come across as a challenge. You must handle everything. No matter how arduous it gets, you must be optimistic and give it your best.
This philosophy helped us take our first leap as a practice. I believe that a large aspect of architecture entrepreneurship is believing in yourself. From our initial years, we had made it a point to have a great mix of a team on board for running the practice. This helped us resolve most of our issues internally and eventually worked well in the interest of every project. A large part of our learnings was that we should never compromise on our design ideologies. We have always believed in integrating landscape with the project and creating contemporary design prospects which are sustainable. We have always tried to push ourselves above and beyond to deliver our ideas.
To succeed it is crucial to be consistent; delivering quality works constantly is the key.
Starting your own practice is going to be a long journey, but it will be an exciting one. My advice to those who plan on starting their own firm would be to not rush into it. Several architects are too keen to start off immediately, but I believe one should gain enough experience before starting a firm. Starting out is an entrepreneurial exercise, it is necessary to have enough experience for you to be confident while making decisions for the betterment of your practice.
Understand that there will be mistakes, but there will also be opportunities for you to grow from these mistakes and evolve as a better architect.