B.Arch Thesis by Rajat Arora | Aayojan School of Architecture, Jaipur
We live in a country where fifteen year-old girls are eve-teased, ten year-old girls are abducted and raped, thirty year-old women raped and murdered. We live in a country where age is no bar for sexual harassment.
We live in a country that takes out candle marches for rape victims, writes hundreds of articles on harassment but who doesn't even meet eyes with a rape survivor.
We live in a country where rapes, sexual assaults have given rise to the PTSD syndrome, where so many women live in constant state of denial contemplating suicide or just waiting for death.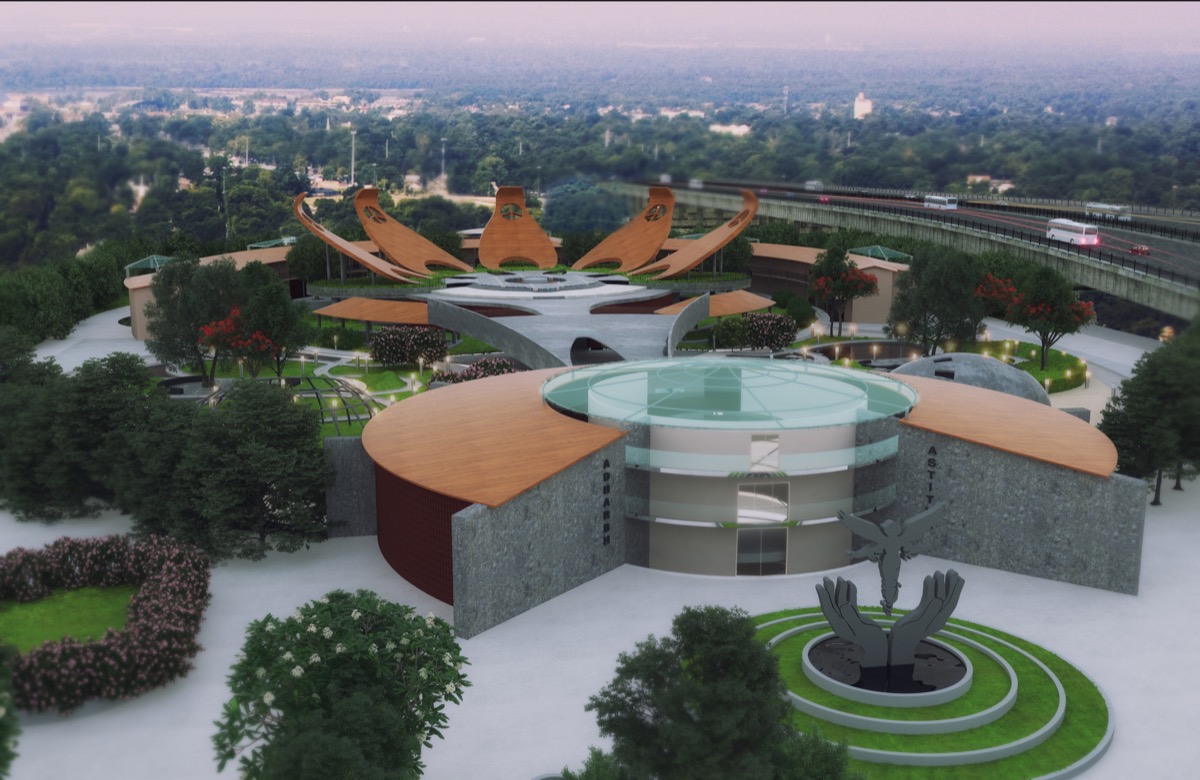 For all these reasons and a thousand more, there is a need to speak out for all these women who see themselves as a disgrace to the society where the real accused roam free and without shame. In a country reporting hundreds of rape cases every day, where "no " never means "no" and Post-Traumatic Stress Disorder becoming a common catastrophe, I put forward an advancing step in the field of recovery, a CENTRE OF CO-EXISTENCE OF SEXUALLY HARASSED SURVIVORS-ADHARBHA ASTITVA (FEARLESS EXISTENCE), where the main concern will be to dispel the pessimism associated with the ordeal of victims and recreation of their pre-traumatized lives. Victims are often rejected by the society and this leads them to believe they're worthless. However, recovery can only come through acceptance. Acceptance of the truth by themselves, first and foremost. This centre facilitates the route to recovery, to provide mental, social and physical development, provide accommodation to the survivors and basic education facilities.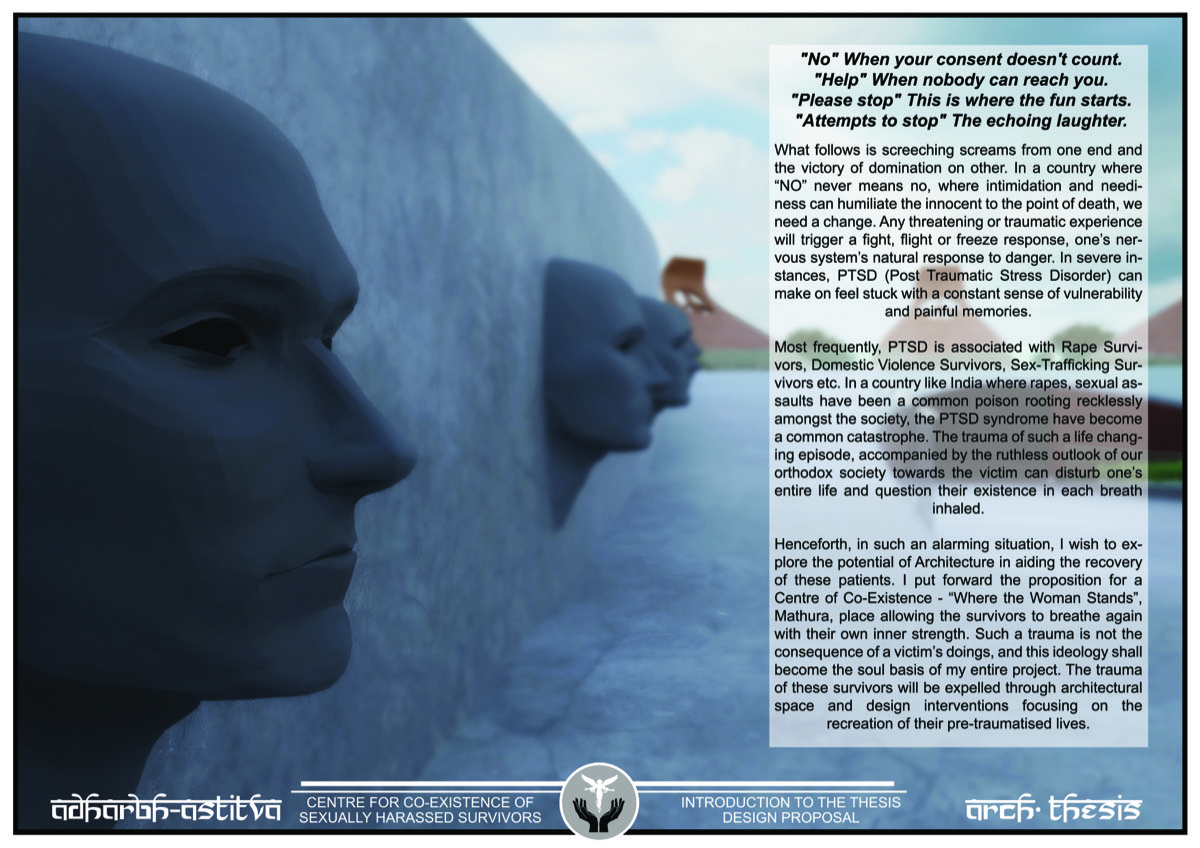 Healing, self-awareness and self-reliance through architectural elements is what the project aims for. The entrance is flanked by a power structure, a sculpture of freedom boldly titled as "Adharbha Astitva" . On entering, a positive energy symbolising self-esteem and self-realisation follow through the entire premises. Then starts the "Prapti Path", a path to accept the forbidden sufferings of the path, to understand that strength lies within, despite whatever may have befallen. No matter what happened, eternal healing will come only through self-reliance, believing that you're the same person before and after and the only thing that might have changed is that now, you're even stronger. The healing qualities of flowing water \are put to use in the Interaction Zone, conceptualised on the contouring landform, symbolically defining the highs and lows of life and yet, we have each other to support. Visual and sensory healing is achieved through water, which takes away the endless thoughts rushing inside and clears out the chaos within. Talking is therapy in itself. Sharing what you went through and what others have gone through, empowers people that they're not alone and there is nothing to fear now. It's over and this is a new start. The Shakti path, reminds them of the strength against fighting evil, the power to fight. There is an aural presence of Krishna, guiding everyone to recognise the strength that resides within them to overcome everything that the world throws at them, even this. It is important to make the victims realise that they are not weak in any respect, rather it is the attacker who should be considered weak. What happened to them, is not, is never their fault. The Interstitial Zone is the ultimate leg of the healing process. An area enriched in flora, with falling waters creates an environment to look back upon themselves and their circumstances and how they have evolved through this process. It also serves as a tranquil solitary space, for individual retrospection that they have finally accomplished the first step to healing-acceptance. The natural landscape brings with it a different meaning to anyone who comes here, making it a space free for interpretation, which is the final goal-opening up the victims to a thought process of self-healing, henceforth, sprouting a new seed of life within the victim. Landscaping and hardscaping elements have been profusely used to create the necessary environment, as being in nature is the greatest therapy. Overall, the entire design is conceptually based to address the concerns that are rather mentally induced in the minds of the victim.
The design approach followed is direct and to-the-point as it is important for the victims to come face to face with the reality, accept it and move on. The various paths and intersections give away why they have been made, because that is what is necessary to realise that they need this. The design is mainly experiential, everything to make the victims shine through their suffering. Care has been taken to remove any possible triggers that might inculcate the suffering. The only triggers present are the ones that remind them of themselves, of who they are and what they will always be despite the abuse they have faced. No shame of any kind should be present in the victims as it is not their fault and therefore, the design boldly takes on their recovery, too. The architectural language followed throughout the project is not sympathetic or pitiful, rather encouraging and empowering to remind the victims of the strength that resides within them, a greater view of their strength is shown through the building elements, too. Finally, the entire aim of the project is for creating a place for the survivors, a place unlike anywhere else, where their stories are heard and not rejected, where they are allowed to come to terms with reality, where they are reminded of the importance of life and how beautiful their souls are and where they decide to begin a new life without any shame, guilt or fear. Based on the sole purpose of self-realisation, the building aims to stand out in its own way, liberating the trapped souls of the victims with social dilemmas, giving a new meaning to their lives and building culture.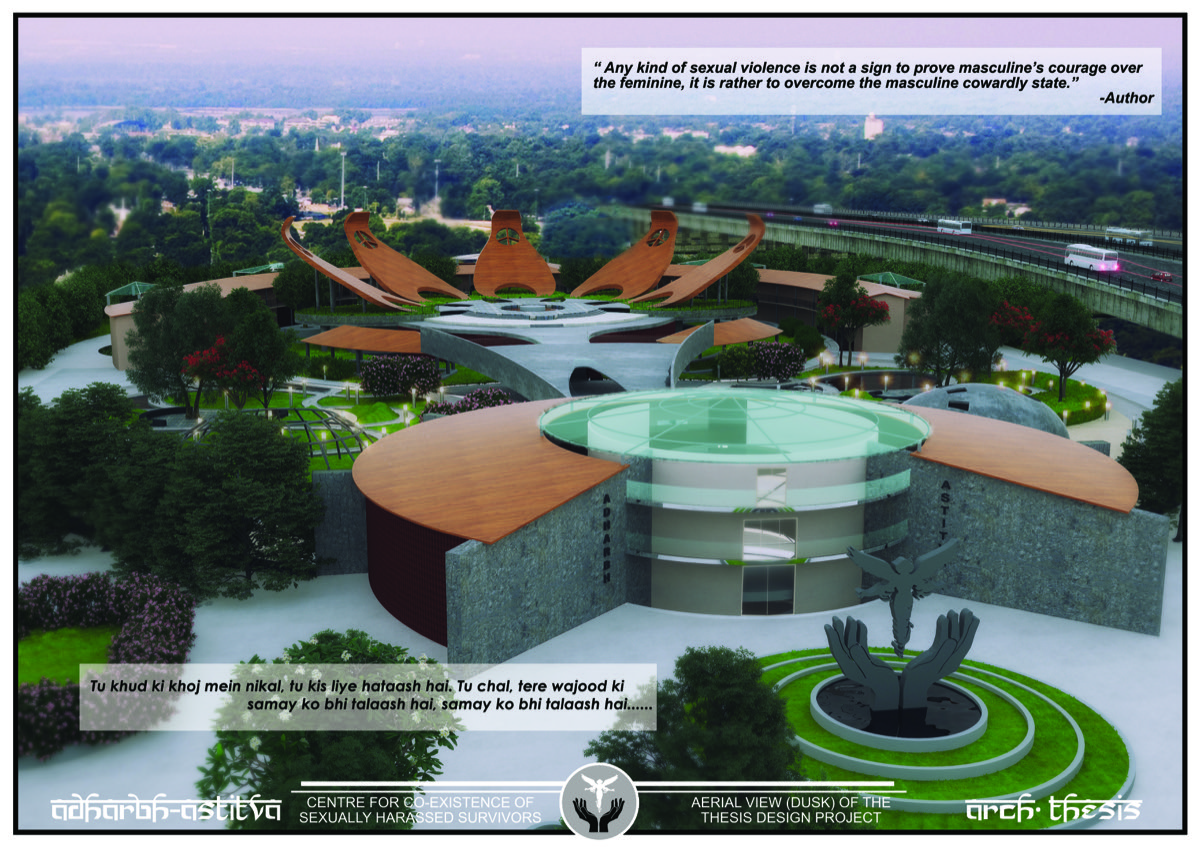 Images of the Model