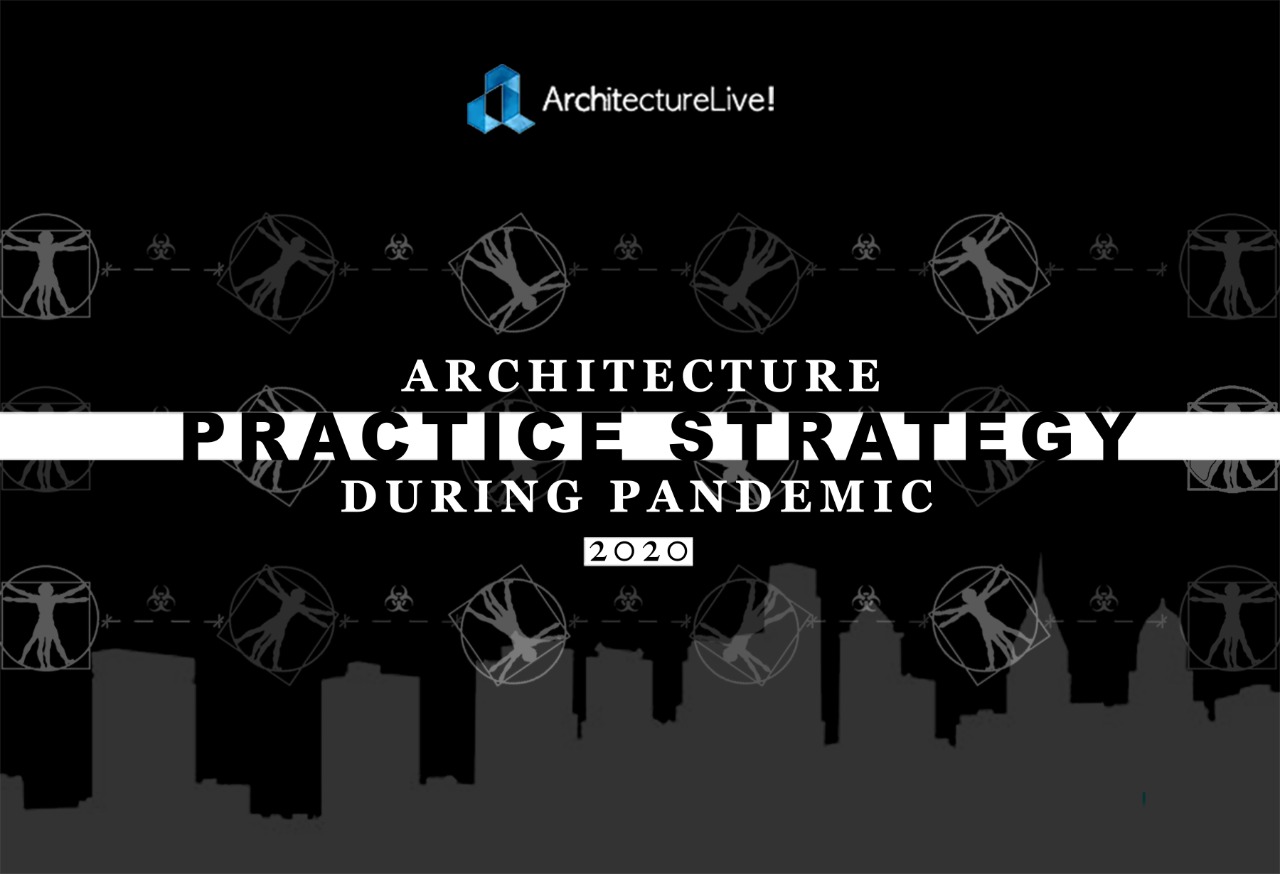 The Brief
At ArchitectureLive!, we are working on a curatorial article collating the resiliency ideas strategized by various young and older Architectural Practices across India, during the Pandemic in 2020. The paper titled "Practice Strategies During The Pandemic 2020", has a focus on the younger and emerging practices alongside a few established senior ones, in the major metros of Ahmedabad, Bangalore, Chennai, Delhi and Hyderabad in addition to tier II cities too. The article aims to highlight the globally and nationally unexpected economic boot camps into which Indian architectural practice found itself due to the unfortunate outbreak of COVID-19.
Upon that note, we aim to connect with some Indian architectural firms and request them to share their stories of challenges unfurled in their practice as we all ventured into the uncharted path of a pandemic stimulated recession. We also follow up by documenting ideas generated by the offices to tackle the situation and get back up to speed with pre-pandemic or any novel post-pandemic practice routines too. Our objective in this documentation effort is to bring to light the resiliency ideas from different corners of the profession in our country, with supplementary stories of how the lockdown influenced different practices. This article is also an invitation calling offices to share their experiences of any benefits, issues and measures of sustenance during the pandemic, to publish with our article at ArchitectureLive!.
---
The Background Study

Global and national economic challenges seen during the pandemic
As we witnessed the year 2020 bring most work cycles into a hiatus, the global development watchdogs labelled this phase as the largest economic crisis seen in decades. The World Bank, for instance, estimated a 5.2 % contraction in the global GDP levels (Global Economic Prospects Report), in June 2020. This rate is nearly twice the prediction of global GPD growth rates for the year 2020. Parallelly, the International Monetary Fund also pointed at an already weak growth in October 2019, at the time of which the COVID-19 outbreak was brewing to bring us to the unprecedented global pause. In India, the national income estimates for March to June 2020, showed a major contraction in all sectors, including construction and allied areas. These reports also asserted that India is on the brink of officially entering an economic crisis.
The state of Construction and allied production areas during the pandemic in India
India, said to have had strict lockdown measures after promulgating pandemic and disaster management laws which were a restraint to our routine activities. On that note, the sectors allied to the Architecture and construction saw a steep fall. The construction sector experienced a contraction of 50.3% as opposed to the 5.2% growth in 2019. The manufacturing sector saw a contraction of 39.3 percent in April-June of 2020, against a growth of 3 percent in the same period a year ago. And finally the Financial, real estate and professional services experienced a contraction of 5.3%, over a 6% growth in 2019. 
The questions posed to Architecture practice
The Council advised all architecture firms and colleges to close down for a couple of weeks initially, when the outbreak was new. Unexpectedly, it extended to beyond six months. The progress with areas of architecture practice such as the on-site progresses, client relations, in-studio and contracted staff, construction laborers and more, appeared to have been hindered. Largely seen, some challenges were shrinking of monetary resources which typically rendered budding designers and their teams uncertain for the professional course ahead. 
As site staff and contracts were seen to pause and disintegrate a labour network too, a looming migrant worker crisis unfurled adding to the built environment's woes. In addition, infrastructure work by state authorities and bodies were also halted leaving the associated designers and consultants stranded with paused commissions. Architectural internships were also halted, affecting academic opportunities.
Measures by the Council of Architecture
The Central Government released elaborate safety measures to be followed by everyone for the lockdown and post lockdown period. Drawn from them, the Council of Architecture, India, released a system of operation (SOP) for Architectural Firms and Institutions. The President of the COA sent his personal word in multiple letters to implement the safety measures in order to avoid any unforeseen harm amongst students and architects alike. The COA office was also announced as closed and all license registrations and any grievance redressals would happen through emails. 
The president of the COA followed up by encouraging the colleges and offices to adopt new methods of operations such as online examinations and work-from-home. In addition to this, the COA also prompted everyone to digitize all communications like meetings and other professional and casual gatherings. The SOP also highlighted the necessity to sterilise all office spaces and advised all architectural and non-architectural working staff of the colleges and offices to use personal transport. All measures put together alluded to the need of a novel pandemic and post pandemic modus operandi for architectural practice and education. 
References:
First Advance Estimates of National Income, 2019-20 (pib.gov.in)
Press Information Bureau (pib.nic.in)
The Global Economic Outlook During the COVID-19 Pandemic: A Changed World (worldbank.org)
World Economic Outlook (imf.org)
GDP Q1FY21 data: All sectors barring agriculture contract (moneycontrol.com)
Which are the world's biggest economies by GDP? | World Economic Forum (weforum.org)
The Distributional Impact of Recessions: the Global Financial Crisis and the Pandemic Recession (imf.org)
Lessons from the Global Financial Crisis in the Age of COVID-19 (imf.org)
Pandemic Could Erase More Global Wealth Than Financial Crisis – Bloomberg
Global Financial Stability In Pandemic Aided By Financial Crisis Reforms, Says FSB (forbes.com)
ILO warns: Pandemic to worsen global unemployment to 25 million – Manila Standard
COVID-19: Stimulating the economy and employment: ILO: COVID-19 causes devastating losses in working hours and employment
An economist explains what COVID-19 has done to the economy | World Economic Forum (weforum.org)
Context: A world in lockdown – Global Energy Review 2020 – Analysis – IEA
India GDP Q1 Growth Rate Data 2020: India's economic growth slips 23.9% in Q1 of 2020-21 (indianexpress.com)
Analysis: How Secure are Construction Workers in India During COVID-19 Pandemic? | Centre for Policy Research (cprindia.org)
Comments from architects and students (from Chennai and Hyderabad) on how the altered state of practice and education appeared during the lockdown.