With this post, we conclude the second part of the Maverick Shutterbugs series- a celebration of the works of architectural photographers from across India. We now bring forward the selected entries from the public participation of architectural photographers.
Nikhil Paliwal | Featured Architectural Photographer
Working with grassroots organizations such as Hunnarshala Foundation in Bhuj-Kutch, Gujarat, has provided invaluable insights into architecture, life, and photography. My involvement in practising and documenting alternative building techniques and technologies has broadened my understanding of architecture and its role in society. The focus on photography has given me a new lens through which to tell stories.
Photography allows me to capture the moments that people experience within a space and return them to the people who were there.
My keen interest in documenting Indian heritage, rural life, and community infrastructures has led me to travel to over 500 villages in the last five years. Collaborating with organizations like INTACH and Hunnarshala Foundation has enabled me to document their works of various schools and tribal villages. I have also had the opportunity to work closely with artisans who specialize in alternative building techniques and technologies. Through this collaboration, I have been able to document the life stories and work of these artisans, as well as gain a deeper understanding of architecture and its impact on society.
The Housing Roof | Photojournalism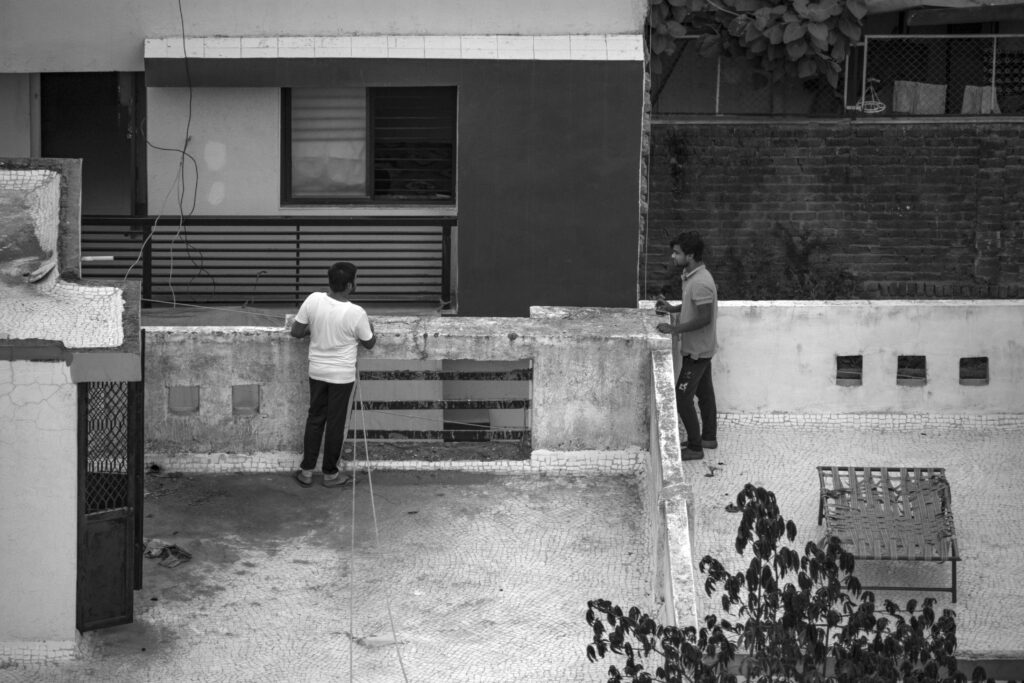 Location: Ahmedabad
Roof being an important part of Architecture edifice, is one of the most underused spaces in the city and has lost its potential in today's developing world of high-rise apartments.
In this lockdown, while I was trapped inside my 3x4m room on the 12th floor of a high-rise apartment, I saw people out there enjoying their time on roofs. This, somehow, made me regret my decision not to take a room on rent in a housing with an open roof.
As interest in the rooftop, as a valuable neglected source increased during this time of lockdown, its use as a space for social and leisure activities proved it as one of the major assets to survive the lockdown, making the "roof a new ground".
The Kaari Village | Rural Architecture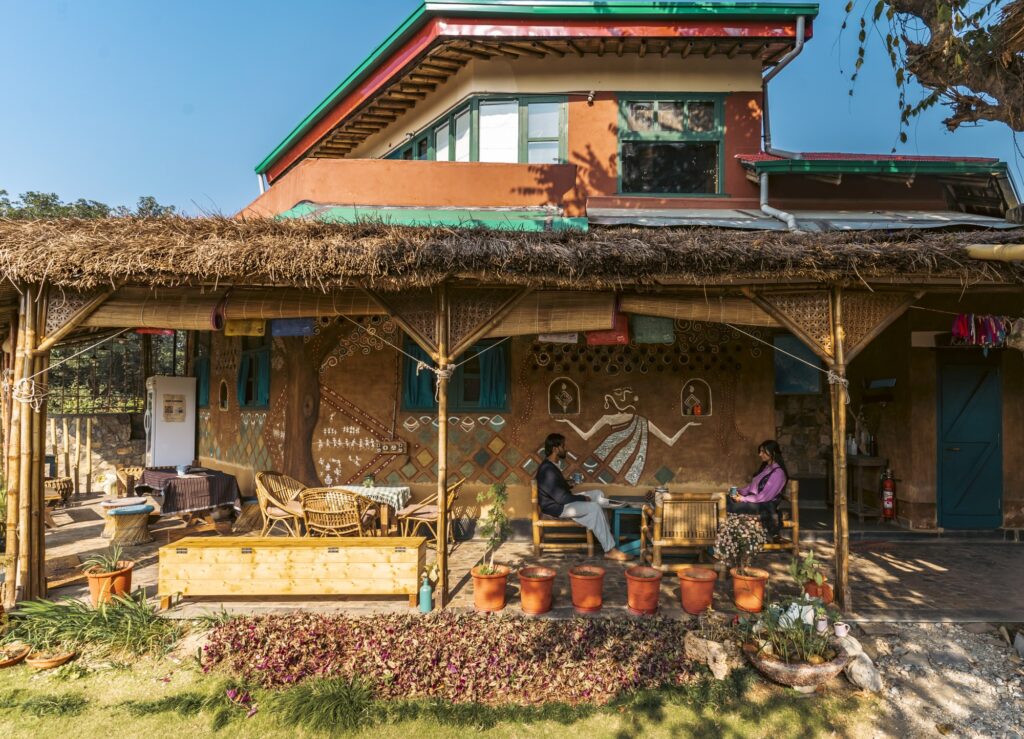 Architects: Sans Design Studio
Location: Dehradun
The Moving School | Rural Architecture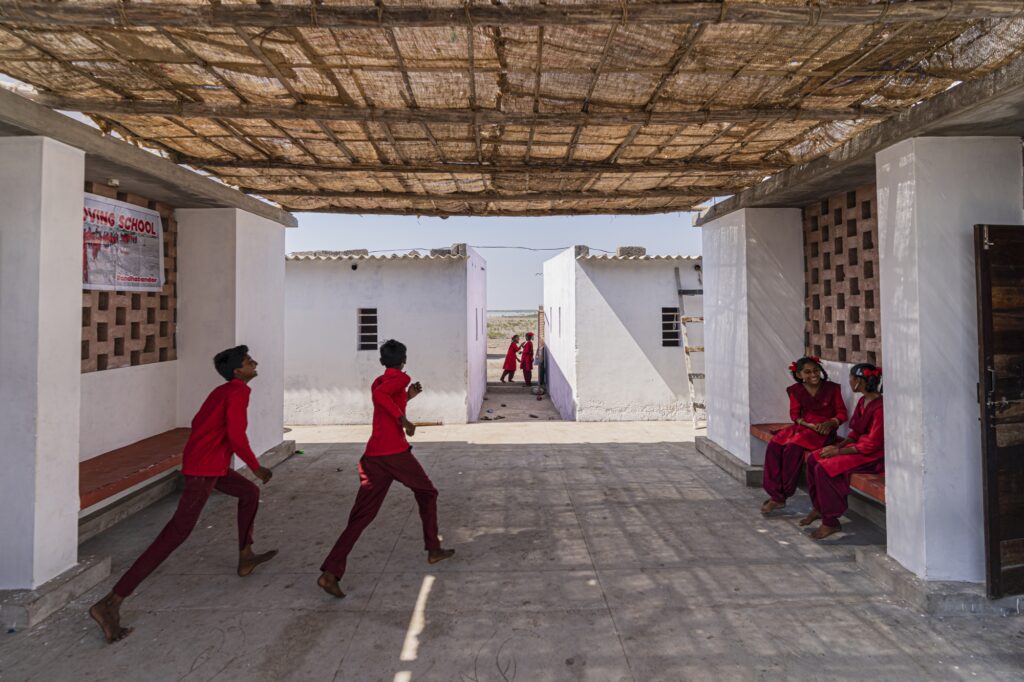 Design by: Matte Lange Architects, Denmark
Executed by: Hunnarshala Foundation, Bhuj-Kutch
The Moving School is a very helpful initiative by Mette Lange Architects as they design schools in coastal regions in India to promote education in Fisherman Communities children. This particular school is located on the sea coast of Mundra with a high plinth, as seawater comes to the plinth during a full moon; the school is run by a Professor, Mr Devender, who left his everything just to educate these students. The daily ritual consists of removing shoes outside the school and cleaning the whole school together.

Design is made in collaboration with architect firm Henning Larsen and executed by local organisation Hunnarshala. The structures are made of sun-dried bricks of waste material. The roofs are flat domes with light from bottles. The three new units form a small courtyard and are situated next to existing school structures.
Alma Mater School | Rural Architecture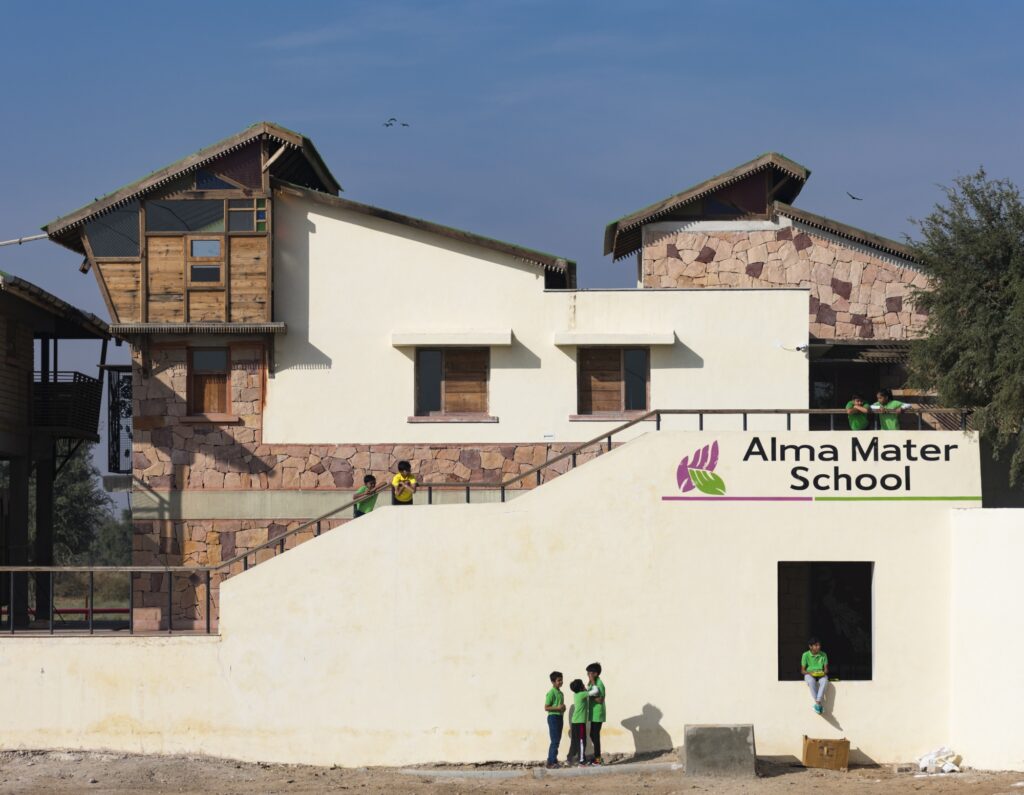 Architects: Hunnarshala Foundation
Location: Jodhpur, Rajasthan
The school lies on the border of Jodhpur with a climate-responsive design and use of old and reclaimed materials; I still remember shooting school students, who would point out, "who needs to go home when school is like this?".
Alma Mater is a school in Jodhpur that pursues a mission wherein the children will develop moral, physical, and emotional character with empathy for the world around them. The pedagogy is based on making children learn by becoming aware at all times of their experience, rooting learning in an appreciation of how society and the world function.
---
Jeevan Jyot | Featured Architectural Photographer
Jeevan Jyot is an architectural photographer and architect who graduated from Chandigarh College of Architecture. He has captured Paris, Rome and Venice as a part of the Chandigarh Lalit Kala Akademi Scholarship 2019-20. He is fascinated by the play of light and shadow.
He contributed photographs for Exploring Chandigarh, a coffee table book published in Paris. His photographic work has been published in digital magazines around the world.
Anand Theatre | Abandoned Spaces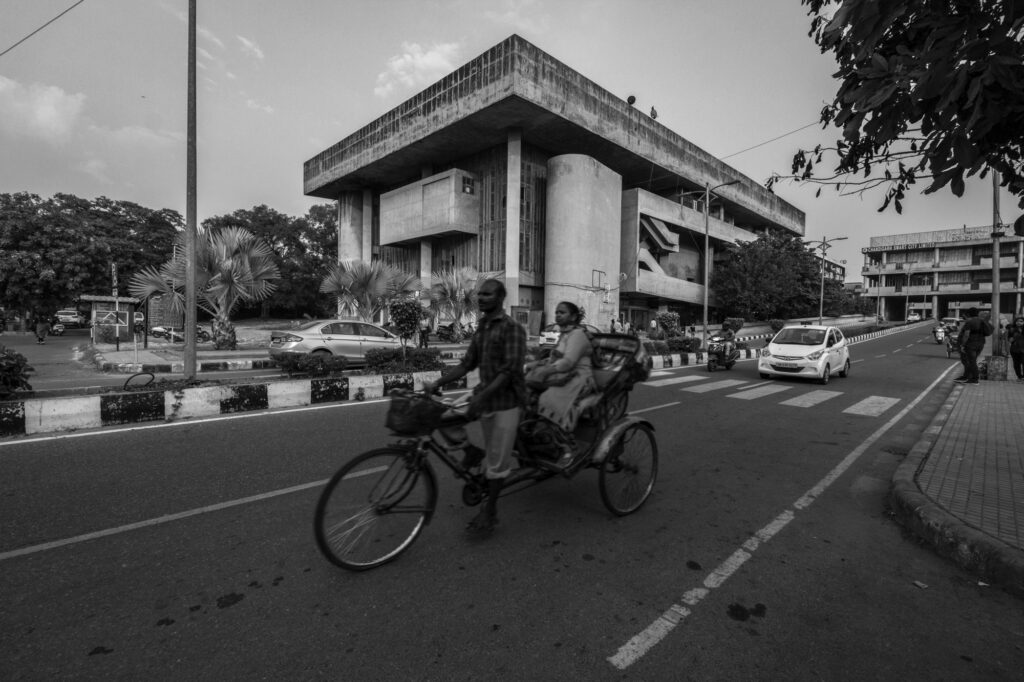 Location: Sector-17, Chandigarh
Typology: Theatre
The world knows our City is Beautiful, but there are some hidden gems that remain in the shadows and are unknown even to the city's residents. There are various abandoned buildings across the city that have been beautifully built, consciously structured and applauded for their outer facades but were never acknowledged and appreciated for their inner beauty.
Sun Temple | Tangible Heritage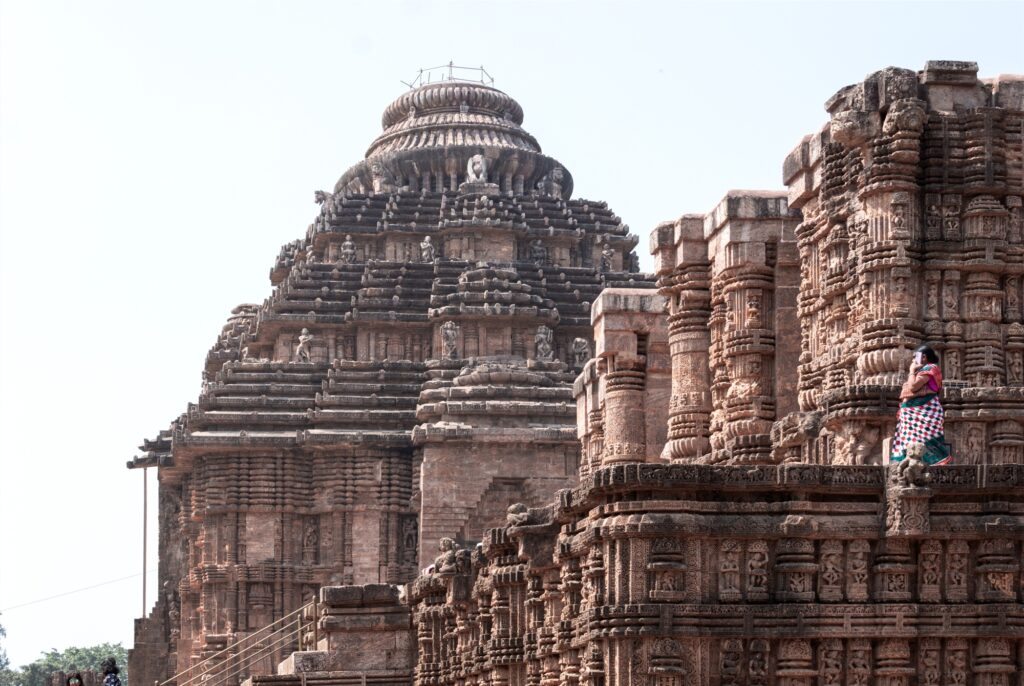 Architect: Bishu Maharana
Location: Konark, Odisha
Typology: Hindu temple architecture (Nagara style of architecture)
The Konark Sun Temple is an example of the Nagara style of architecture, one of the three styles of Hindu temple architecture. The Nagara temple is square-shaped, containing the sanctum where the deity is housed (the deul) and the pillared assembly hall (the jagamohana). Another Nagara feature is a tower (shikhara) curving inward towards the temple; the shikhara at Konark, which would have been 229 feet tall, no longer exists.
Mud House | Buildings and Interiors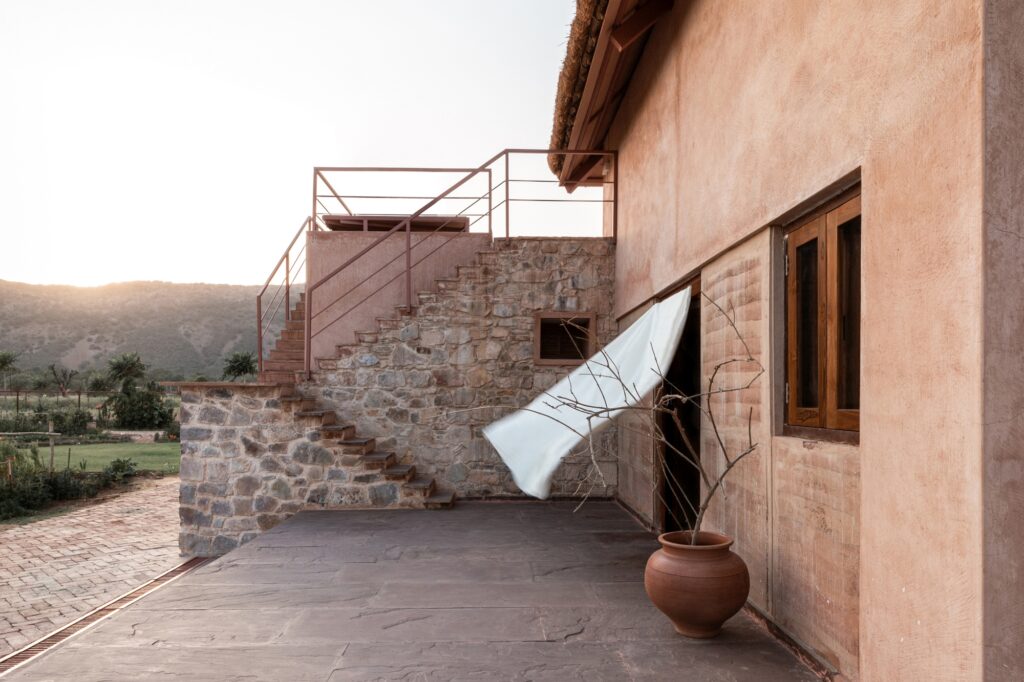 Architects: Shipra Singhania; Sketch Design Studio – Earth
Location – Alwar, Rajasthan
Typology – Residential
Mud Kothi is a house built with natural materials like stone and mud procured from the site and locally. The design is inspired by local architectural techniques that were used to build homes and public spaces around Alwar, Rajasthan.
---
Atik Bheda | Featured Architectural Photographer
Born in Navsari, I studied architecture at BVBCET in Hubballi, Karnataka, and worked as an Architect in Mumbai, Bangalore and Ahmedabad.

I have been experimenting with various genres of photography for more than 10 years and found my interest in Architectural photography.
I believe in using my art and camera as a tool to capture the soul of the project, and to make others feel what I see – not just the outer aesthetic but the inner essence as well. The intention is to allow light and nature to do their job in all purity as I do mine, working in tandem to create a visual narrative.
My works have been published by multiple design publications including Divisare, Architectural Digest, ArchDaily, IA&B to name a few. Other than architectural photography, I'm keen on capturing landscapes, streets & people.
Fading Glory | Public Spaces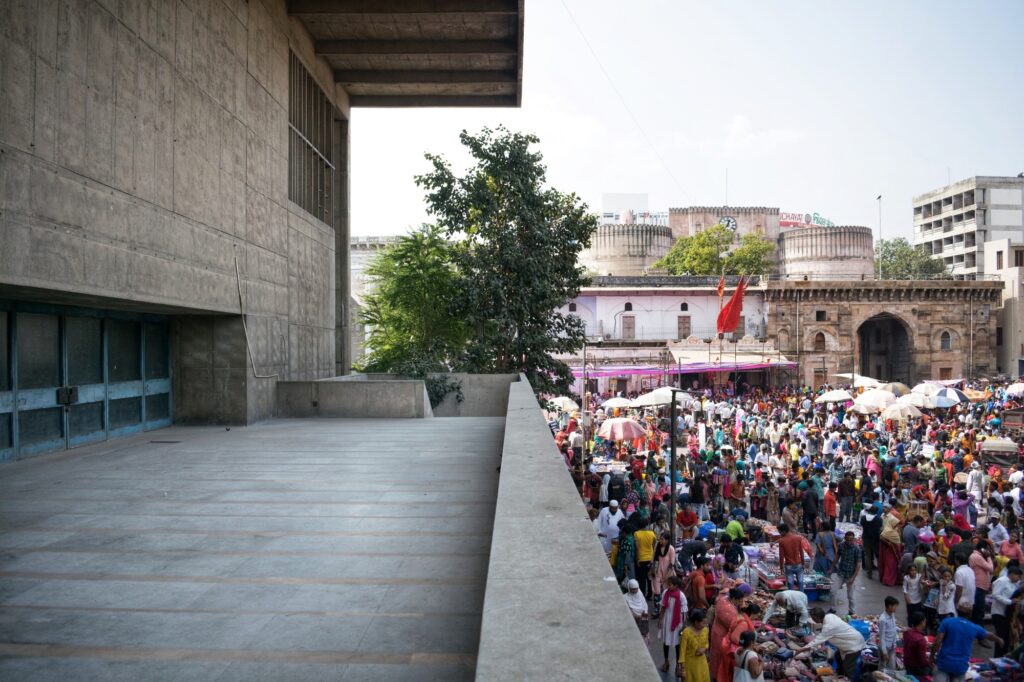 Architect: Balkrishna Doshi
Location: Ahmedabad, Gujarat
Typology: Institutional
Located in the busy Bhadra Chowk is the abandoned crown jewel of Ahmedabad – Premabhai Hall. As a photographer, it was important to capture the intimate connection of the building with the street vendors while also showing the brut nature of the building. It may seem that there is a disconnect from the Chowk but the stillness and calmness of the building has created a wonderful relationship with the vendors. The red seats, concrete & sharp, yet calming form of the building, create an undying impression of Doshi & built form.
Learning Beyond the Classroom | Building and Interiors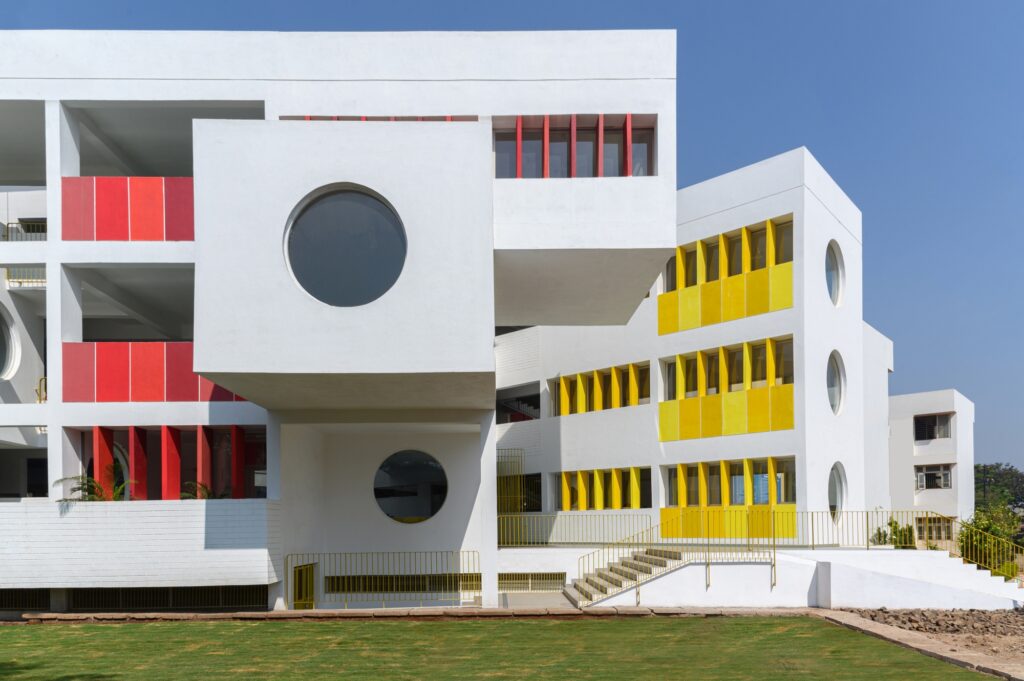 Architects: Shreyas Patil Architects
Location: Gokak, Karnataka
Typology: Institutional
Located in Gokak, Sanskruti School is a pre-primary school for an existing school campus. Set in a pre-existing campus and main road on one side, the facade acts as the identifier for the entire campus. As a photographer, it was important for me to capture the thoughtful positioning of courtyards, classrooms, staircases, corridors, and double-height spaces that embody openness, continuity, security, vibrancy, and unity in this school's design. The colourful Brise-soleil and circular windows reflect the kindergarten kids' playful nature.
---
Yash Katariya | Featured Architectural Photographer
Yash is a young dynamic photographer who is acknowledged for his attention to detail, skilful use of natural light, and eye for soothing compositions.
Stationery Store | Buildings and Interiors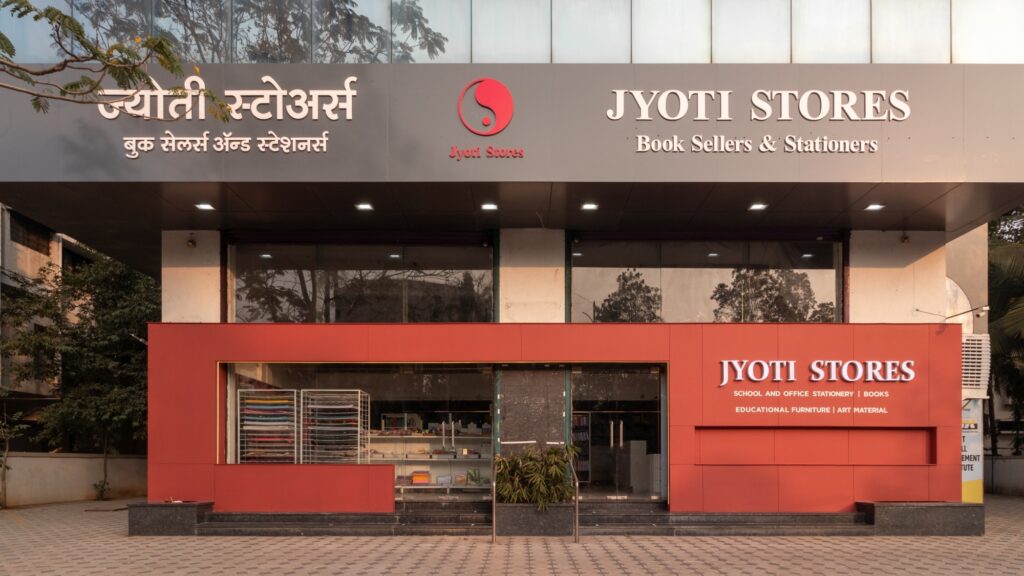 The contrast of light and shadow is important for the proper balance of images.
While capturing the space, I was in the mindset that good lighting isn't essential in every photo. I was perfectly fine with shadows. I wanted them to be dark and mysterious to leave the viewer's imagination to fill in the gaps.
It is a commercial setup for school and office stationery where at most importance was given to how the items will be displayed for customer satisfaction.
School | Rural Architecture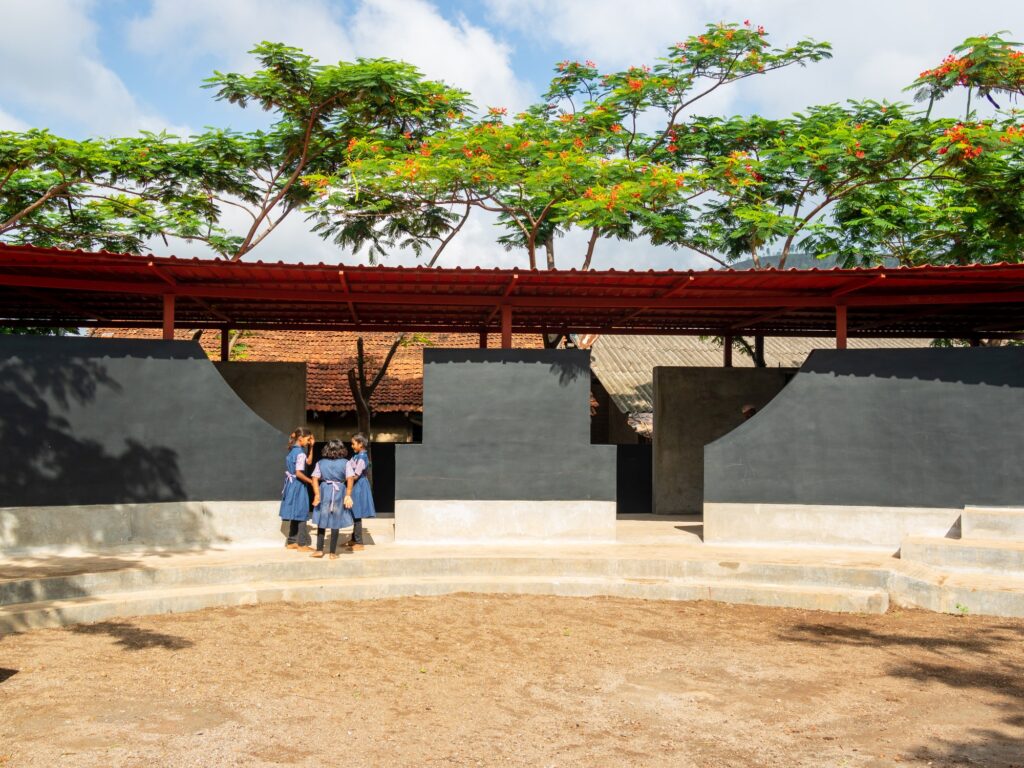 While capturing this space as a photographer, I feel it is important to capture activities.
It is a primary school for 40 students with two teachers who have held classes in one hexagonal room for the past ten years. Due to a lack of resources, they discovered a way to use walls, floors and even existing trees. The designer focused on providing appropriate resources for the school, considering their way of learning along with multipurpose infrastructure for the villagers as there is a lack of basic facilities like health care and social gatherings.