Student internship is a quintessential part of an architectural education. However, it is increasingly becoming an unmitigated ordeal for many within the community. Affecting both students and practicing architects, the workforce imbalance and issues of ineptitude have created an unfavourable – and often exploitative – situation.  
Inviting the opinions of architects, educators and students, we strive to start a conversation about what can be done to improve this situation. Below, Ruturaj Parikh of Studio Matter ponders upon the feasibility of making internships mandatory in architectural education.
---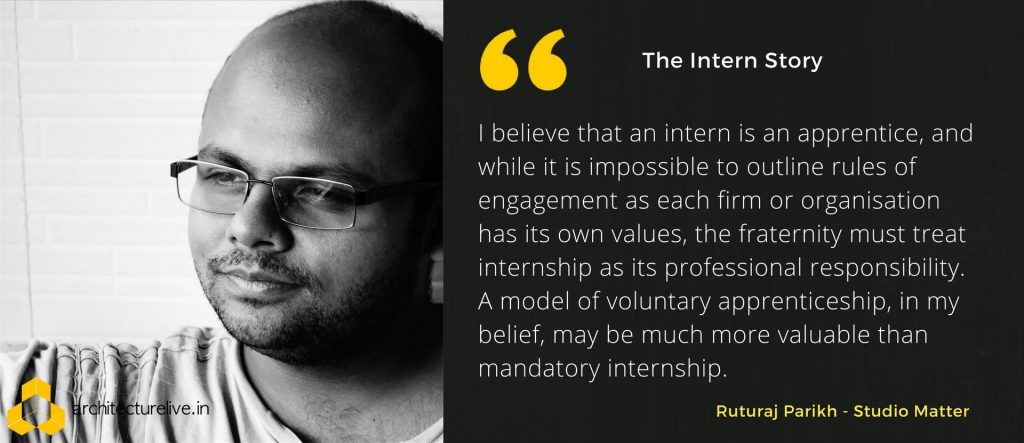 At the time I am writing this piece, the Council of Architecture website has a downloadable status list of 467 institutions offering a B.Arch degree in India. The problem is obvious – what we observe as anxiety and desperation in the students to get a position in an office (any office) is a symptom of a dangerous imbalance between demand and supply, to put it crudely. How can we expect every student to complete a valid and enriching internship if the simple math of the system does not add up?
To confront this issue, we must investigate the purpose of professional internships. Why is an internship necessary? From my experience as an intern and as someone working with interns, I can articulate the following as possible core agendas for an architectural internship:
To experience professional practice and observe the challenges that firms deal with.
To understand the complex layers and multiple competences required for building.
To witness construction on building sites and comprehend the translation of drawings into architecture.
To engage with the design process specific to the practice one is working with.
To make drawings, models and visualisations for projects/initiatives.
To assimilate with the culture of the office and contribute to the same.
To comprehend the multiple agencies that are required to work in tandem for a project.
To observe and understand the relationship between patrons/clients and the practice.
To try and articulate the core values/ethics of the practice, and
To confront the contradictions that may exist between academic discourse and professional practice.
As an intern, I worked with Dharmesh Jadeja and Dhruv Bhaskar of BUILDAUR (now DUSTUDIO), and learnt that an enriching internship can in fact change the trajectory of ones thinking and fundamentally alter a student's core value systems at an impressionable age. The significance of an internship in a professional degree course cannot be overstated. There is another discussion in favour of a non-professional three-year diploma with an exit mechanism from the B.Arch course. As we discuss mandatory internship as a part of the curriculum, we will not explore the aforementioned idea in depth – but it is a compelling one, and something we must explore as a fraternity.
Today, with 467 colleges in India (many with double intake!), we cannot assume that there is a seat for every intern in a good architecture practice where the student will be treated with dignity, dealt with as a colleague, and get to stay in an environment that contributes to her/his academic growth. The uglier side of this problem is that we have created a fertile ground for exploitation – I have personally known students who have spent their entire training semesters working in abusive environments. I have always held that one should not complain about the nature of work one gets to do as a trainee (bathrooms, electrical layouts, making PPTs) but one can always walk away from an office where they do not feel comfortable as an individual. This option is never accessible to a student who may have nowhere else to go by the time she/he realises that the environment is abusive. In recent times, I have known many students who have faced this, but found it impossible to report or leave – this must be addressed.
As a principal of a firm that accepts interns, I too have complaints! There is rampant plagiarism. The competencies are mostly in conflict to what is showcased in the portfolio. Many interns cannot make a working drawing (important if you have to build) owing to the lack of understanding about how buildings are made.
What I seek as an employer or a training architect is also a learning experience from my interns. From them, I want to know about new bands and new music, films, their passions that can influence me, new software innovations that they have mastered, Photoshop skills, their model-making skills, architects and designers that they follow, their social media networks, places they like, teachers they love and hate, their cooking skills, and the books they read. I have mostly been disappointed, with an exception of a few students who have brought to the studio something of their own and helped us discover something new; everyone seems to be too distracted with social media today. This cultural exchange I believe is at the heart of the internship transaction.
As far as institutions are concerned, I also have reservations about them charging students a full-semester's fee while what they should ideally charge is just the exam and administrative fee. There are no contact hours in the internship semester/year, and having been promoted to think a lot for this piece, I can't imagine any reason for charging tuition fees in the training period! While in our office we do pay a symbolic stipend to our interns, I have to agree with architects who really invest in their interns with the condition that they won't pay but take care of welfare. There are costs to the firm for every individual who occupies a desk, and if the desk is unproductive, it simply does not work. In the duration of six months that one gets as an intern in a firm, one can only contribute a little before it is time to leave.
So what now? What can be done to fix this? I do think that the COA must have harsher standards for awarding licences to colleges as well as for controlling intake. I also think that not everyone who studies architecture wants to practice. Contemporary culture allows one to be fluid with the work they choose to do, and students must realise this. There is nothing to prove. The dangerous assumption made by the council – that an individual is equipped to practice for life the day she/he receives the degree – is flawed. How can a licensing authority ensure there is competence if the licence to practice only reflects common minimum professional standards?
I believe we do not have a model for apprenticeship in India. Professional education system has reduced learning to a transaction, and knowledge cannot be gained through a transaction. In a discipline like architecture, one has to seek teachers and teachers are rarely found in contemporary institutions. The teachers we have in the schools, we don't value enough; almost all institutions have begun to impress gullible aspiring students and their parents with sleek infrastructure and administration-heavy systems, while the curriculum has no critical input. Apprenticeship, I have found, is a liberating experience – I seek the master I want to learn from and immerse myself in learning. In this process, I also articulate the path I want to choose. If I want to do commercial architecture projects – malls, office buildings, airports and such – I will seek an office that does good commercial projects. If I feel that my calling is in design journalism, I will seek to work with a design publication and may never have to apply for an architecture licence or even complete my B.Arch. If I want to work with an NGO like Hunnarshala, I have to seek out Hunnarshala; it then becomes the responsibility of the institution to understand the student and orient her/him in the direction she/he is likely to be inclined towards, in the final year. An orientation program will help at this stage.
This is the only path that makes sense to me in the present environment. But how do we make apprenticeship internal to the licensing system if a student decides that practice is her/his calling? I want to end this piece with what I think may work:
Mandate each institution to have an orientation program in the final year. This can even replace mandatory internship permanently, where the student – with the help of the institution – seeks 'observership' in the firm of her/his preference. The college must facilitate this – and since a full-time tuition fee is charged for this period, a part of the same (per student) must be paid to the practice/studio that accepts students as observers as an honorarium, thus inviting practices to engage with young architects with an academic commitment and not a professional one. The council may fix this fee per student to level the field.
Once the five-year program is completed, the graduate architect has to complete a minimum two-year employment in a professional firm/studio (with a minimum 1-year continuous employment with a firm) for the firm to issue a templated certificate/a completed evaluation in a fixed format. This must be made a mandatory attachment to apply for a licence. If the graduating architect does not wish to practice immediately, this system gives them a flexibility to procure the certificate at any point after she/he has discovered her/his interest/calling/passion. Thus, not all who graduate may practice.
I also believe that an intern is an apprentice, and while it is impossible to outline rules of engagement as each firm or organisation has its own values, the fraternity must treat internship as its professional responsibility. A model of voluntary apprenticeship, in my belief, may be much more valuable than mandatory internship.
---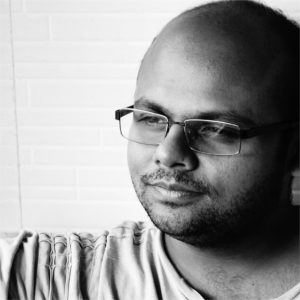 Ruturaj Parikh is Architect & Partner at Matter. an architecture, design and content firm he established with Maanasi Hattangadi. He is the former Director of the Charles Correa Foundation. He has worked with I.N.T.A.C.H and was an editor at IA&B Magazine in Mumbai. He has been involved in architecture, urban design, planning, curatorial and social projects. He regularly writes about contemporary works and ideas on architecture relevant to India and its subcontinent. He initiated and curated the Z-Axis Conference, The Merit List, Practices of Consequence and multiple architectural initiatives in the public domain. Ruturaj designs and writes from Goa.