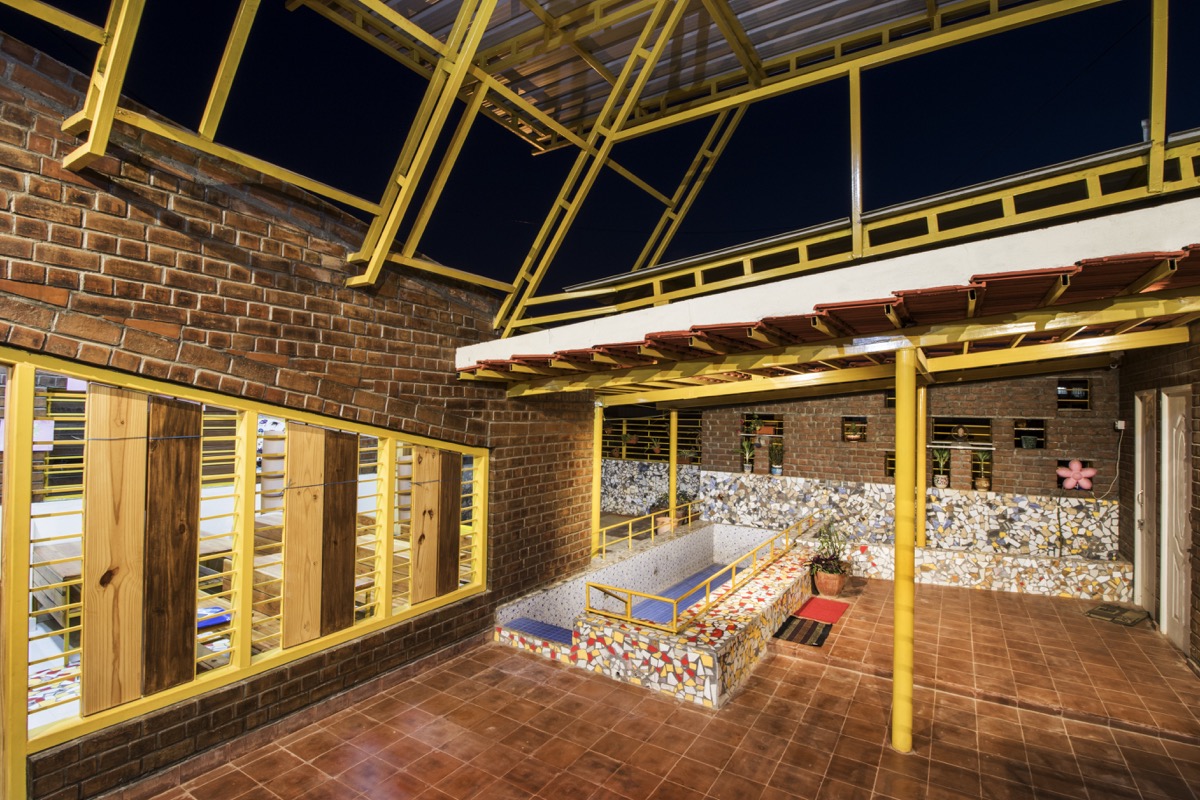 The project is an extension on the topmost floor of an Existing Play school & Daycare which was of two floors. The project was sensitively designed to accommodate two kinder-garden class rooms, play areas, common and activity areas. The design is climate responsive also specially detailed and customized for the kids. Low budget and light weight construction.
USERS- 40 kids & 6 to 8 adults
AREA- 1250 sq.ft
PROJECT COST- 24 Lakhs
(includes Civil Work, Interiors & Services)
DURATION- 60 Working Days (completed)
SPACE REQUIREMENTS- 2 Classrooms, 2 toilets, Common Areas, Activity Areas
LOCATION- Horamavu, Banaswadi, Bengaluru
STRUCTURE
Light weight roofing structure, as the budget was on the lower end. The roofing had to be loaded on existing walls.
a) Walls of the staircase Headroom
b) Care taker's Room
c) One Classroom, newly built
Hence, continuous rafters were connected at different levels and anchored with door-window frames for stability.
DESIGN STRATEGY
Roof of the central space is 3 feet higher than that of the classrooms and overhangs above them. This breaks the monotony of a single plane and creates a visual variation in levels.
Every space has the transparency with the help of open partition walls. This gives a sense of spaciousness in the horizontal plane.
Another strategy to achieve spaciousness is to visually connect every space with the sky directly.
MATERIALS
Exposed Brick work- Saves time and cost as well as brings out the rustic look.
Broken tiles – Cost effective, available in various colours. It has uneven patterns as opposed to formal brick pattern.
Clay Tiles – Cost saving as well as cooler surface for bare feet movement.
M.S Structure – Galvalume and poly carbonate Sheet for economical light weight roofing
Paper tubes – Provides a thermal and acoustical insulation along with an unconventional ceiling.
Furniture – Durable common MS structure, with wooden finish. Diamond patterned bookshelf depicting a wood art object.
Doors & Window – An important vertical structural element for supporting the roof.
Designed as functionally transparent partition element with interesting patterns of lines and planes allowing cross ventilation. Grill design and wooden shutters for transparent walls.
Outdoor & Parapet walls – Composition of solid and voids through brick jail work and softscaping creates spaciousness and makes way for light and ventilation.
School under construction
Drawings