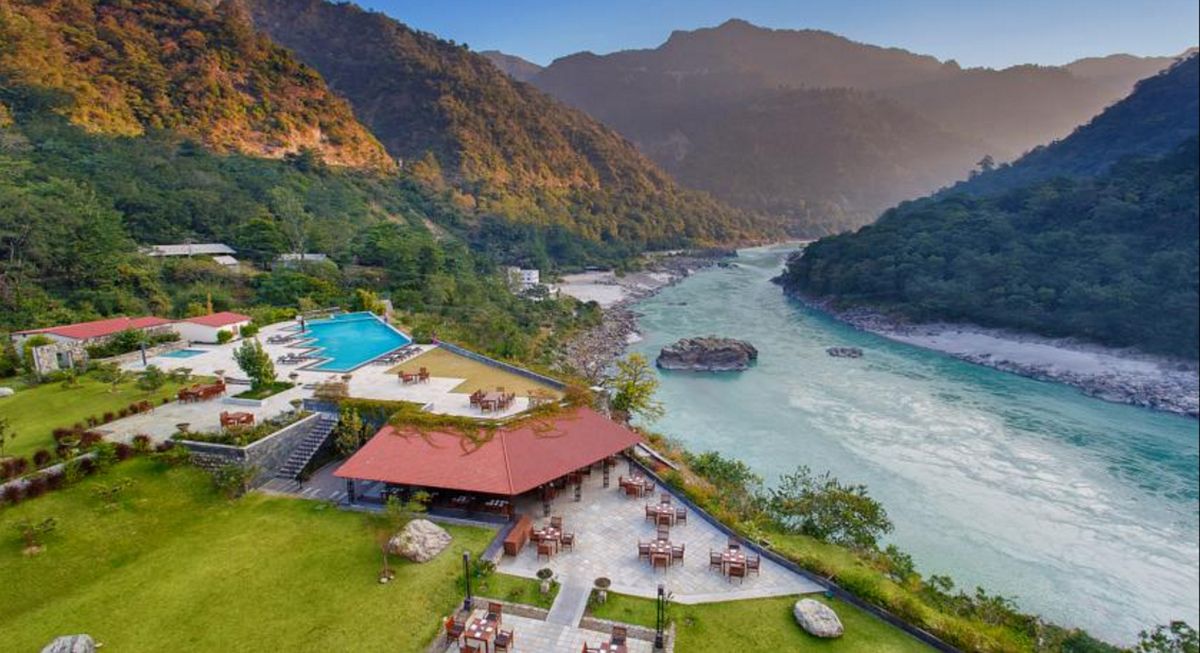 Overlooking the mighty river Ganga in Rishikesh, the resort sits at an absolutely stunning location and one would not be wrong in saying that this is truly a dream site for a landscape architect. With this very thought LSDA picked up the challenge of designing the landscape for the resort to be operated by Leisure Hotels, which was a part of a larger serviced apartment complex.
The nature had already played its role perfectly and therefore the foremost landscape design dictating decision was to play along with the natural gradient and topography with reduced site intervention in terms of grading and construction and use local & sustainable materials which gel with the context thus lending the resort landscape a serene and meditative feel.
The landscape design majorly comprises of two areas, Entry area and the Garden area adjacent to river Ganga. The Entry area is a series of terraces planted with native trees along with a mix of auspicious and flowering trees and is planned more like a visual treat from resort's numerous lobbies and indoor restaurants.
The other side, Garden area, facing the river Ganga, having the lawns, restaurant and the infinity edged swimming pool is naturally graded and no retaining walls are used throughout the entire landscape. This reduces the need for cutting and filling or use of stone or concrete walls to hold earth. The area looks one contiguous space where guests can move freely from one level to another. By using the existing site levels and difference in ground levels, the restaurant kitchen was tucked away under the swimming pool deck as well.
The design achieves its success, when the guests are mesmerized by the sight of the pool's water seeming to fall in the mighty Ganges. The infinity edged pool was placed precisely at site to achieve this illusion. Further, with huge mountain rocks protruding from the lawns, which were purposely not removed, the emphasis is laid on coexisting and being one with the nature around.
While detailing for the project, all lighting was custom designed as well. All path lights are actually planters that have lights incorporated at their bottom part, so that during the day they do not stand as oddities in an otherwise seamless space. Even the Pole Lights were custom designed using granite & mild steel frames rendering them their sculptural look.