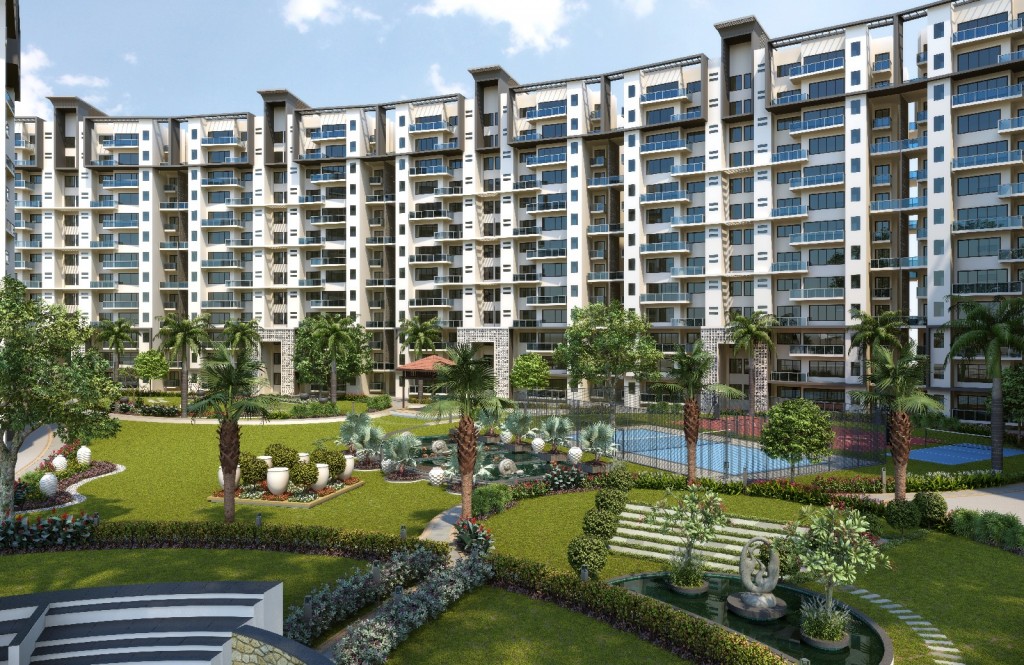 Located in the Sanganer area, Aananda Township is spread over 35 Acres of land area, and is, being developed as an extension to the Jaipur city, Rajasthan, India. With an FAR of approximately 2, the total built-up area proposed for development is 2,560,000 sq. ft. or 2,39,000 sqm. The site is located about 4.5 km from the International Airport and is very close to the Sanganer Railway Station. Also, located 4 km away from Jawahar Nagar Circle, 1 km from Mansarover Industrial Flyover, and 1.5 km from Muhana Mandi (Wholesale vegetable Market) the project is designed for the new generation buyers. The masterplan incorporates all facilities essential for a healthy and holistic lifestyle – a fully equipped club, swimming pool, spaces for major everyday sports activities, a local shopping complex and commercial space. An interesting mix of housing options is offered: low-rise residential floors in 4 sizes, duplex complexes complementing each floor size, high-rise residential apartment units, and individual plots as remuneration for farmers (as farmers' land is acquired for development).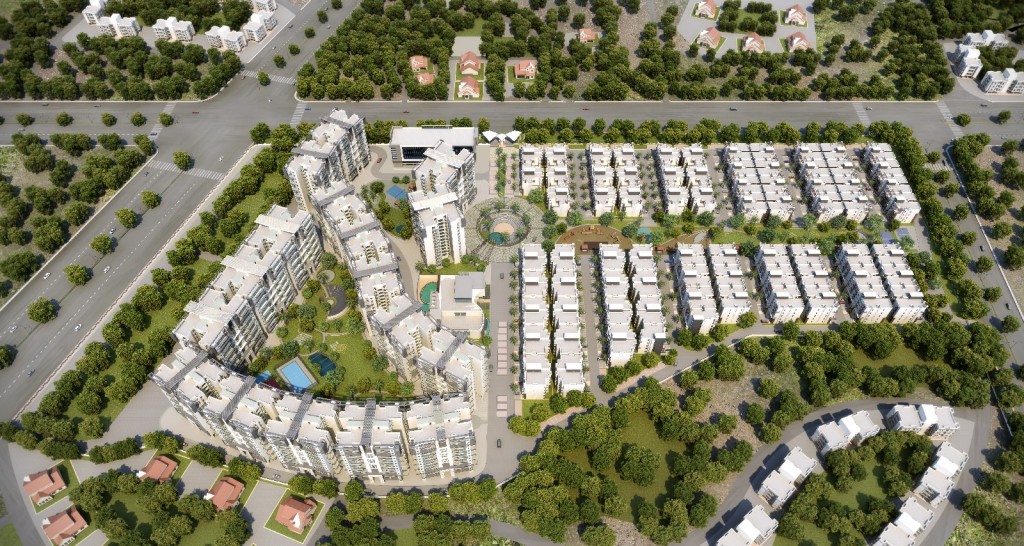 Set alongside Sanganer village, the development follows a low-rise skyline. It is designed to merge with the existing grain, as it incorporates similar plot sizes, as in the neighbourhood; at the same time, they stand out by being more organized in nature. A huge central 6 Acres of the green area is proposed as a breeding ground for social activities. This green space marks an important social spot in the neighbourhood, as there is a lack of ample green spaces in the neighbourhood. The village lacks a proper community congregation space, hence a fully equipped club is proposed for community welfare. In a market full of residential options for prospective buyers, The developers wanted to offer a fresh modern design, incorporating maximum open green areas, at the same time providing a sustainable habitat.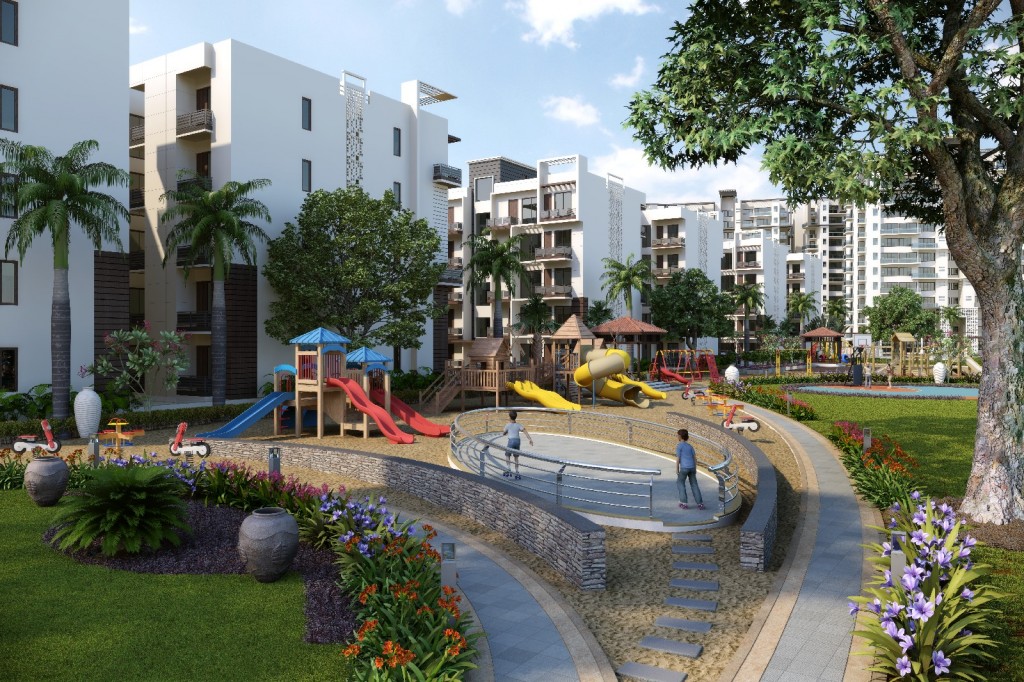 Designed for a luxurious lifestyle, this 'Complete city' promotes sustainable habitats. With an emphasis on pedestrian-friendly green areas, the township integrates all essential facilities for a rejuvenating experience. The design takes inspiration from the traditional street–courtyard concept for arid habitats and a system of transition – public to semi-private to private is planned. A network of streets leads from the main vehicular peripheral road to the central green area, where streets act as spill-out spaces for residents. This enables a large green area, which acts as the highlight.
Taking cues from traditional solar passive cooling techniques, we proposed a combination of pergolas, jalis and shading elements. These have been incorporated in a very simple and sophisticated manner to create an appealing façade.
The residential units are centred around this large linear central park, which is set to delight residents of all age groups. An inviting avenue greets residents towards a central roundabout which is designed as an amphitheatre. It emphasizes the importance of social spaces in the design. A network of streets leads from the peripheral road to the central green area. Each residential block is accessed through these streets. Streets act as semi-public spill-out spaces for the residents; hence acting as a transition space from public to private.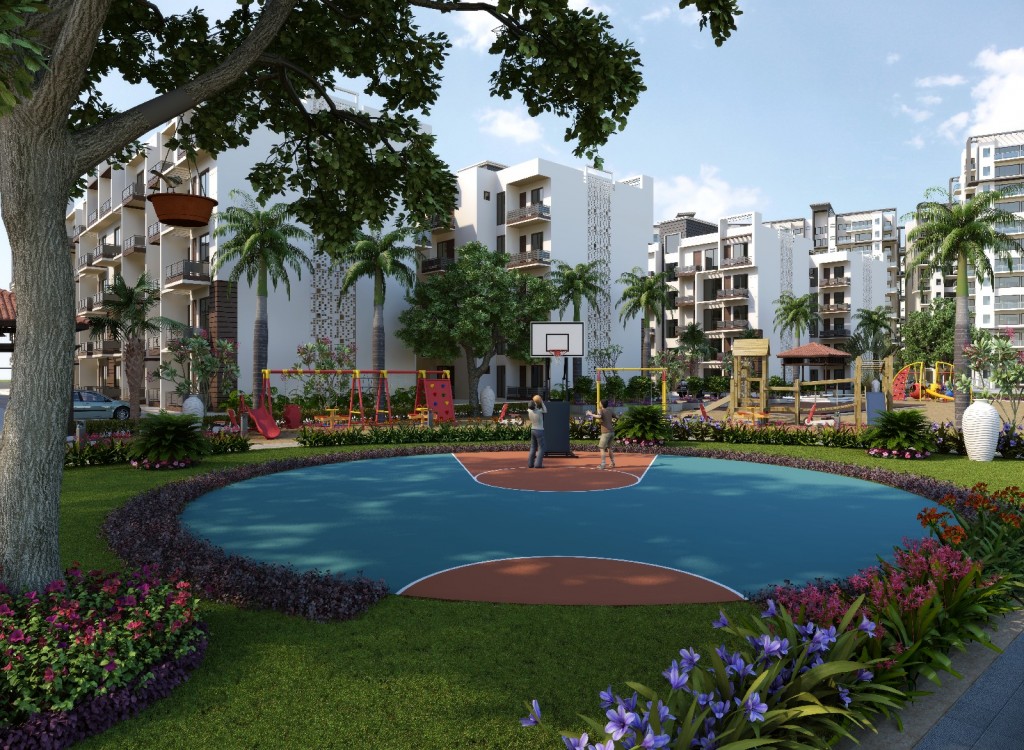 Architectural elements are designed with a view to providing Solar Passive cooling with the use of Pergolas, Jalis and shading elements. These elements complement the overall façade design, at the same time being cost-effective and environmentally friendly. Residential units have been designed to maximize cross ventilation, and intake of natural light in all rooms, thereby minimizing dependency on HVAC and electricity. Phase 1 of the project includes Ground+ 4-storey structure. The blocks are low-rise and hence minimize structural cost and create a sustainable, cost-effective environment. Also, it reduces the extra cost of providing fire-fighting services, which is required for any building exceeding 15M in height.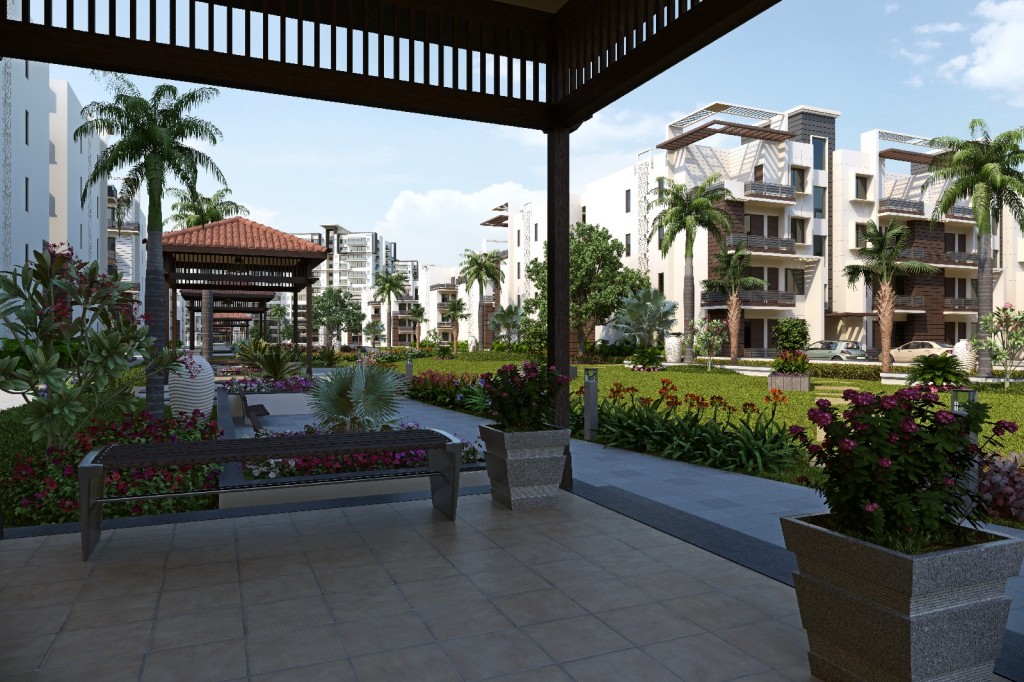 Development is planned in phases, to ensure maximum efficiency of workflow and quality control. Phase 1 is planned on a land area of 86,330 sq. m., with a built-up area of 97,225.8 sq. m. With ground coverage of 26.82%, a landscape area of approximately 12,500 sq. m is planned. The Proposed Integrated Green in the center provides micro-cooling subsequently reducing the Heat Island effect. All plots are East West Facing, to allow maximum sunlight intake in all the residential units. Phase 1 is planned as a Low Rise development for more light intake to reduce light load, and increase airflow. Shading Devices over fenestrations, Pergolas, and Juxtaposition of volumes to create a shadow effect, increase local airflow and micro cooling effect. Eco-friendly building materials viz. PPC cement, steel, pre-cast hollow concrete blocks, ready-mix concrete, bricks, stones, sand, hardwood, aluminium, glass, etc. are used. Materials are procured from nearby sources, to minimize travelling costs and consequently air pollution. Soft pavement is used in parking spaces, to avail maximum groundwater absorption. Measures are taken to minimize air pollution during construction and post-construction phases and to attain zero discharge within the complex. Waste will be recycled and used within the site. With the use of a Sewage Treatment Plant & Rain Water Harvesting, we have planned to minimize dependency on fresh water supply, as there is an issue of water scarcity in the city. The runoff from the building terraces, paved areas and landscape areas will be channelized to the rainwater harvesting structures designed on the peak intensity of rainfall (40 mm/hr) to accommodate peak surface runoff, which will avoid the problems of flooding.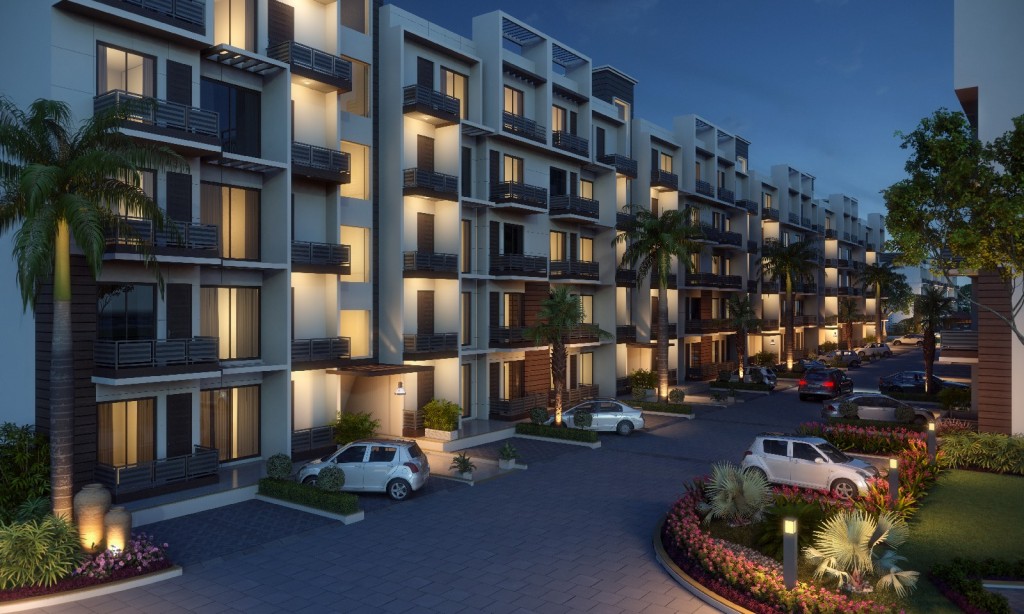 Post Construction Waste Management techniques have also been planned. Separate bins will also be provided at prominent locations with colour coding based on their nature and will be treated accordingly. The biodegradable waste and non-biodegradable waste will be collected and stored at earmarked places and then will be sent to the Jaipur Municipal Corporation Disposal Sites. The other domestic waste such as recyclable waste and plastic waste will be treated on the strategy of recycling and reuse i.e. the recyclable waste will be sold to vendors.