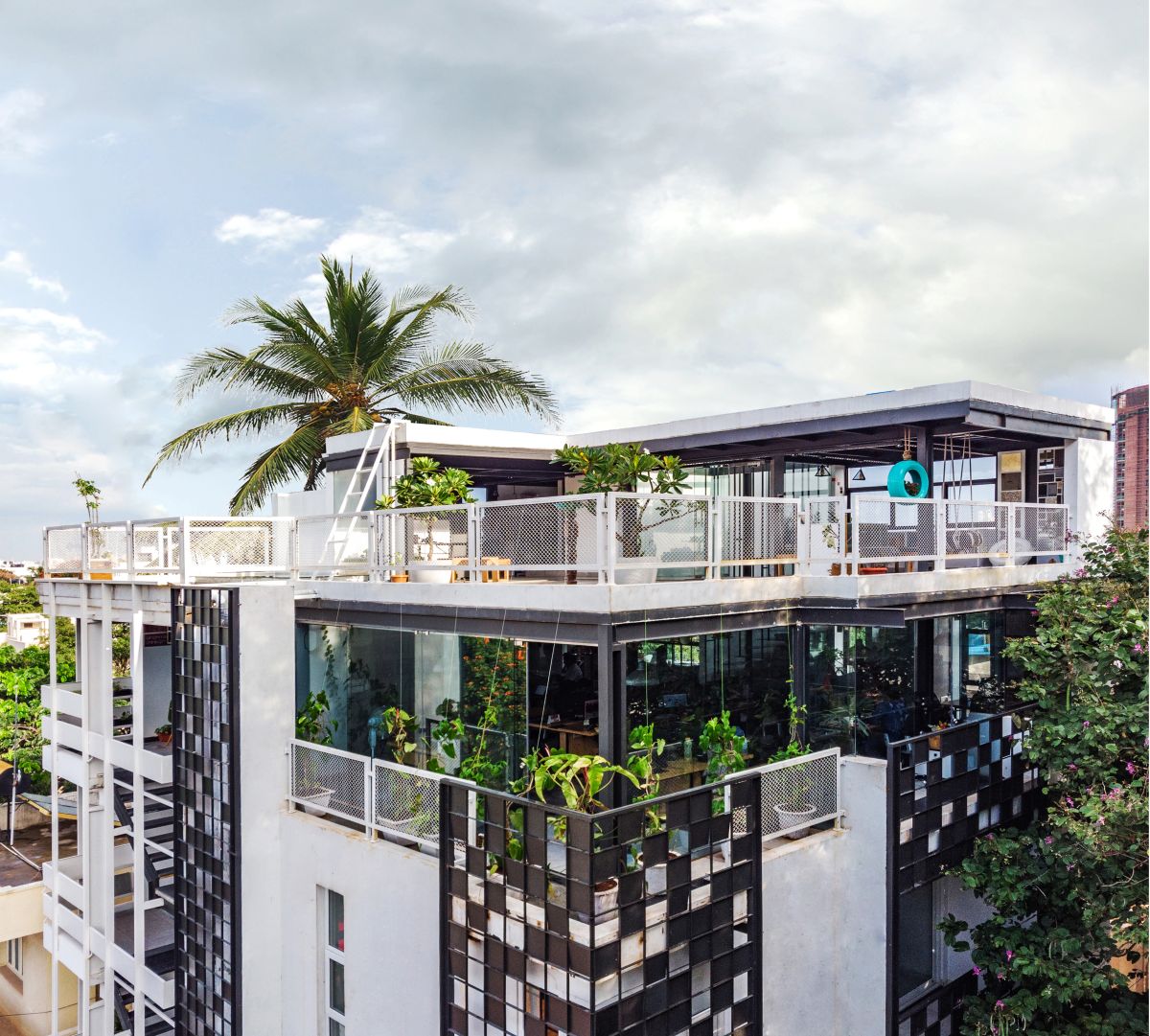 About the Project: –
The idea for this mixed-use project located in Bangalore, was context based and inspired by the architects need for an office space while retaining the residential flavor of the layout. This ground-up 4-story mixed-use building contains the architect's office and apartments.
The minimalistic and contemporary built form is a composite structure of concrete and mild steel. The building's appearance was also created in response to the surrounding landscape and features a kinetic facade that moves with the wind; while creating interesting shadow patterns throughout the day. By incorporating motion into architecture, the occupants have another dimension by which to interact with their surroundings.
The interior spaces have been designed keeping functionality in mind. Usage of large openings that offer direct access to the exterior green surroundings ensures beautiful blend of the indoor and outdoor spaces.
The interior design for the office space is clean and simple to ensure clutter-free workspace. It also helps in seamless connectivity between the interior and exterior green space. The park facing, agile and collaborative workspace has large openings that allow natural light to pour in, green elements around the office, the bright white walls and exposed ceiling creates an informal and stress-free work environment that encourages easy communication, organic interaction, and engagement among employees.
The work space is simple and spacious, furnished by customized workstations made of metal and pinewood. The terrace has a cafeteria and a break out zone for employees who need a change of scenery, whether it is to socialize over lunch or for team huddles.
One of the highlights is the suspended stairway between the office space and terrace area. Besides being an architectural feature, it also doubles up as a display space, thus making the space neat and airy.
Project Facts :-
Project Name: #694-Diha
Architecture Firm: Int-Hab architecture + design Studio
Completion Year: 2019
Gross Built Area: 4800 Sq Ft
Project location: J P Nagar, Bangalore, India
Clients: Int-Hab architecture + design Studio
Lead Architects: Ar Sachin Shetty,
Design Team: Ar Sachin Shetty, Ar Madhura C and Team