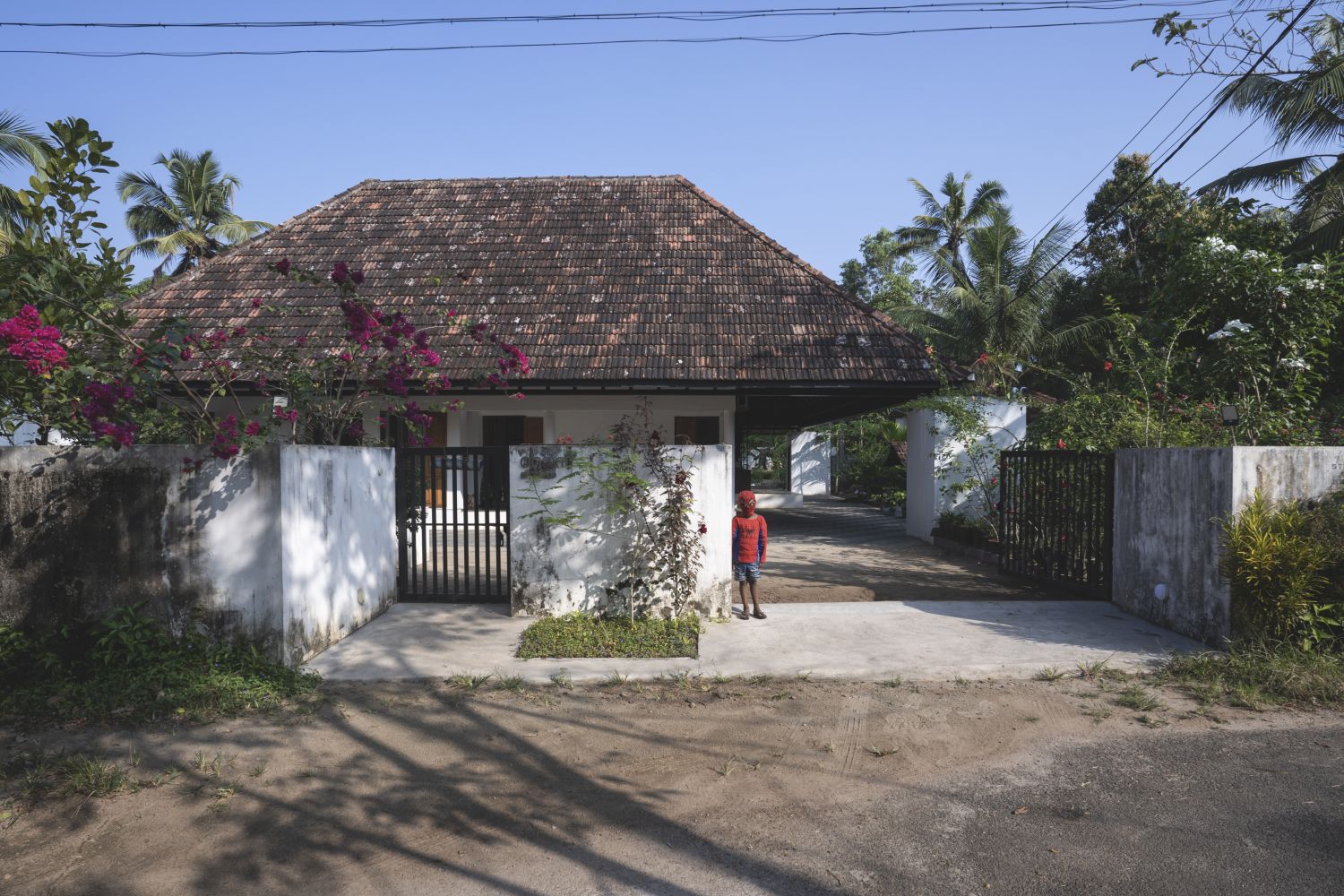 The brief presented to us a residence built in 2018 for a single family which had the typical design aesthetic of residences made by contractors in Kerala. We were asked to produce a design for the house which would better satisfy the client's needs both in terms of aesthetic and requirement.  
Our approach to its renovation was with necessary tweaks in the existing plan, walls, size and positioning of openings which would streamline planning overall, and aid in better ventilation. In conjunction with these tweaks we also inscribed the house into a geometric framework of a square originating from the center of the current built structure. Here this container framework forms a verandah surrounding the existing house. 
On each corner of the newly defined square, stands supports for the sloped roof covered with reused clay roof tiles. Rather than being just supports, the four corner structures are accessible service rooms and serve different functions on each corner. The surrounding landscape to the site is dotted with ponds and small water bodies, which are fast disappearing with the changing demands. One such pond present within the site was recovered and made useable to the family. The new architectural expression incorporates our core principles of geometry and attempts at referencing the traditional Kerala dwellings present in the context of Ezhupunna.   
Drawings
Project Facts
Project Name – 2018 HOUSE
Typology – Residence (Renovation)
Client – Mr. Radhakrishnan.T,
Architecture Firm – Cochin Creative collective
Principal Architects – Ar. Lijo John Mathew and Ar. Madhushitha C A
Architecture Team – Ar. Lijo john Mathew, Ar. Madhushitha CA , Ar. C.Kannan 
Area –  2066 (sq.ft)
Year of Completion – 2019
Location – Ezhupunna, Cherthala, Alappuzha, Kerala.
Photographer –  Syam Sreesylam 
Project Contractor – Udayabhanu (civil contractor), Shibu (steel contractor)